Icons of cycling: The Cape Wrath Fellowship
A ride along the wildest road in Britain is a challenge that still attracts people of all ages and was invented by this very magazine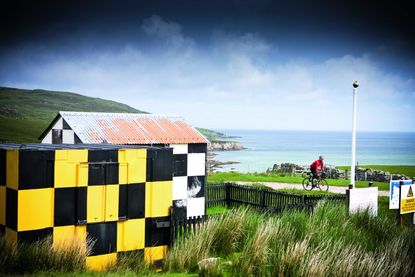 Cape Wrath is not the most welcoming place in the UK. One of only two capes in the entire country, it sits on the north-west tip of Scotland, a beautiful wilderness with dramatic cliffs where the North Sea battles the Atlantic Ocean.
It is a breathtaking place, and in 1949 it inspired a cycling journalist to create a fellowship dedicated to the experience of riding along Britain's wildest, most remote road.
His name was Rex Coley and he wrote for Cycling Weekly's predecessor Cycling under the pseudonym Ragged Staff, a name he took from the bear and ragged staff that adorn the coat of arms of his native Warwickshire.
>>> Icons of cycling: Three Peaks Cyclocross
Coley loved cycle touring, which is what he wrote about in books Cycling is Such Fun (1947), or Joyous Cycling (1953). The latter had a foreword by Reg Harris, a multiple sprint world champion but also a man who enjoyed his touring.
Coley felt that as cycling had become more serious, the club runs and tours that he loved were less of a feature of cycling life.
He wasn't alone: the Rough Stuff Fellowship started in 1955, its founding objective to preserve the spirit of bikes as a means for adventure and not just a tool for competition.
https://vimeo.com/187849031
Video: 'Beulah' by Pannier x Brother Cycles, from the journal of their trip to Cape Wrath and Scotland's North East
The loneliest road
Qualification for the Cape Wrath Fellowship was straightforward but not easy. To join, a rider would set out from Keoldale, cross the Kyle of Durness on the rowing boat ferry, and then set off along the loneliest road in Britain.
The road was built in 1828 to service the Cape Wrath lighthouse; it is 11 miles long, very narrow, and rough for most of the way.
>>> Icons of cycling: L'Auto, the newspaper that launched the Tour de France
Stone causeways cross the boggy ground, and man-made embankments help with the steepest gradients, although there are still some fearsome climbs.
One of the toughest is just off the ferry near Achiemore. The road then follows the cliff tops before plunging to cross the Daill river.
How to approach the off-season
Then it's up to Inshore and into an empty landscape called the Parph. There's military activity some days, but otherwise nobody lives in the 107 square miles of its ancient landscape.
A photograph at the lighthouse was to be sent to Coley at Cycling, from which he granted the sender a certificate and a badge.
>>> 28 things you'll only know if you've done Lands End to John O'Groats
Responsibility for the fellowship passed to another cycling journalist, Peter Knottley, after Coley died in 1985, but it lapsed when Knottley retired in 1992.
It was revived two years later by the Cyclists' Touring Club, which still runs the Cape Wrath Fellowship today.
Thank you for reading 10 articles this month* Join now for unlimited access
Enjoy your first month for just £1 / $1 / €1
*Read 5 free articles per month without a subscription
Join now for unlimited access
Try first month for just £1 / $1 / €1
Freelance Journalist & Author
Chris has written thousands of articles for magazines, newspapers and websites throughout the world. He's written 25 books about all aspects of cycling in multiple editions and translations into at least 25
different languages. He's currently building his own publishing business with Cycling Legends Books, Cycling Legends Events, cyclinglegends.co.uk, and the Cycling Legends Podcast