Cycling holidays in the UK: Britain's best road and gravel destinations for a low-cost break
Taking your bike abroad is expensive but with miles of great riding on your doorstep staying close to home can be just as rewarding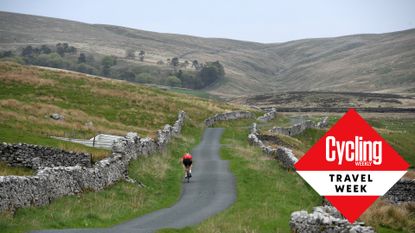 (Image credit: Future)
A cycling holiday in the UK can be many things. It can start at your doorstep, with your bike your only mode of transport. Equally you can travel to your destination by car or train. But however you get there, it opens up that all too rare opportunity to ride your bike for not just a couple of hours but for several days on end - and all without the expense that going abroad on one of the best cycling holidays entails.
It could be a traditional bike tour or a two-wheeled break with the family. It might be a weekend away to tackle a few famous climbs in a region of the country you've yet to visit or a few days spent tackling one of the planned gravel routes that are now popping up all over the UK. It could even be some time away for a block of training with new roads a helpful incentive, or distraction, depending on the intensity of your riding.
You'll need to get you and your bike there as well. Although pedalling to your destination or taking public transport are good options, if you need to drive to get there, you may need a bike rack for your car to make the journey more comfortable.
Whatever you have in mind cycling there's likely a cycling holiday in the UK to suit your requirements and your budget. Here are a few ideas… and if you're wondering why we haven't featured any Scottish destinations, it's because we've also created a dedicated page on how to make the most of cycling in Scotland.
Cycling holidays UK: road
If you're reading this it's likely that you already know just how good the UK is for road cycling. But typically, as cyclists with busy lives, we end up riding the same roads, rarely exploring beyond our home region. Enjoying a cycling holiday in the UK changes this. Taking in new routes injects some adventure back into your riding, replacing the mundane with the memorable - which means a break on two-wheels is likely not only good for your legs but for the mind too.
Cornwall
Rolling waves, sandy beaches, rugged cliffs and award-winning pasties; Cornwall is the quintessential British holiday destination with good reason. But it's a great spot for cycling holidays in the UK, too.
The county is home to a number of largely traffic-free cycle trails, making it ideally suited to families as well as those who like to enjoy leisurely paced rides that enable you to stop and take in the sights along the way. While the Camel Trail is perhaps the most famous of these, both the Mineral Tramways Trails and the Clay Trails are well worth exploring; the latter includes the 5-mile Carclaze Loop, which offers views of St Austell Bay and can easily be extended to take in the Eden Project, too.
For those looking for more of a challenge, why not tackle a section of the Cornish Way? The 288 km route comprises six routes, from Bude in the east to Land's End in the west and takes you through the county's varied landscape from mining towns to fishing villages and plenty in between; if you've come for the views taking the coastal option at Truro, where the route splits off, is recommended.
Looking for a suggested route? The Camel Trail runs for 20 km along an old railway line, from Padstow to Bodmin. If you're feeling sprightly, you can continue on for another few kilometres to Bodmin Moor.
Don't forget to bring: A bike bag. Whether it's a contemporary handlebar bag or a traditional pannier rack and bag set-up, given the scenery you'll want plenty of storage to carry a camera, sketch or notebook and a picnic. Also bring your appetite. Cornwall is a foodie's paradise.
Things to do off the bike: You can try your hand at surfing of course, but any trip to Cornwall should take in the Eden Project, the world's largest indoor rainforest.
Isle of Wight
If your definition of a holiday means leaving the mainland, but you don't want to shell out for a trip to Tenerife or one of the other cycling hotspots, then the Isle of Wight might just fit the bill. Granted it's just a 10-minute journey by hovercraft away and you won't quite find climbs to match Mount Teide, but once there you will have some 200-miles of cycle routes to explore.
For experienced cyclists this will likely involve a loop of the island. The 65-mile route offers sea views, rolling country lanes and plenty of climbing, too. It also passes through a number of towns, enabling you to stock up on provisions if needed. Handily, the loop is signposted with blue and white signs, each marking clockwise and anti-clockwise directions. Another popular, and challenging, route is the 80-mile long Peaks to Point Tour, that starts in Ryde and ends in Ventor, taking in plenty of short but steep climbs along the way.
Beginners and families are also well catered for. The island is home to a myriad of paths, byways and bridleways, making it easy to plot a route that provides plenty of scenic views as well as convenient stop-off points. Yarmouth to Freshwater is noted for its scenery, taking in the river estuary before arriving at Freshwater Bay, a great spot for swimming during warmer seasons.
Looking for a suggested route? While the Tour of Britain stage was cancelled in 2022 the route is easily found on Strava. You can choose to ride the full 150km, as the pros would have done, or just tackle a section or two; Shanklin to The Needles hugs the coastline for 40kms ensuring great views as well as some challenging cycling.
Don't forget to bring: A wind jacket or cycling vest. While the IOW sees plenty of sunshine during the year given its location you're bound to encounter plenty of Atlantic headwinds, too. You might also want to pack a swimming costume.
Things to do off the bike: Take the chairlift ride at The Needles before enjoying a dip in the sea. If heights aren't your thing but history is, the island is home to castles, monuments and manor houses, including Osborne, the former holiday residence of Queen Victoria.
Lake District
Covering some 850 square miles and listed as a UNESCO World Heritage Site, the Lake District National Park is a stunning, but challenging, landscape to ride your bike in. Made famous, or perhaps infamous, in the cycling world by the grueling Fred Whitton Challenge Sportive that takes in many of the area's fabled climbs, it's perhaps not a region for the beginner or the fainthearted.
However, your efforts are rewarded in spades. Aftering tackling the 33 per cent gradients of Hardknott Pass, for example, you're presented with an expansive view of the surrounding hills that will likely live long in the memory. And if you're here for a few days you'll be able to tick off a number of the area's notable climbs, including Harknott, Kirkstone, Wrynose and Honister, without having to fit them all into one ride à la the Fred Whitton.
Looking for a suggested route? Why not try the popular Lakeland Loop, a 65 km ride that starts and ends in Broughton-in-Furness and takes in views of Lake Coniston as well as an ascent of Wrynose Pass.
Don't forget to bring: A bike with a suitably low gear. If ever there was a time for triple chainring, this is it! Also a copy of The Major Works of William Wordsworth, born in Cockermouth and the undisputed poet laureate of the Lakes.
Things to do off the bike: Climb Scafell Pike followed up by a rewarding pint or two in one of the area's many microbreweries.
Rhayader/Elan Valley
While Snowdonia and the Brecon Beacons steal the headlines in Wales, the Elan Valley delivers its own beautiful landscape but without the crowds. Exploring this area of mid-Wales by bike means plenty of peace and tranquility, with undulating roads that wind their way past imposing reservoirs, framed by the rugged Cambrian mountains.
Rhayader, home to bed and breakfasts, tea rooms, a couple of great pubs and a bike shop, makes for the ideal starting point, and there are plenty of loops that can see you return here too. You'll also find the Elan Valley visitor's centre on the outskirts of the town where you can hire bikes and pick up information on the local cycle routes, paths and trails.
The man-made reservoirs, which drowned the Elan Valley in the late 19th century to help provide fresh water for Birmingham, are spectacular nonetheless - whichever routes you opt for they'll figure into your ride at some point. Two of them, Pen-y-garreg and Garreg Ddu, offer an opportunity to leave the quiet roads for a traffic-free cycle track, which puts you closer still to the water.
Looking for a suggested route? The Elan Valley bike trail is a traffic-free option that's well-suited to beginners and families as well as those who want a hassle-free ride that allows plenty of opportunities to stop and enjoy the landscape. The 20-mile path begins at Cwmdauddwr and can be ridden in either direction.
Don't forget to bring: The roads of the Elan Valley and a comfy endurance road bike are a match made in heaven but if you're staying for a few days you'll also want to bring a cycling computer and perhaps some paper maps to make sure you make the most of your time.
Things to do off the bike: Rhayader and the surrounding countryside is home to an array of outdoor pursuits that don't involve two wheels. Home of the Red Kite, and other raptors, you could enjoy a falconry experience or just head into the Gilfach nature reserve armed with a set of binoculars.
Cycling holidays UK: gravel
The continued growth of gravel riding in Britain means that now, if you're planning on cycling holiday in the UK, you'll be able to find a gravel route without much problem. This could mean tackling established point-to-point trails loaded with bikepacking gear or heading into a National Park to discover a loop or two before heading back to a cosy bed and breakfast.
Kielder Forest
If you've found yourself lusting after the smooth and endless gravel roads that appear to be a ten a penny in the US, then Northumberland's Kielder Forest is for you.
England's largest forest is home to mile after mile of light gravel roads that are a product of the commercial logging that still takes place. It translates to fire roads and plenty of them, which means an abundance of options, from short loops to much longer routes, over 100km in distance. It also means that your cycling holiday could be an extended affair, with new rides each day over a long weekend.
Given its remote location, this may also be a necessity. But once there it only adds to the feeling that this isn't just a bike ride, it's an adventure too. As well as the eminently rideable gravel, you'll also get to enjoy one stunning vista after another.
Looking for a suggested route? Kielder is the venue for the Dirty Reiver gravel event and if you're feeling adventurous (and fit!) then why not trace the 200km route? If you're after something a little more relaxed the Kielder Castle loop runs for 40km, is signposted, and takes in The Water, a man-made reservoir that dominates the Forest.
Don't forget to bring: Fast-rolling gravel bike tyres. Unless the weather has been especially foul, the gravel here is pretty-tightly packed.
Things to do off the bike: Visit the Kielder Observatory. At nearly 580 square miles, the forest's dark sky zone is the second largest area of protected night sky in Europe meaning that stargazing here is as memorable as it is educational.
The Ridegeway
With more than 5,000 years of history, riding the Ridgeway isn't just a challenging gravel route but a chance to cycle back in time. Travelling from east to west for 140km, from Avebury in Wiltshire to Ivinghoe Beacon in the Chilterns, it's steeped in history. Following in the tracks of traders and soldiers alike, you'll pass ancient burial grounds, chalk drawings including the Uffington White Horse, and hilltop forts as well as mile after mile of rolling hills.
If you base yourself in Avebury you can take on a 130km loop to Goring-on-Thames and back that can be tackled in one go or broken down over a couple of days. The Ridgeway also forms part of the far longer King Alfred's Way trail, and if you've got enough time on your hands you want to extend the ride further.
Whichever route you take, you'll need to be prepared. The ridge is exposed and isolated in places, meaning you'll need to make sure you've stocked up on food and water before you leave, as well as carrying a jacket that can protect against wind and rain. If it does rain, the chalk ruts in the road can become slippery, making for challenging riding conditions that will at the very least slow down your average speed.
Looking for a suggested route? If you fancy going point-to-point, why not start in Goring and end at the stone circles of Avebury. It's a little over 70km, although given that you may find yourself riding against the prevailing west wind, it may feel longer!
Don't forget to bring: Given the chalk base and rutted surface, wide tires, 40mm or more, with plenty of grip will make the journey far more enjoyable. And plenty of snacks.
Things to do off the bike: The stone circles at Avebury aren't quite as old at the Ridgeway itself, but these ancient monoliths are the largest of their kind in Britain.
London to Brighton
You might not equate London with a cycling holiday in the UK, least of all an off-road one. But if you're planning on an extended break in the capital you might just want to bring your gravel bike along, too.
While London to Brighton by road is a familiar route, the gravel version is perhaps less well known. The 103km ride has been pioneered by Sven Thiele, founder of the HotChillee cycling club and events. It starts at Hampton Court, then traverses through Surrey farmlands before connecting with the Downs Link that takes you to the coast.
It's essentially a flat route that uses a mix of old railway lines, towpaths and gravel tracks, which certainly makes it manageable in a day and may even tempt the super fit to head back to the Big Smoke, too. For those not looking to overdo it there's a regular train back to London.
Looking for a suggested route? While this is a one route destination, you can take a diversion over the North Downs if you fancy adding a few hundred metres of climbing to the ride.
Don't forget to bring: You'll need to be equipped with food and water for the entire trip given the sparsity of fueling stations along the way. Once in Brighton you'll also be glad you brought that wind jacket as you enjoy fish and chips on the seafront.
Things to do off the bike: If you're staying in London, then the world is your oyster as they say. If you extend your time in Brighton, then a trip to Royal Pavilion is a must. For those who like to shop and dine, an afternoon in The Lanes is equally vital.
The New Forest
Like the Kielder Forest in the North East, the New Forest offers miles of hard packed gravel that conjures up images of the best American routes. All told the 750 square kilometre National Parks boasts over 160 kilometres of trails, meaning you can mix up the routes over a long weekend without too much repetition.
Due to the nature of the gravel, it's a region that can be enjoyed in all sorts of weather, given the superior drainage. Whichever routes you choose you'll enjoy a mix of heathland and ancient woodland that's home to plenty of wildlife - although the wild boar that probably drew William the Conqueror to claim the forest as his personal hunting ground are long gone.
As for the trails, they're largely wide forest paths that come well signposted, as well as plenty of woodland double track too. The terrain is best described as undulating and typically you'll take in a couple of thousand feet of climbing in a 50 mile route.
Looking for a suggested route? Starting and finishing at Brockenhurst, the Gravel Cat loop is a perfect introduction to the New Forest. It measures a little over 32 kilomteres or 20 miles and it's starting point not only makes it easily accessible but also enables you to stock up on provisions before you head off.
Don't forget to bring: A portable stove and coffee pot. These are great additions for any cycle ride but there's nothing better than making a brew in the shadow of some Giant Redwoods.
Things to do off the bike: Those Redwoods are to be found in the Rhinefield Arboretum and if you don't pass them on your ride, they're well worth a visit on foot.
Thank you for reading 20 articles this month* Join now for unlimited access
Enjoy your first month for just £1 / $1 / €1
*Read 5 free articles per month without a subscription
Join now for unlimited access
Try first month for just £1 / $1 / €1