Scotland's best road and gravel routes: how to make the most of cycling in Scotland
Looking to ride somewhere wild, quiet and not too far afield? Try Scotland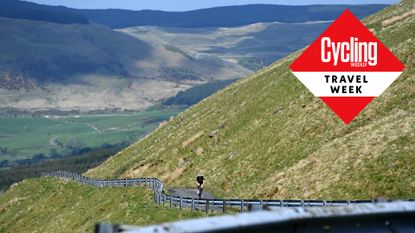 (Image credit: Future)
Scotland may not be on the radar of riders accustomed to jetting off to ride in the Alps, Mallorca or the Canary Islands. But it offers some equally challenging riding both for road riders and gravel cyclists that's a lot closer to home and easier to get to, with quiet roads and awesome off road riding, making it a great destination for a cycling holiday.
There's a good mix of options too, from quieter day rides to big challenges like the North Coast 500.
Here's our guide to why and when to go to Scotland and our favourite areas and routes to ride.
Why go to Scotland for a cycling holiday?
For UK riders fed up with airports, Scotland has the advantage of being accessible relatively quickly by train or car. Once you arrive, there's plenty of challenging terrain both for road riding and gravel riding and, once you get off the main roads, traffic is usually sparse. The scenery is spectacular, both on the mainland and on the islands.
Bikepacking is a great option as you can camp almost anywhere and it allows you to reach remote, sparsely populated areas.
There's plenty to do off-bike, with museums and galleries in major cities, numerous visitor attractions and the odd distillery tour.
When to go to Scotland for a cycling holiday and how to get there
Scotland is probably best experienced in the late spring or early autumn, unless you're looking for a heroic winter adventure. High summer tends to bring out the tourists and holidaymakers and so can get busy. Midges have their heyday through the summer too. Being so far north, daylight hours are long through much of the period from April to mid-September.
Getting to Scotland is easy for UK-based riders. A car will let you get all your kit and your bike to Scotland quickly, although destinations further north than Glasgow and Perth can be slow to reach once the motorway network gives up.
The Scotrail network is extensive though and can get you to some far-flung areas, although it too peters out towards the northwest. Look out if you're planning to take your bike on the train north of Inverness, to Oban and on a few other routes, as some services require a reservation to be sure your bike will be carried.
Yet another option is to fly; Edinburgh, Glasgow, Inverness and Aberdeen are all served from several English airports. There are regional services from these major hub airports within Scotland that head to more remote areas, particularly in the Hebrides.
What to take
The weather in Scotland is fickle, so it's advisable to be prepared for all possibilities. You want waterproofs in case you end up spending a wet day riding. Take care of your bike too and lubricate it after a day in the rain to stop your chain from rusting. You'll be more comfortable with mudguards fitted to your bike.
After a day in the rain, you'll probably not want to ride a second day in wet kit, so take several changes of clothing. If you're camping, make sure that it's all well wrapped up in dry bags. Take something to wash out wet, dirty clothing with too.
Bikepacking equipment should be fine for trips of a couple of days, but if you're planning to camp for longer, you'll be more comfortable with a full rack and panniers and a tent.
On the other hand, you may be treated to days on end of hot, dry weather, so make sure to pack some lighter kit and sunscreen too. As usual with cycling, layers are a better bet than a few chunky pieces to keep you warm.
It's a good idea to carry plenty of food if you're heading somewhere remote, as options to shop or for a coffee stop may be few and far between. Cash may still be king in some remote areas. Make sure you can carry enough fluids too, unless you're happy to refill water bottles from a stream.
The days are so long in the summer that you'll probably never need lights while riding, although they may be useful in camp. In winter, you'll definitely need some extra illumination on your bike though.
Scotland's midges are notorious. They're not so bad near the coast, where the winds will usually keep them in check, but take some insect repellent just in case. If you're camping, make sure that your tent is insect-proof.
Where to stay
If you're planning a multiday trip and want to have a roof over your head at night, then bed and breakfast or hotel accommodation is dotted along most routes, although it may be sparse in more remote areas and is best booked in advance.
The alternative is to camp and Scotland's right to roam legislation lets you set up anywhere, as long as you clear up after yourself and leave no trace. That means carrying a tent or bivi bag with you though and a spell of rough weather can make things uncomfortable. If you're gravel riding, bothies are another option in more remote areas.
Where to ride in Scotland
- North Coast 500
Distance: 800km plus
The North Coast 500 (measured in miles, not kilometres) has quickly established itself as one of the world's classic road trips. That's true for drivers as well as cyclists, so A-roads can get busy. Fortunately the North Coast 500 website recommends some diversions for cyclists to avoid busier main road sections, although some of these include gravel forest roads. Round the world cyclist Mark Beaumont has another alternative route on Komoot.
The usual start point for the circular route is Inverness, which you can reach by train or plane. Beaumont covered it in three days and wild camped, then went back and completed it in under 29 hours, but there are also bed and breakfast options along the way.
- Hebridean Way
Distance: 300km
If you fancy island hopping, the Hebridean Way is a road ride that takes you from one end to the other of the wild and remote Outer Hebrides. It takes in ten islands including Vatersay, Barra, Eriskay, South Uist, Benbecula, North Uist, Harris and Lewis. On the way are six causeways and two ferry rides.
Start from the south and head north to take advantage of the, potentially strong, prevailing winds rather than spending your days riding into a headwind. The route is waymarked so it's easy to follow.
Visit Outer Hebrides suggests taking six days to ride the route, but since the longest day is just 58km and the shortest drops to 34km, fitter cyclists who don't plan to take in too many of the sights en route should manage it a lot quicker; Mark Beaumont did it in a day.
To get to the start point, you'll need to take a ferry from Oban to Castlebay on Barra, then head south to Vatersay. At the far end, the ferry from Stornaway goes back to Ullapool or you can fly to a Scottish hub airport.
- Western peninsulas
Distance: various
If you want to stick to the mainland, the western peninsulas of Scotland offer some great riding options with quiet roads and some impressive climbs like Bealach na Bà on the Applecross peninsula. Other options to head into remote areas include looping around Assynt, with some routes including unpaved sections. Cape Wrath is also an option if you like to ride off road.
Rail services don't reach the north west coast of Scotland and bus services are slow, so car travel may be the best way to reach this area.
- Five Ferries Ride
Distance: 122km
If you like ferries, you'll love this circular route that starts in Ardrossan on the mainland under an hour for Glasgow.
Things begin with a ferry trip to Arran. A ride up the island's east coast takes you to a second ferry ride onto the Kintyre peninsula and a quick trip up to Tarbert for a third ferry across Loch Fyne.
The next cycling leg is hilly, before a short ferry ride to the Isle of Bute. A fifth ferry ride takes you back to the mainland at Wemyss Bay. From there you can either take the busier coast road back to Ardrossan or give in and jump on a train back to Glasgow, cutting the ride down to 87km.
You can also extend things by looping around Arran, which adds 88km for a complete circuit of the island.
There are regular train services to both Wemyss Bay and Ardrossan from Glasgow Central and you can buy a Five Ferries Tour ticket from Calmac covering the ferry rides for the whole circuit for you and your bike and valid for three days.
- The Borders
Distance: various
The Scottish Borders offer quiet roads and upland terrain south of Edinburgh and make a good base for multiple day rides. Hawick offers a good starting point both for trips north into the Tweed valley and south into the Cheviot Hills, while there's a network of smaller, flatter roads towards Berwick on Tweed.
Peebles offers remote forest and moorland riding for gravel bikers; there are some good options from a local mapped out on Komoot here.
Hawick is also on the route of a proposed new 400km coast to coast cycle route from Stranraer to Eyemouth.
- Aberfoyle
Distance: various
Scotland is a great destination for gravel riders. With large forested areas, there are plentiful forest roads that are designed for forestry traffic, but open to cyclists and free of car traffic.
The village of Aberfoyle has established itself as the gateway to gravel cycling in the Trossachs and has rechristened itself Gravelfoyle. Its published routes are between 10km and 30km, but there are plenty of much longer and more challenging ride options as Cycling Weekly discovered on its trip to Aberfoyle. Aberfoyle is also a convenient gateway for road riding through the countryside towards Stirling or Glasgow and over the Duke's Pass into the Trossachs.
- Dunoon
Distance: 130km/160km
Dunoon is another gravel biking option. It's the scene of the annual Dunoon Dirt Dash, although you can ride the route yourself at any time. There's a two day unsupported route with an overnight bivi and a 160km one day circuit if you want to really test your endurance. Both take you through forests and moorland into the remote Cowal peninsula.
Dunoon is close to Glasgow and is reachable by rail to Gourock then a ferry trip across the Clyde. It's so popular for gravel riding that Wahoo X now includes a simulation of a Dunoon gravel loop in its Wahoo RGT indoor training software.
Thank you for reading 20 articles this month* Join now for unlimited access
Enjoy your first month for just £1 / $1 / €1
*Read 5 free articles per month without a subscription
Join now for unlimited access
Try first month for just £1 / $1 / €1