Cycling in France: eight must visit locations
Cycling in France has something for every type of rider - here are the locations to put on your travel wish list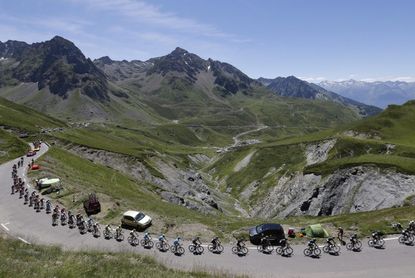 (Image credit: Yuzuru SUNADA)
Cycling in France offers a huge number and variety of options. With an area twice that of the UK and a similar population, there's less traffic and it's home to stunning countryside, much of it famous from the Tour de France's route each uly.
Although its famous climbs hold the limelight, there are plenty of less gruelling options if you don't want to spend every day ticking off cols. It's a great destination for some of the best cycling holidays.
For those in search of major ups and downs, then there are the passes of the Pyrenees and mountains of the Alps, which stretch for almost 300km from Geneva to the Côte d'Azur.
Keeping it more relaxed, the Loire Valley has a lot to offer and the undulating roads of Normandy and the Dordogne sit firmly in the middle.
Here's a look at some of the key destinations for cyclists, plus the why, when, how and what for each.
Normandy/Brittany
The northern end of France is sometimes overlooked. However, it's an area which possesses some stunning undulating roads, with plenty of winding narrow country lanes that quietly weave through farmland. The Pay de Caux boasts chalk cliffs and sharp climbs out of deep valleys.
The other pro of this area is that you can get there via ferry. Touring cyclists can leave their front door in the UK, find a route to Newhaven, hop on the ferry to Dieppe then begin the French part of their adventure.
Those not keen to repeat any part of the journey could head further north, getting the ferry home from Calais. Though fairly industrial itself, Calais is surrounded by the Parc Naturel Régional des Caps et Marais d'Opale - the Regional Natural Park of Capes and Marshes of the Opal Coast - from where you can spot the cliffs of Dover.
Inland from Boulogne, the land is hilly, undulating and sparsely populated, making for enjoyable, quiet riding.
Heading the other way from Dieppe, Brittany is an alternative, and those looking for a gentle option may wish to seek out the 365km canal path from Nantes to Brest. Again, it's undulating inland.
Most of the summer months will be pretty safe bets to visit - max temperatures sit at about 20°C in July and August so you're not likely to bake. Average rainy days in Normandy can be as many as 19 a month in peak summer as opposed to 10-12 in Brittany - something to bear in mind, but in general the climate isn't that different from the UK.
Pyrenees
The Pyrenees mountains create a natural border between France and Spain, and they've played a pivotal role in many editions of the Tour de France, with the Col du Tourmalet the original Tour de France Hors Categorie climb, first visited in 1910 and over 80 times since.
I have stayed in the sleepy town of Tarbes before, but somewhere like Pau offers a bit more for the tourist in you - with views along the Boulevard des Pyrénées and the Château de Pau to check out when off the bike.
Getting there is simple, there are direct flights from the UK to Toulouse, Lourdes and Rodez. In terms of when to go, the season kicks off in April once the ski stations close, but there's likely to still be snow up high.
On the first Saturday of June each year there's a celebration that sees thousands of cyclists follow the Le Géant statue as it rides on a truck up the Tourmalet, and from then onwards it should be a pretty safe bet to ride. The roads get quite busy in July and August - we reckon September is the sweet spot.
Must ride climbs include the Col d'Aubisque, Col du Soulor, Col d'Aspin, Col du Tourmalet and Hautacam.
The Col du Soulour from Argelès-Gazost in the East covers 19.5km - at 5.2 per cent. This includes a fairly flat section between the village of Arras-en-Lavedan and Arrens - before a tougher last 7km at 8.3 per cent. It can be connected to the Col d'Aubisque via the breathtakingly stunning Cirque du Litor, and the Aubisque itself is 16.6km long, with an average gradient of 7.2 per cent from Laruns.
The Col du Tourmalet is 19km at 7.5 per cent from Luz or 16.5km at 7.5 per cent from Sainte-Marie-de-Campan, and it's the most used climb of the Tour de France so simply can't be missed.
If you're heading to the Tourmalet, then it's worth having a go at the nearby Col d'Aspin, which has featured in the Tour countless times thanks to being a through route to other climbs. From Sainte-Marie-de-Campan to the west, the ascent is 12.8 km at an average of five per cent. From the other side, Arreau to the east, the climb is harder at 12km at an average of 6.5 per cent.
Another must-do is the 'road to nowhere' climb of Hautacam. At 17.3km it's 6.8 per cent, there's only one way up and down, so you can escape a lot of the traffic.
Morzine
Better known for its uplifts and network of, frankly terrifying, downhill mountain bike trails, Morzine's road cycling reputation is not as developed as it could be. The ski resort in the French Alps did get a bit of a roadie push in 2017, however, with four stage of the Tour de France taking place in its region of Haute-Savoie.
The area boasts some unmissable climbs - such as the Col de le Ramaz (14km, 7 per cent from Mieussy) - from which you can see the white peaks of Mont Blanc - Col de Joux Plane (11.6km, 8.5 per cent from Samoens) and Col de la Joux Verte (25.2km at 5.8 per cent from Montriond). If you don't want to ride too far but fancy a mountain, you can ride the Montée d'Avoriaz (13km, 4.5 per cent) straight out of town.
When it comes to relaxing, there's Les Gets lake, which can entertain the whole family with its open air pools, awesome cream-on-top coffee, pony rides and walks.
You'll enjoy some absolutely breathtaking views and there's nothing stopping you riding over to Switzerland - a country that's landscape puts it on many a 'to do' list, but one that's also been announced as the 'most expensive place in the world to visit'.
Since Morzine and surrounding ski resorts such as Avoriaz are set up for the winter tourists, there's lots to do in the evening. There are plenty of bike shops to keep you stocked, too - though you'll find more catering for mountain bikers than roadies.
Accommodation isn't hard to come by, either, I've stayed in Rez d'Arnica chalet and can recommend it as of 2017.
To get there, Geneva airport is about 90 minutes away. Temperatures max out at 18-22ºC from June to September - though bear in mind that surrounding roads will be busier in school holiday periods.
Loire Valley
A world heritage site (as rated by UNESCO), the Loire Valley carries the names 'Cradle of the French' and the 'Garden of France'.
The area surrounds the Loire River in central France. There you'll find vineyards (and lots of the resulting product!), orchards, an abundance of farm land and towns of historic interest, since the valley has played home to settlements since the Middle Palaeolithic period. It's the perfect place for a relaxed cycling holiday or touring. With a large river running down its middle, it's a relatively flat ride.
One way to explore the area would be to tackle La Loire à Vélo (The Loire by Bike) cycle trail. The signposted pedal route features well-surfaced paths and roads, from one end of the river to the other. At 900km long, there's no expectation that you make it the whole way. The regional train line (TER) travels the length of the route, and around 20 stations have cycle access.
There are several châteaux along the way, plus vineyards and of course the river itself to keep your mind entertained as you pedal.
Max temperatures range from 19-23ºC from May to September and there are several cycle travel agencies who can provide hire bikes. You can fly to Angers, Nantes, or Tours, or combine your visit with a road trip, driving the 500km from Calais.
Nice
Nice (or probably tax-free Monaco) is home to a high number of professional riders - and it's easy to see why.
Located on the French Riviera (or Côte d'Azur), the south-eastern capital on the Mediterranean coast has fantastic transport links (direct flights to Nice go from Gatwick, Heathrow, Liverpool, London City, Luton, Manchester and Stansted), stunning inland roads as well as some notable climbs.
There's the Col d'Èze on Nice's doorstep, often the finale of Paris-Nice in the spring before it plunges into Nice or used as a final stage uphill time trial. It's 10km at 4.9 per cent.
The Col de la Madone is a favourite testing ground for Tour de France hopefuls - 14.5km at 6.7 per cent and almost passes Sainte-Agnès, considered one of the most picturesque villages in France.
Since the region is popular among non-bike-riding holidaymakers, there's a myriad of accommodation choices as well as places to eat and evening entertainment. However, those jetting to the area with the velo at front of mind will be well served - with cafes such as Café du Cycliste on hand with hire bikes as well as coffee and kit.
Being on the Mediterranean coast, temperatures are a bit hotter than elsewhere in France - with max temps of 17 to 24°C from May to October. It's even hotter inland and can be bitterly cold in winter.
Provence
Nestled in south-eastern France, and bordering neighbouring Italy, Provence is home to the southern Alps as well as less arduous rolling hills.
Its coastline is Mediterranean, and its southern boundary forms the Côte d'Azur (or French Riviera) and Nice - but riders looking to explore the key attraction of Mont Ventoux will likely want to stay inland.
At the base of the mountain, Bédoin is a popular choice - but it won't give you much warm up. When visiting Ventoux, I stayed at Hotel Les Geraniums in Le Barroux - which afforded a gentle warm up, albeit one which featured a short ascent up the Col de la Madeleine.
Ventoux - called the "Giant of Provence" or "The Bald Mountain"- is the mountain which claimed the life of British rider Tom Simpson in the 1967 Tour.
Alcohol, amphetamines and stomach illness played a part, too - but Ventoux is still steeped in legend for its harsh slopes and sometimes violent winds which can make the uppermost kilometres even harder. Climbed from Bédoin it's 22km long, at 7.6 per cent.
Whilst the region plays host to Ventoux and other mountains - such as Gorges de la Nesque (19.7km at 2.3 per cent) - there's also easier routes through vineyards and olive groves. Your stay needn't feature a daily dose of upwards suffering unless you want it to.
To get there, you can fly to Marseille, Avignon or Nîmes airports - or you can drive, but it's about 1,000km from Calais. As per many other of our French locations, you're best off planning your trip around September if you're after good weather and quiet roads.
Dordogne Valley
Sitting between the popular Loire Valley and the heights of the Pyrenees mountains, the Dordogne Valley is intercepted by the 300 mile long river of the same name.
In the valley, you'll find country lanes, and stone buildings that hark back to a more sedate era. Indeed, this area has been likened to a sunnier version of the Cotswolds.
Here, we're back in the domain of châteaux, vineyards, forests and rivers. There's a selection of fortified villages that could make for excellent bases - like Beynac and La Roque Gageac, or opt for Bergerac for proximity to the airport and an array of restaurants to keep fuel levels up.
There's several leisurely cycle routes outlined for those looking to explore - perhaps the most quintessential being the Circuit Vallée de la Dordogne - which is 80km long and visits the villages of Cenac, La Roque-Gageac, Beyanc, Vezac, Sarlat, Calviac en Perigord, Saint Julien de Lampon, Veyrignac, Vitrac and Turnac - crossing the river multiple times.
Further inland, things get hillier as the river descends into a gorge and you're a short hop from the climbs of the Massif Central like the Puy Mary, that have seen action in the Tour de France.
The weather should be kind between the spring months of April and May and October - though expect traffic during summer holiday periods. Many airlines fly to Bergerac Airport, or Bordeaux.
Haute-Alpes
Saving the most mountainous until last - Haute-Alpes lets its name do the talking.
Here you can tick off quite a few of the greatest climbs in cycling - the 21 hairpin bends of Alpe d'Huez (13.8km, 8.1 per cent), Col de la Croix de Fer (30km at 5.1 per cent) and the Col du Galibier (18km at 6.9 per cent).
If you want to make sure you collect the very best cols the area has to offer, Haute Route runs a three day tour in July, with all the customary luxuries thrown in - from marshals to mechanical support and pro photography.
There's three major airports serving the area - Geneva, Lyon and Grenoble. Le Bourg-d'Oisans is a sensible area to situate yourself in, giving you a gentle spin before the base of the climb and stunning views of the Romanche river. The town has been visited by the Tour de France on several occasions, too.
Alternatively, you could put yourself right in the middle of it - staying at one of the mountain resorts such as Alpe d'Huez or Les Deux Alpes. This of course means leaving or arriving is never going to be easy.
Off the bike, make time to explore the national parks, such as the Écrins National Park.
Once again, September is a great time to visit. Any time after mid-October, and there's a chance your way will be barred by snow.
Thank you for reading 10 articles this month* Join now for unlimited access
Enjoy your first month for just £1 / $1 / €1
*Read 5 free articles per month without a subscription
Join now for unlimited access
Try first month for just £1 / $1 / €1
Michelle Arthurs-Brennan is a traditional journalist by trade, having begun her career working for a local newspaper, where highlights included interviewing a very irate Freddie Star (and an even more irate theatre owner), as well as 'the one about the stolen chickens'.
Previous to joining the Cycling Weekly team, Michelle was Editor at Total Women's Cycling. She joined CW as an 'SEO Analyst', but couldn't keep her nose out of journalism and in the spreadsheets, eventually taking on the role of Tech Editor before her latest appointment as Digital Editor.
Michelle is a road racer who also enjoys track riding and the occasional time trial, though dabbles in off-road riding too (either on a mountain bike, or a 'gravel bike'). She is passionate about supporting grassroots women's racing and founded the women's road race team 1904rt.
Michelle is on maternity leave from July 8 2022, until April 2023.