Nine reasons why Nice is the perfect location for your next cycling trip
The south of France ticks all the boxes for bike riders looking for a break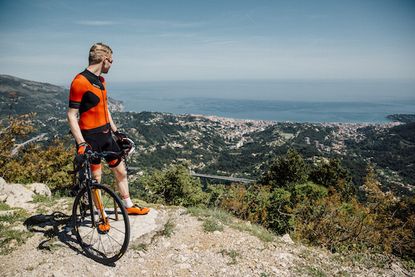 (Image credit: chris catchpole)
While lots of cyclists head off to Mallorca and the Costa Blanca for their winter miles, before jetting off to the Alps and Pyrenées for their summer smiles, too many forget about Nice and Côte d'Azur, which are not only home to large numbers of professional riders, but offer a great cycling holiday for us amateurs too.
>>> Watch Ollie's weekly vlog exclusively on the Cycling Weekly YouTube channel
If you need any convincing, then we've put together nine reasons why you should consider the south of France for your next cycling holiday, and that's before we get on to talking about the weather...
>>> Best cycling holidays
1. It's dead easy to get to
Assuming that you're travelling from the UK, the Nice is incredibly easy to travel to. There are year-round flights from Gatwick, Heathrow, Liverpool, London City, Luton, Manchester and Stansted, and seasonal flights from Belfast, Bristol, Edinburgh, Leeds/Bradford, and Newcastle, meaning that wherever you live, you shouldn't have to travel too far to the airport.
>>> What do different airlines charge to fly your bike around the world?
What's more, once you land in Nice, the airport is very close to the town centre, meaning that you can simply jump in a taxi for 15 minutes along the picturesque Promenade des Anglais to get to your accommodation.
https://www.youtube.com/watch?v=Zb6iqX5oeF0
2. The food is great
Of course no visit to Nice would complete without a salad niçoise, which will provide a great, nutritious meal with its mixture of leaves, vegetables, tuna, anchovies, olives, and eggs.
>>> 11 things guaranteed to happen on every cycling holiday
However if you're famished after a long ride, or need to do a bit of "carb loading", then there no shortage of other options available, from the bigger restaurants around the sides of the cities famous flower market, to the smaller establishments tucked away in the maze of streets in the old town, which should cater for all tastes and appetites.
3. Famous roads are just around the corner
The Tour de France might be a rare visitor to the climbs around Nice, but that doesn't mean you can't notch up a few famous cols. Chief among them is the Col d'Èze, traditionally the final climb in Paris-Nice, which starts from just beyond the port and climbs out of town towards the beautiful hilltop village of Èze, rewarding you with stunning views of the Côte d'Azur as you ascend.
>>> Col de la Madone: Tour contenders' favourite testing ground
Head further along the coast towards Menton and you'll come to the Col de la Madone, a favourite training climb of pros past and present. If you fancy a test then you can try and beat Richie Porte's record of 29-40 for the 13km climb, although most decent amateurs can hope to get under 45 minutes.
4. The riding is simply incredible
While the first few kilometres out of your accommodation might be a bit busy, head a little way inland and the roads become almost deserted, generally combined with perfect road surfaces and spectacular scenery in what is an ideal playground for cyclists.
>>> Eight ways to improve your cycling for the spring
If you're after a challenge then head out of Nice and up the Col de Turini for a really tough climb that will give a loop of around 100km if you take a direct route, or the Col de Braus if you want a slightly shorter option. And the best thing of all is that you know that the end of your ride will be either downhill or along the coast, giving a nice and easy end to the day.
5. You might see a few pros
If someone did a study of the population density of professional cyclists, then the Côte d'Azur (alongside Girona in Spain) would probably come out on top, with plenty of professional riders choosing to base themselves in the area for the great riding, year-round sunshine, and, perhaps for a few, the low tax rates on offer a few miles down the road in Monaco.
>>> Luke Rowe column: Why do so many pro cyclists live on the Côte d'Azur?
With Team Sky even having a team house a little further along the coast towards Monaco, this is probably the only place in the world where if you see a rider decked out head to toe in full team kit, they probably are a professional rider, so don't be surprised if the likes of Chris Froome, Lizzie Deignan, or Philippe Gilbert come flying past.
6. There are bike rental options
If you don't fancy putting your bike in the hands of airport baggage handlers, or just want to do a day or two of riding as part of a longer holiday, then the city also offers plenty of places for you to rent a bike for anything between a few hours up to a fortnight at a time.
>>> Should you hire a bike or take your own when you go abroad?
For those who can't do without a high-end machine, or just want to treat themselves, then Café du Cycliste will offer you a beautiful carbon-fibre, steel, or titanium bike equipped with top-of-the-components, but there are plenty of other bike rental shops to choose from if you can't afford to pay €70 per day.
7. Coffee stops aplenty
The great thing about cycling in this area is that you can be sure that almost every village you ride through will have some tiny cafe complete with three old men outside shooting the breeze that will be more than happy to serve some sweaty cyclists a coffee and a sandwich to see them home.
What's more, because most of the passes in the area aren't at high altitude, the bigger ones (such as the Col de Turini) have hotels or cafes at the summit, meaning that your caffeinated reward can come at the top of a hard climb, with the toughest part of your ride out of the way.
8. Lots of accommodation to choose from
While most other cycling destinations are either holiday resort areas or small towns, Nice is unique in being a thriving and bustling city, meaning a wide range of accommodation options to choose from.
>>> Where in the world is the best place to go for a bike ride?
If you're after a hotel in the area, then the majority should offer facilities to keep your bike safe, but an increasingly popular option is to go for self-catering apartments, often through Airbnb. The only thing to be careful of is to make sure that you don't end up with a fifth floor flat that can only be accessed by a narrow staircase - something you don't want to have to deal with while carrying a bike at the end of a long ride.
9. There are things to do that don't involve cycling
Another benefit of being a decent-sized city, is that there are plenty of options for non-cycling activities in Nice, whether that be for you on the afternoon after your ride, or for your long-suffering family to whittle away the hours while you get in the miles.
For spectacular views, the climb up to the top of the Mont du Chateau overlooking the old town on one side and the port on the other is a must-do (although there's also a free elevator if your legs are cooked from a long ride), while for a bit more culture you can visit the Musée National Marc Chagall a little out of the city centre, or the incredible Cathedrale Sainte-Reparate in the heart of the old town.
Thank you for reading 20 articles this month* Join now for unlimited access
Enjoy your first month for just £1 / $1 / €1
*Read 5 free articles per month without a subscription
Join now for unlimited access
Try first month for just £1 / $1 / €1