Zwift opens up new, formerly-hidden parts of Watopia
Riders can now access 19 kilometers of never-before-seen locales and settlements in Watopia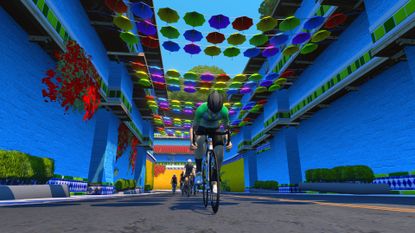 (Image credit: Zwift)
If you've been Zwifting for a while, you're probably intimately familiar with the island of Watopia and its 160 kilometers of road. Watopia with its colorful, palm-tree-filled landscape is the heart of Zwift's virtual world and offers more than 50 training and event routes. And still, there areas of the island that remain inaccessible by bike, no matter how many levels and routes you've unlocked. Until today that is...
As we're heading onto another indoor riding season, Zwift has opened up 19 kilometers of formerly-hidden roads on Watopia. This fresh tarmac is located along the southern coast, which features five distinct environments to ride through.
According to Zwift, the new route contains some of the most "lush and diverse" parts of Watopia and will take riders to "never-before-seen locales and settlements that are excited to welcome cyclists and share their unique character."
Those novel locales include the fishing village of Googie Springs - complete with a crab shack -, the Evergreen Coast (which features friendly wildlife), Ciudad La Cumbre at the base of the Epic KOM, a Mayan community called the Sandy Coast, and finally, the Mayan Passage.
This coastal route connects Fuego Flats with the Mayan Jungle as well as links other favorite roads to create some of the longest routes available in all of Zwift's worlds.
The Southern Coast, as the new route is holistically called, is relatively flat and includes four sprint segments: Stoneway Spring, Acropolis Sprint, Sasquatch Spring and Woodland Sprint and eight new routes, the longest of which is The Big Ring (48km) and the steepest of which is Accelerate to Elevate (1,152m of ascent).
All Zwifters can begin cruising the Southern Coast roads during the fifth stage of the Zwift's Tour of Watopia, which begins on October 30. When the Tour is complete after November 12, riders will need to be at Zwift level 10 or higher to gain access to the Southern Coast.
Software engineers at Zwift have confirmed that the Southern Coast is just one step in making other, currently remote, parts of Watopia rideable in the future.
Zwift also recently announced that it is the official partner of USA Cycling and Echelon Racing's six-race series that provides a gateway to competing in the January 2024 USA Cycling Esports National Championship - for which the routes have not yet been confirmed.
The California-based company also just released the Zwift Hub One, a first-of-its-kind smart trainer that uses a single sprocket instead of a cassette, enabling 8-12 speed bikes to easily partake in any of Zwift's worlds and routes with Zwift's Click device - a shifting mechanism to be paired with the Hub One.
With its recent innovations in the hardware space and these new routes in Watopia, Zwift is making the statement that virtual cycling and esports aren't just popular - they're here to stay.
This Watopia world expansion is just one of the eight Zwift updates dropping this fall which we've been most looking forward to, click on the link to find out about the others.
Thank you for reading 20 articles this month* Join now for unlimited access
Enjoy your first month for just £1 / $1 / €1
*Read 5 free articles per month without a subscription
Join now for unlimited access
Try first month for just £1 / $1 / €1