The eight Zwift updates dropping this fall that we're most looking forward to
Better categorization for racing and easier navigation of the workout library are two of the biggest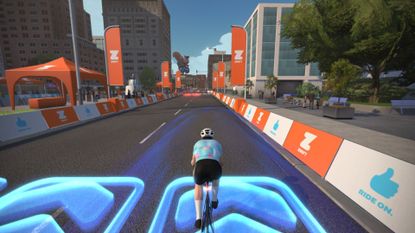 (Image credit: Zwift)
Get The Leadout Newsletter
The latest race content, interviews, features, reviews and expert buying guides, direct to your inbox!
Thank you for signing up to The Pick. You will receive a verification email shortly.
There was a problem. Please refresh the page and try again.
Even though we've been treated to a heatwave, the indoor cycling season is still just round the corner. And so it's a good thing that the best indoor training apps for cycling are being regularly updated with new features to keep you entertained and motivated.
Amongst those, there is a whole host of new features coming to Zwift, the virtual riding app, with developers making it easier to find cycling workouts and also upping the 'gamified' aspects of the platform.
In addition to the new features, Zwift is now including a year of Zwift membership with the sale of its Zwift Hub turbo trainer. This will bring the price up to $599 / £549 (previously it cost $499 / £449 for the Hub only). By our calculations, if you bought the trainer at its original price and paid $14.99 / £12.99 a month for 12 months your total price would be $678.88 / £604.88. So the new combined price represents good value - if you're looking to ride on Zwift for a whole year that is.
1. Choosing workouts from a phone
Not sure which Zwift workout to do? Well, Zwift is making it easier to explore its entire library of workouts, as you'll now be able to access these on your phone in the Zwift Companion app.
You can scroll through all the workouts available and pick one that aligns with your cycling goal, whether that's to build up to your first 100 mile bike ride, or improve your Functional Threshold Power (FTP).
2. Setting a good Zwift Racing Score
Zwift Racing Score is the new points system that Zwift is introducing to help racers measure progress in each virtual event.
"This new metric for Zwifters' racing results takes several factors into consideration: power, race results, and Zwift skills," Zwift explains. "Those factors combine to rank Zwifters' overall racing skill and help them find the most evenly-matched competition."
This Zwift Racing Score will be updated after each race, and is determined by final finish position and field strength.The idea is that the more you race, the more accurate your score will be.
Zwifts hopes that the numerical scale of the Zwift Racing Score will make it easier to pick the right event or group to race with.
What about the current A-D Pace Group categories? Well, Zwift says: "While not an outright replacement for Pace Group categories (A-D), Scored Races will become popular as Zwifters see their Racing Score improve as they race more and hone their fitness and skills!"
3. Gliding over the Mario-style boost pads in Crit City
Zwift released its Play handlebar mounted controllers earlier this year that allow you to use your thumbs from the hoods to steer, brake and claim your power ups, and now boost pads and hazards are being added to select events in Crit City.
"In steering-enabled races, Zwifters will need to master their bike handling skills to not only choose the best racing line as they navigate the full width of the road, and will also have to navigate their avatar through a maze of hazards and sneak every bit of advantage they can find via the boost pads in order to win," Zwift explains.
This experience is currently in the beta phase, and while it is, the Zwift Play controllers are being sold at a discounted price of $99 / £99 (full price they'll be $149 / £149).
4. Dodging riders to avoid racing time penalties
Also making use of the Zwift Play controller is Zwift's new Repack Rush experimental racing experience.
"Debuted this summer as a map for solo time trials, you can now experience Repack Rush Event Mode to test your downhill speed and Zwift steering and braking skills against other riders in a multiplayer environment," Zwift explains. "In addition to the boost pads and hazards, Zwifters can also collect time deductions."
In multiplayer mode there are other riders to avoid and so you need to think your line a little bit more, as you would in real life. The winner of the race is the Zwifter with the fastest time after the time deductions.
5. Climbing up famous ascents at a level that suits
Zwift introduced its Climb Portal to both Watopia and France in July and the brand is now making this feature more accessible to riders of varying fitness levels.
For those not familiar with the Climb Portal yet, it allows you to tackle real-world climbs, including the likes of the Col du Tourmalet and Col d'Aspin - two of the famous climbs included in the Tour de France and Tour de France Femmes Avec Zwift. As you ride the climb, the color of the road shifts from blue to red to indicate that the gradient ahead is steeper, which is useful for helping you judge your efforts.
To help you build up gradually to hit your cycling goals, Zwift is now letting users scale the difficulty of the climbs. "When entering the Climb Portal, Zwifters will be offered the choice to tackle a realistic replica of the climb, as they do today, or scale the climb to 50% or 75% of the original, allowing cyclists to choose a difficulty that matches their ambition and schedule," the brand explains.
The Climb Portal entrance located in Watopia will also now have a rotating selection of climbs, offering more variety in the climbs available to tackle. Whereas in the France portal there's going to be a "climb of the month" that you can target.
6. Joining the Women's Training Club
It's really nice being able to ride and train with others on group rides on Zwift, and now women can do so on a regular basis as part of Zwift's new Women's Training Club.
There's going to be a consistent weekly schedule of group workouts and recovery rides, designed by top female coaches including three-time Olympic gold medalist Kristin Armstrong.
7. Exploring the new roads in Watopia
Watopia is being expanded for the first time since 2019, with 19 kilometers of new virtual roads to explore.
"The new roads are flat and fast, and make several key connections, enabling Zwifters to enjoy some of the longest routes available in Watopia," Zwift reveals. There are eight new routes ranging up to 48 kilometers in length.
8. Completing the Tour of Watopia
Tour of Watopia is also returning on October 2nd, with incentives of earning double-XP, levelling up faster, and earning exclusive unlocks along the way. Five stages to complete, all of which are available on-demand.
Thank you for reading 20 articles this month* Join now for unlimited access
Enjoy your first month for just £1 / $1 / €1
*Read 5 free articles per month without a subscription
Join now for unlimited access
Try first month for just £1 / $1 / €1
Get The Leadout Newsletter
The latest race content, interviews, features, reviews and expert buying guides, direct to your inbox!