Zwift ups its game with Play handlebar controllers that let you steer and brake
The new hardware will bring more functionality as Zwift looks to gamify indoor training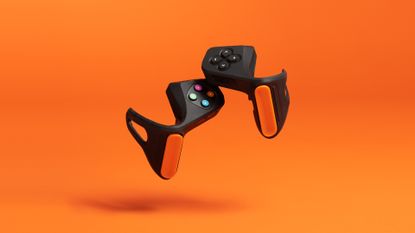 (Image credit: Zwift)
Zwift has released handlebar mounted controllers that will mean you no longer have to awkwardly lean over to your laptop or computer to use the training platform's in-game controls. The Zwift Play controllers attach to your handlebars meaning that you can use your thumbs from the hoods to steer, brake and claim your power ups
Zwift Play will retail for $149/(£149) but will be sold at a discounted price of $99/(£99) for a limited time.
As well as offering increased functionality to the platform, Zwift also says that new game modes will be introduced, such as the slalom-like 'Repack Rush'. More software updates are also in the pipeline as the brand looks to engage users with increasingly gamified indoor training.
Zwift Play : the controllers
For anyone who's used an Xbox or Playstation, then the the Zwift Play controllers will look very familiar to you. And this is no mistake - Zwift says that the goal was for them to be intuitive and recognizable, so it made sense to go for a similar system to what many non-bike-based gamers already know and love.
In this respect, they differ considerably from the Wahoo Kickr Steer phone-based system launched for another online cycling training platform, Wahoo RGT, earlier this year.
The controllers connect via Bluetooth, and Zwift is claiming a battery life of 20 hours - although when we visited the brand's UK headquarters two weeks ago, they said this was still being tested, and that the real-life run time was potentially slightly longer. If you do get caught short of juice, they can be used while charging via the double-headed USB-C charging cable included in the box.
The controllers also feature haptic feedback - similar to how other game controllers vibrate when you score a goal or shoot a zombie - which does add to the experience, but we note that this won't be activated immediately at launch due to ongoing software development.
The controls themselves are fairly consistent from left to right. On the top, the left controller features a four-button cross pattern, which can be used to navigate through the various menus, while the right controller features A, B, Y, and X buttons which are used for functions, such as power-ups or route selection.
Things get interesting behind the hoods - each controller also features a rocker paddle where your middle and fourth fingers tend to sit on the bars and control steering and braking in-game. Rocking either lever towards the center of the bars will trigger braking, while rocking a lever in the outer direction corresponds to steering in the direction of the controller - so the right controller tilted out away from your bike is a right turn, and vice versa.
There is also a secondary button hiding just to the outside of each of the rocker buttons, which can be used to increase and decrease control sensitivity.
Zwift Play : construction
The Zwift Play controllers seem like an almost inevitable addition to the ever-growing Zwift hardware line-up, but such a tactile product requires good build quality to make using it enjoyable.
Soft-touch silicone makes up the main body of the controllers. The silicone casing totally encompasses all buttons (bar the steering rockers) which helps to create a sweat-proof seal around the electronics. The rocker paddles are textured plastic, which features an ergonomic concave texture. It's also worth noting from a control perspective too that the steering rockers are progressive, so this does allow for more nuanced inputs.
A silicone strap, commonplace on many of the best bike lights, is used to attach the Zwift Play controllers to the handlebars. When combined with two shims, Zwift says, makes the new Play controllers compatible with 97% of drop bar road bikes.
Zwift Play : development
Zwift began the development of its new Play controllers when it found that just 15% of users interact with the tool bar used to control in game communication, route decisions and more.
I spent some hands-on time with the new Play controllers at Zwift's London HQ (more on that later), but also got to see first-hand some of the research and development that went into the new virtual riding hardware.
The facility features both offices and workshops, which Zwift says allows for rapid development as prototyping can be done in-house. I also got a chance to see some of the Zwift Play prototypes and various different testing equipment.
Zwift partnered with a bike repair company in London for the Play development, which allowed the designers to test prototypes on thousands of bikes during the design process. In total, testing consisted of 1284 rides and over one thousand hours of testing.
In terms of lab testing, Zwift says the prototypes went through rigorous sweat ingress testing as well as button press tests, which after 200,000 actuations, Zwift says wasn't enough to break the buttons.
As for ongoing testing, the Play controllers will first be launched with beta software. This will give the company a chance to gather a broad data set which it says will then be used for the ongoing development of game modes and functionality.
Zwift Play : first impressions
So, how did I get on with the Zwift Play controllers? Well, I only had a short time with the new hardware, but this was enough to get a feel for the product and first impressions were mostly positive.
The ergonomics of the controllers work really well. I found myself forgetting they were there when not using them, which is pretty much the biggest compliment I could pay to them. The buttons and rocker paddles sit neatly underneath where your hands are, and it is refreshing not to have to lean over to your laptop stand or side table just to use a power-up!
Inputs from the buttons were great - they felt very tactile, certainly on the tougher side, which Zwift told us was a purposeful design cue to match the button actuation to other components on the bike.
While rocker switches felt natural to use and the whole platform was very intuitive, I did feel there was still a slight lag between steering inputs and avatar positioning on the 'road'. Whether this is something that will be addressed with software updates, or rather a hardware limitation remains unclear - but this will certainly be something we keep an eye out for.
I was also allowed to try out a couple of new game modes that will be seen on the platform in due course, both of which were really good fun. The ethos seems to be one of distraction from your training through gamification as opposed to trying to make every last detail as realistic as possible - and I think this will be a winning strategy.
Overall I think for many this will be a no-brainer in terms of functionality, however, the one thought that sat on my mind is how long will it be until someone copycats the design? At a retail price of $149/£149, Zwift Play isn't cheap. You would have to think it wouldn't be too difficult to come up with a slightly altered wireless, or even budget, wired version of the controllers, so we will be keeping an eye out for those.
For more information on the new Zwift Play, visit the Zwift website.
Thank you for reading 20 articles this month* Join now for unlimited access
Enjoy your first month for just £1 / $1 / €1
*Read 5 free articles per month without a subscription
Join now for unlimited access
Try first month for just £1 / $1 / €1