Racers now required to qualify for US National Esports Championships
USA Cycling launches six-race series to serve as qualifiers for championship hopefuls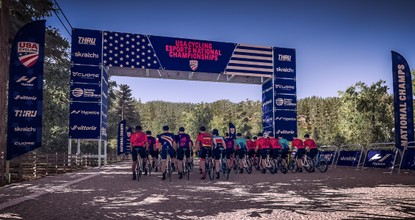 (Image credit: USA Cycling)
Just five years ago, there were no virtual cycling championships to contest - neither on a national level nor on a global scale. But the virtual sports world is booming, so much so that USA Cycling felt the need to lay down some criteria of who can compete in the 2024 Esports National Cycling Championship and vie for the increasingly coveted stars-and-stripes avatar kit.
Previously, anyone could register for the USA Cycling Esports National Cycling Championship but for the January event, championship hopefuls are required to participate in at least one qualifying race.
USA Cycling is partnering with Echelon Racing to host a series of six races on the Zwift platform, open to all competitors and nationalities. In order to compete in the USA Cycling 2024 Esports Championship, however, you must hold a valid USA Cycling license.
Racers will have three chances to complete a qualifying race before the 2024 championships, and three more virtual competitions they can opt to race in after the championships.
Swipe to scroll horizontally
| Date | Event | Format |
| --- | --- | --- |
| December 2, 2023 | Bell Lap Criterium | 38 Kilometers |
| December 16, 2023 | Innsbruck KOM After Party | 37.2 Kilometers |
| December 30, 2023 | Casse-Pattes Circuit | 46 Kilometers |
| January 6, 2024 | USA Cycling Amateur National Championships | 3 Race Omnium Event |
| January 7, 2024 | USA Cycling Elite National Championships | 3 Race Omnium Event |
| January 13, 2024 | Wandering Flats Time Trial | 25.1 Kilometers |
| January 20, 2024 | Serpentine 8 Gravel | 38 Kilometers |
| January 27, 2024 | Libby Hill After Party Road Race | 33 Kilometers |
It is $25 in total to register for all six races, excluding the USA Cycling Esports National Championships. Riders must abide by all USA Cycling esports guidelines and rules which may include verifying data and rider identity.
With esports gaining traction as a potential Olympic sport, cycling "traditionalists" may want to begin warming up to the idea that phenomenal riders truly can be made in the great indoors.
The UCI and USA Cycling certainly appear all-in. In December 2020, the UCI hosted its first-ever esports world cycling championship, which saw a global field contest a 50km route with 483 meters of simulated elevation gain on the winding roads of Zwift's Watopia. The men's race was won by Jason Osborne, an Olympic rower for Germany, while WorldTour climber Ashleigh Moolman Pasio won the women's race.
The esports global cycling championship took a hiatus in 2021 but has since been held in 2022 and 2023 - again on Zwift - with Denmark's Bjørn Andreassen and the Netherlands' Loes Andegeest taking gold in the men's and women's races, respectively.
USA Cycling hosted its first Esports National Cycling Championship in 2022 on the RGT platform. Illinois' Mason Rocca (606 Racing) and California's Jacqueline Godbe (Saris/NoPinz) claimed the gold, and went on to represent their country in the 2022 UCI esports world championship later the same week.
In 2023, Godbe took first in the elite women's national championship race again with Scott Catanzaro (NeXT esport p/b Enshored) winning the elite men's race. Godbe went on to clinch bronze for Team USA after three intense races in the 2023 UCI esports championships.
Thank you for reading 20 articles this month* Join now for unlimited access
Enjoy your first month for just £1 / $1 / €1
*Read 5 free articles per month without a subscription
Join now for unlimited access
Try first month for just £1 / $1 / €1