Motherhood or an athletic career? An impossible choice no more thanks, in part, due to the rise of esports
In virtual cycling women athletes no longer have to compromise motherhood or a professional career to be competitive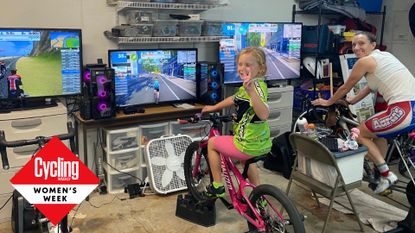 (Image credit: Rebecca Larson)
For far too long, top-tier female athletes have been faced with an impossible choice. The pursuit of motherhood and family invariably meant the end of world-class competition. But there's been a seismic shift of late.
In 2018, former road racing world champion, Lizzie Deignan, became an example of the modern day female professional cyclist when she, with full support of her Trek-Segafredo team, took maternity leave to have her first child. She returned to the peloton the following season in excellent form, winning the inaugural Paris-Roubaix Femmes with her firstborn infant child looking on.
When Deignan's cheering squad grew to include a second child in 2022, the Trek-Segafredo team once again stood by Deignan's side and extended her contract through 2024, thereby challenging the perspective on the careers of female athletes and maternity.
While rare, Deignan's story isn't the first and, by all means, shouldn't be the last. Add names like Kristin Armstrong to the list of successful female athletes proud to call themselves mothers first and cyclists too.
However, moms that don't find themselves at the pointy end of world-class in any of the cycling disciplines or choose other careers still have few options, but they have more than they once did. Enter the era of Elite Women's Esports. With the rise of virtual cycling competition, world-class female endurance athletes no longer have to compromise motherhood and a professional career. Meet four Esport athletes who are successfully balancing motherhood or high powered jobs with a competitive cycling career.
Arielle Verhaaren, US Olympian
Arielle Vehaaren is a 37-year-old former U.S. Olympian who coaches for the USA Cycling Elite BMX program.
A decorated racer, Verhaaren competed for the 2012 U.S. Olympic team, and was the first American woman to win a UCI BMX World Cup when she took the victory in Chula Vista in 2011. In addition, she was a Pan American games silver medalist in 2011, the UCI BMX SX series champion in 2008 and took secnd overall in the UCI BMX Series in 2013.
"I left my full-time professional life behind when I retired from BMX, but esports has given me a way to enjoy some of that without all the demands and risks of outdoor racing," she says.
These days Verhaaren lives in Williamsburg, VA, with her children, ages three and eight, and her husband, a US Army helicopter pilot.
"A big reason I keep doing it is for the convenience and safety as a mom of two for whom I am primarily responsible," she shares.
Verhaaren began virtual cycling in 2019 to build fitness and ride safely while pregnant with her son. Following his birth, she continued doing training plans on the virtual cycling platform Zwift.
"I didn't understand the community aspect but got an email that USA Cycling was launching a virtual race series, "so I thought I'd give it a try, and that's when I started racing," she recalls.
Verhaaren now races at Zwift's elite level —Premier Division of the Zwift Grand Prix— for the Aeonian Racing Team, an inclusive women's e-racing team that promotes women's cycling for all abilities and across all categories.
She also represented Team USA for the second time at the World level in the 2023 UCI Cycling Esports World Championships where she finished fifth. Verhaaren's Aeonian teammate, Loes Adegeest of the Netherlands, defended her title to become the first repeat World Champion.
"It's a big part of my life now," admits Verhaaren, who has Olympic and World Cup memories to compare.
Rebecca Larson, 13-time US National Champion, #1 Zwift Ranking and Ph.D. holder
Another woman who found Zwift as extension of her bike racing career is 13-time U.S. road racing national champion, Rebecca Larson.
Now 41 years old, Larson also holds a Ph.D. in Exercise Physiology and spends her days balancing being a Professor of Exercise Physiology at the University of Oklahoma, raising her eight-year-old daughter and racing on Zwift.
"I raced Professionally and with the US National team for many years till I had my daughter," she notes, and "I still love racing and going fast."
And that she does, riding herself into the Zwift #1 World Ranking on multiple occasions and earning a solid seventh place finish in the 2019 US Zwift National Championships.
Virtual cycling and esports competition have allowed Larson the flexibility to "do all the things that I love, which include being a wife, mom, an exercise physiologist and keeping my fitness at a high level."
She admits that it would be tough to balance it all without esports.
"Virtual cycling and esports have been game changers!" for Larson, who "enjoys continuing to not only be an example but also enjoy riding alongside (my) family for extra "mommy-daughter" and "date night" time."
Anna Russell, Pro Triathlete and Esports Influencer
Without esports, 40-year-old New Zealander Anna Russell couldn't imagine still being competitive with three children at home.
Russell enjoyed a successful career as a triathlete in which she qualified to race at the Ironman World Championships as a professional, podiumed at multiple long-course World Championships as an amateur triathlete, finished 4th at the short-course triathlon amateur World Champs when pregnant and with an 18-month-old son, and qualified for the 70.3 World Championships while still breastfeeding.
Despite Russell's tremendous talent and grit, she concedes, "If I were still racing professionally in triathlon, I would be away for multiple weeks at a time, I'd be putting in huge training days, it seriously just wouldn't be fair on the family and not sustainable."
Instead, Russell competes prolifically at the elite level in the Zwift Grand Prix for Saris-No Pinz while juggling the demands of a mother of three and an endurance coach.
"Once I started having a family, it is just so much less impact on the family to nip downstairs to my pain cave and get a session or a race in, rather than traveling halfway around the World," she says.
However, virtual cycling and esports are much more than that for Russell. She co-hosts The Wrap Podcast devoted to Zwift racing and lends her talents to Zwift Community Live streamed events broadcasts. The options for the new breed of elite female virtual cyclists are growing but always rooted in a competitive spirit.
"Esport is just taking off, and it will be fascinating to see where it goes. The competition has now reached another level, so in 5-10 years, I think I will be more involved as a commentator, producer, and pundit than a top-level racer," she says. "I will always race in the community, though, as it is such a blast."
Jacqueline Godbe, ITU World Champion, Radiologist, and Chemist
At the 2023 UCI Cycling Esports Championships, all eyes were on three-time US esports champion, Dr. Jacqueline Godbe.
In the end, she had to settle for bronze, becoming the first American to step onto the UCI esport podium.
Her story is different from motherhood but equally significant to female athletes seeking competitive options. A former triathlete, Dr. Godbe was the 2017 International Triathlon Union (ITU) Age Group Women's 25-29 World Champion and five-time winner of the Chicago Tri. She's also a radiology physician with a Ph.D. in chemistry.
The 32-year-old St. Louis, MO resident began online racing while attending medical school at Northwestern University.
"It was a way to race and train that was sustainable even in the face of significant life challenges and a busy schedule," she explains.
These day, Dr. Godbe is a Radiology Resident at Washington University School of Medicine and continues to find her competitive outlet in virtual racing.
She admitted to being highly competitive and feared that the time-intensive nature of triathlons would significantly limit her ability to compete regularly.
"While I would still be able to do local events, I certainly wouldn't be able to go head-to-head with world-class athletes on a regular basis," she says.
Virtual racing on the other requires no travel time at all, allowing her to continue racing — something she feared having to give up for her medical career.
More than just a competitive outlet, Dr. Godbe is excelling. Her list of virtual victories includes multiple Virtual Tour of the Gila titles on the Wahoo-RGT platform, a Zwift Premier Division victory for her Saris-No Pinz team, three national titles and a bronze UCI esports medal.
Dr. Godbe marvels at how many women she meets virtual cycling that have advanced degrees. She regularly races against a professor of chemistry, a medical student, and a practicing orthopedic surgeon.
"The flexibility of this format has really enabled those of us with busy professional schedules to keep competing," she says.
No Tough Choices to Make Because There Are Options
Many top-notch female cyclists and triathletes share the sentiment: elite-level competition is too much a part of their lives to have to choose.
Virtual cycling and esports allow the opportunity to prioritize family and become pro at something other than cycling while continuing to compete on the elite World level.
Thank you for reading 20 articles this month* Join now for unlimited access
Enjoy your first month for just £1 / $1 / €1
*Read 5 free articles per month without a subscription
Join now for unlimited access
Try first month for just £1 / $1 / €1