Zwift's new Hub One smart trainer ditches the cassette for compatibility with 'almost any 8-12 speed bike'
The Hub One offers 'virtual shifting' similar to a smart bike - with the resistance changes handled internally, there's no reason for more than one sprocket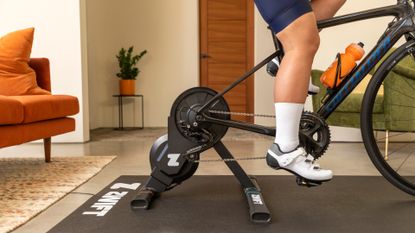 (Image credit: Zwift)
Zwift has just released its new Hub One smart trainer with a major update. It's swapped a standard cassette for a single sprocket, allowing the Hub One to work more seamlessly with a greater range of bikes - from road bikes to hybrids which vary from 8 to 12 speed.
To provide the changes in resistance, the Zwift Hub One uses virtual shifting similar to that of a smart bike and comes with 24 gears. Zwift reckons this range is wide enough to tackle any terrain in its virtual worlds with minimal jumps between gears.
When the online cycling platform launched its first smart trainer, the Hub, last year, Zwift said it wanted to provide an affordable, user-friendly direct-drive trainer. The new Hub One is attempting to build on this through increasing compatibility and providing quieter virtual shifting.
Could this become one of the best smart indoor trainer for those just getting started indoors? When we reviewed the original Zwift Hub we were impressed with the range of features and its value really made it stand out from the crowd. Our conclusion was that the Zwift Hub was a brilliant way for anyone to get into smart training - this latest development in the Hub One looks set to open up the benefits of indoor cycling to even more riders, which is great to see.
Previously we'd usually recommend one of the best exercise bikes and smart indoor bikes in the scenario of a multi-cyclist household looking for a cost-effective and straightforward solution to indoor training. But it seems that Zwift has found a way of bringing this versatility benefit to direct drive trainers.
Zwift says "to ensure consistency between bikes, Zwift Hub One is able to detect the gear ratios on your physical bike which allows it to set the virtual gears accordingly." Zwift calls this "real gear ratio calibration" with the brand explaining that the trainer will do this within the first few seconds of every ride, automatically.
Zwift points out that this 'real gear ratio calibration' also offers benefits to riders using bikes with smaller chainrings, such as those specced on gravel and hybrid bikes. Zwift reckons this calibration will prevent these riders from spinning out on flat or downhill terrain on Zwift.
"With virtual shifting, cyclists will enjoy shifting free of lag and chain skips, even when shifting under load," Zwift says. "Modern smart bikes are now so quiet, the loudest noise when riding actually comes from the bike's physical drivetrain. With virtual shifting, much of this added noise is eliminated, leaving the rest of your house in peace while you sweat it out in the virtual world of Watopia."
The way the shifting works is via Zwift's Click device, which comes included and is attached by two rubber O-rings. This means that you should be able to mount it to any type of handlebar, from road to flat to TT. If the tops of your aero handlebars are particularly wide, we reckon that you might struggle attaching the Click in that location and may have to use the drops of your bars.
Zwift users who already own a Zwift Play controller can use virtual shifting via the Play instead, while also benefiting from the steering and braking controls. You'll just need to make sure the device is updated to Zwift Hub Firmware version 5.2, or newer. Zwift Play is compatible with drop handlebars only and is priced at $99 / £99.
That being said, the Zwift Play and Click can also both be paired with Zwift at the same time, so you're able to shift from multiple locations on the handlebar.
Pricing for new customers and existing Hub owners
The new Zwift Hub One is priced at $599 / £549 and includes one year of Zwift membership. The previous version of the Hub is now being called the Zwift Hub Classic and will continue to be sold (at the same price as the Hub One, also with one year's membership), giving riders the choice of using a standard 8-12 speed cassette.
Let's say you already own a Hub; Zwift is selling an upgrade bundle containing the Cog and Click for a currently discounted $59.99 / £59.99. Full price will be $79.99 / £79.99.
In order to use the virtual shifting, Zwift users will also need to make sure Zwift is updated to version 1.50, which will be rolling out between Wednesday October 11 and Friday October 13.
In addition to its new Hub One smart trainer, Zwift has been busy developing its virtual roads and the workouts and events offered. Here are eight Zwift updates dropping this fall that we're most looking forward to.
Thank you for reading 20 articles this month* Join now for unlimited access
Enjoy your first month for just £1 / $1 / €1
*Read 5 free articles per month without a subscription
Join now for unlimited access
Try first month for just £1 / $1 / €1