Opinion: Cycling has an inclusivity problem
The abuse of an American crit rider shows just how far we have to go as a sport to be more equitable and open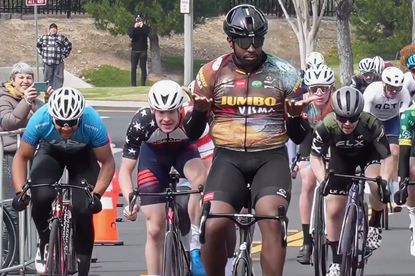 (Image credit: @ray.marz)
Senior news and feature writer at Cycling Weekly, Adam brings his weekly opinion on the goings on at the upper echelons of our sport.
This piece is part of The Leadout, the offering of newsletters from Cycling Weekly and Cyclingnews. To get this in your inbox, subscribe here.
Cycling is a sport and activity that can be - and should be - enjoyed by everyone, but all too often it's cyclists who make it a sport for the few. It is far too common, but it was sad to see the sort of snobbery and elitism I'd like to think is on the way out highlighted by the Instagram account Diversity in Cycling this weekend. Dariel Ramirez, a 28-year-old American, won at the Majestic Crit in California earlier this year, but it was the posting of a video of his win three weeks ago which kickstarted a conversation around inclusivity and snobbery following a volley of vicious online trolling.
"Wout van Heart Attack" mocked one commenter, in a message which Diversity in Cycling - a group set up to promote inclusivity - said implied that "bigger men and women do not belong in cycling", whilst also reinforcing the notion that only those in the 'right' kit deserve to win, by referencing Ramirez's Jumbo-Visma jersey.
Ramirez could be anyone, but is someone who has won and wins these races.
"What is most disappointing is that real people who claim to be experienced cyclists wrote those derogatory posts," Andy Edwards, who wrote and founded Diversity in Cycling, told Cycling Weekly. "None of them could see that Dariel rode with skill and confidence, and he clearly knew what he was doing.
"I have seen it in the UK. I returned to racing as a 2nd Cat vet and raced the occasional National B road race. I could keep up with elites, and so could another 2nd cat vet who was a bit on the large side. I remember an elite rider shouting, "Get out of the way fatty," trying to push him off the wheel in front. My friend was experienced enough to push back and hold the wheel, but it should not have to be this way. It is attitudes like this that make cycling so intimidating for newcomers.
"I wrote Diversity In Cycling (first edition published 2019, second edition published 2022) to challenge the traditional cycling community to do better and give practical suggestions to help," Edwards continued. "Some of these keyboard warriors are the same people who complain about the lack of road races and sponsorship, but they cannot seem to connect the dots.
"Sports that succeed in drawing the biggest audiences and sponsorship deals are the ones that are most inclusive. The world is changing, and so must cycling otherwise it will get left behind.
Online mockery - or trolling - is not unique to amateur racing, it's an illness which shows symptoms across the internet - whilst we can't fix that ailment, we can influence the ideology within our own sport. If it seems inclusive to you, that might be because you're the right person in the right place.
Due to the basic level of equipment and kit needed to be a cyclist, there are barriers to entry, and all too often it feels like people gate-keep about the right or wrong way to do things. Seeming throwaway comments around the right length to wear your socks, the ideal layering of glasses over helmet straps may seem insignificant, but they can fester - and create a culture where all of a sudden it's considered 'ok' to assert that a certain body type doesn't belong.
Inclusivity in professional cycling is another debate, but it is sorely lacking; how many non-white pros are there? Why is Biniam Girmay the only black African to have ever won a Classic or a stage of a Grand Tour? These are bigger questions than can be answers in one comment, but every time cycling shows itself to be deficient in inclusivity, they become all too relevant again
Prejudice and discrimination, as seen in treatment of Ramirez, might not happen at your cycling club, you might never have witnessed this in person, but the fact it exists could all too easily put someone off cycling. This would be a shame for us all. Just one person who feels like they're not welcome in cycling, that it isn't for them, is too many.
Last week we looked at what actually needs to change for cycling to be more inclusive on our website, and all of this rings true as we see what happens on social media. It might be worth taking a look around your club or the group you ride with and think what you could do to change things for the better. It will almost definitely improve it all.
I've recently become a 'cyclist' - here's what needs to change for cycling to be more inclusive
Everyday racism: Breaking cycling's other glass ceiling
Watching Marley Blonsky's first century experience will motivate you to tackle your first 100-miler
Ineos finally get re-sign a rider, and the pro bike merry-go-round kickstarts
Two weeks ago I suggested that Ineos Grenadiers were losing the off-season with their general lack of transfers and especially by missing out on Primož Roglič or Remco Evenepoel. A fortnight on, the British team have finally made their first off-season move, handing a contract extension to Geraint Thomas. It's a good first step, but the team still seem light on exciting GC prospects for next year.
Meanwhile, the merry-go-round of pro bike sponsors has kicked off in earnest. Lapierre will no longer be ridden by Groupama-FDJ next season, but will be still used by FDJ-Suez, confusingly. No more Thibaut Pinot, and no more Lapierre for the French squad, but possibly Willier. AG2R Citroën have also been rumoured to be moving on from BMC to Van Rysel, while it would not be a surprise if Specialized moved on from TotalEnergies now Peter Sagan has left. The American brand is still staying with SD Worx, though.
Geraint Thomas signs two-year contract extension with Ineos Grenadiers, possibly his last
Lapierre ends partnership with Groupama-FDJ after 22 years
Team SD Worx extends with Specialized until 2028
Thank you for reading 20 articles this month* Join now for unlimited access
Enjoy your first month for just £1 / $1 / €1
*Read 5 free articles per month without a subscription
Join now for unlimited access
Try first month for just £1 / $1 / €1