Primož Roglič joins Bora-Hansgrohe from Jumbo-Visma
'He's one of the best riders in the world' Bora boss Ralph Denk on German team's 'inspirational' new signing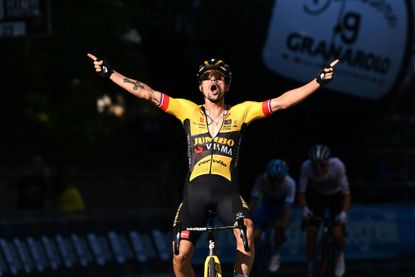 (Image credit: Getty Images)
Primož Roglič has officially signed for Bora-Hansgrohe, and will join the German team from Jumbo-Visma at the end of the current season.
Bora boss Ralph Denk confirmed that the team had completed a move for the 33-year-old in a media briefing call on Friday morning. It was announced last weekend that the Slovenian was leaving his current team.
Denk said: "It is after the departure of Peter Sagan, the next milestone for us.
"He's one of the best riders in the world. He won, more or less every race of the 2023 season that he rode. We're very much looking forward to this. I'm also proud that Primož took the decision to sign with us.
"I think as well as a big boost for our whole team, for the riders, for the staff. In all the meetings that I had with him, he inspired."
Denk confirmed that a big part of the agreement with the Slovenian was the opportunity for him to lead the line at next year's Tour de France.
"My personal goal is for us to win the Tour, it's a dream for me," Denk added. "This was the chance to take one of the biggest contenders. We are realistic, he's not the only contender. So we need luck, we need a super strong team and an outstanding performance from Primož Roglič.
"But it's already a nice feeling for me for the whole team, to be a contender, a real contender."
Denk added: "The feeling I got these last few days is that he's really a personality, he can inspire our team and his professional attitude is really, in my opinion, outstanding. I'm super happy to have him."
Salzburg beer garden meeting
Denk explained to the media that his relationship with his new signing goes back almost eight years to when Roglič made his first steps into professional cycling. The duo previously met in a beer garden in Salzburg.
"It was not just a meeting, we placed an offer as well, eight years ago. And yesterday, in my office, I found this offer again. So it's a really nice story," he said.
When asked what was different this time for them to be able to agree on a deal, Denk joked: "It's a bigger offer [this time] and I can tell you, if you make a zero, again the number is not enough."
"My main argument was that we believed in him. I showed that in my meeting eight years ago," he added. "No one in our cycling cosmos was recognising Primož Roglič at that time, but I did it already. We still believe in him and that was the key factor for him to sign with us."
He added: "We have the same philosophy and we are not so far away from Slovenia here in south Germany where we are based. All those small parts gave a bigger picture, and I think that's the reason he decided to sign with us."
Vuelta chaos fuelled transfer
Denk told the press that he first realised there was another chance to sign Roglič during the recent Vuelta a España.
During the Spanish Grand Tour the Slovenian was forced to put his own ambitions to one side to give his Jumbo-Visma teammate Sepp Kuss the opportunity to land his first major GC victory. Roglič won the Vuelta three times previously, and is the reigning Giro d'Italia champion.
Denk explained that the news that Jumbo are reportedly set to merge with Soudal Quick-Step further increased the chance of sealing the deal.
"I listened to interviews with Primož and I could tell he was not really happy anymore... I asked him, he was open to talking and from the Vuelta on things went quite quickly and we achieved the final signature," Denk said.
Transfer funded without the help of Red Bull
In recent weeks there were reports that energy drink giants Red Bull were largely funding the move for the four time Grand Tour winner.
Bora have a longstanding partnership with Red Bull which enabled Anton Palzer, a former ski-mountaineer to make the jump to professional cycling.

Denk denied the reports that Red Bull funded the deal and insisted that the team funded the transfer by themselves.
"We had some money in the bank and that money we used for this deal," he said. "We have no budget increase. It's not that a new sponsor arrives. We paid this with our money, with what we put aside the last years for this kind of moment when the opportunity arrived to sign a really big rider."
Thank you for reading 20 articles this month* Join now for unlimited access
Enjoy your first month for just £1 / $1 / €1
*Read 5 free articles per month without a subscription
Join now for unlimited access
Try first month for just £1 / $1 / €1