Back from bankruptcy, Mavic opens new facility in Vermont, teases new product
In addition to re-establishing sales in North America, the historic brand will release new wheels in the coming months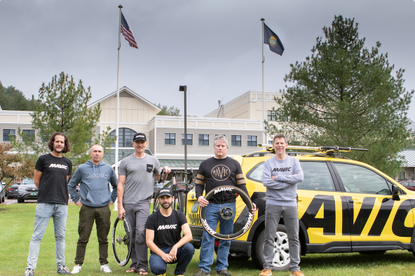 (Image credit: Mavic)
Renowned French cycling brand Mavic is making a return to the United States. Three years after the wheel and component company filed for bankruptcy, Mavic today announced the opening of a facility in Waterbury, Vermont. The aim is to re-establish sales and support services in North America. The 135-year-old company also revealed that new products are in the works.
After experiencing financial troubles for several years, the brand changed hands from Amer to U.S.-based investment firm, Regent LP. The brand was placed in receivership in 2020 and purchased by the Bourrelier Group that same year.
Under the new ownership, Mavic underwent a restructuring process to streamline its operations and address its financial challenges. This included reducing the product range and optimizing the supply chain. Despite the bankruptcy and changes in ownership, Mavic continued to operate and supply cycling products to the market, albeit with a much smaller presence.
"We are thrilled to be back in the USA to address the needs of our North American customers with our new Mavic Service Center in Waterbury, Vermont," said Jean-Michel Bourrelier, CEO of Mavic USA, in a statement.
"We are also very excited to unveil many new products in the coming months relevant to the U.S. market and local riders. We hope that American gravel, mountain and road riders will be able to experience our new wheel technologies and discover our new apparel that celebrate the long-standing history of our brand."
When it comes to new products, the company will initially focus on wheels only but it does have plans to offer a complete line of Mavic products in the near future.
"While Mavic didn't invent the wheel itself, it is the business of Mavic to reinvent the wheel," said Josh Saxe, Sales and Marketing Manager for North America. "We'll be bringing our perspective directly from the field to inform what comes next. We have a lot of new and exciting products to share, and while our focus absolutely includes the sales and marketing around these products, we are emphasizing supporting our customers both new and old, while also participating in our local community and grassroots efforts."
Mavic unveiled the new Cosmic Ultimate 45 Disc wheelset at Eurobike earlier in the year, and for 2024, the French brand will roll out a range of products to span the gravel, mountain, road and e-bike categories. There will even be some "regional products built specifically for the North American market."
Thank you for reading 20 articles this month* Join now for unlimited access
Enjoy your first month for just £1 / $1 / €1
*Read 5 free articles per month without a subscription
Join now for unlimited access
Try first month for just £1 / $1 / €1