Bellis signs for An Post-Sean Kelly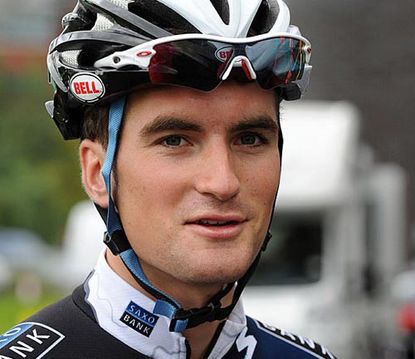 An Post-Sean Kelly today confirmed the signing of Manxman Jonny Bellis for 2012.
Bellis joins from the Saxo Bank-Sungard squad, who first rode with in the 2008 Tour of Britain.
His contract with the team expires at the end of the year, having been overlooked for a new deal as he continues his comeback following a much-publicised scooter accident in September 2009.
Bellis told Cycling Weekly that his new team gives him a chance to rediscover his form which saw him finish third in the 2007 U-23 road worlds.
"Even if a WorldTour team offered me a really good deal, I wouldn't have said yes," he admitted.
"I need the opportunity to race, which is something I've not had the opportunity to do much in the last two years, so this is an ideal opportunity for me."
Bellis at the 2010 National Championships
Bellis, who last rode for the team in August, added: "Saxo Bank are among the best teams in the world, but it wasn't the right environment for me to re-establish myself after the accident.
"I've not had a proper winter since 2009, whereas I've started training already to build a solid base and start developing once again."
Among his team-mates will be Brits Mark McNally, who he spent a year with on the GB Academy, and Jon Mould.
Thank you for reading 20 articles this month* Join now for unlimited access
Enjoy your first month for just £1 / $1 / €1
*Read 5 free articles per month without a subscription
Join now for unlimited access
Try first month for just £1 / $1 / €1