Bike fit guide: More than just saddle height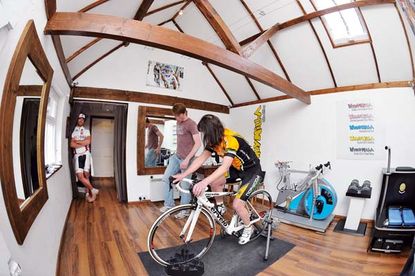 Words Matt Lamy; Photos Roo Fowler
You've had a crack at setting up your bike, but something doesn't feel quite right. Perhaps you're very short or very tall, or you're a bit of a funny shape, or you simply want to get the most from your bike. In that case there's one easy answer — go have yourself a professional bike fitting.
"It doesn't matter whether you are a racing cyclist, a keen amateur, or even someone that just gets out for the occasional Saturday morning ride when time allows, nobody really wants to be working harder than they have to on their bike," Henry Furniss, boss of bespoke bike manufacturer WyndyMilla explains.
To give the crew at WyndyMilla a proper test we've brought along two people at either end of the height charts: Carolyn — a 4ft 11in keen club cyclist and road rider — and Kevin, a 6ft 4in drop-bar commuter and mountain biker. They're both keen to see how they can get the most from their off-the-shelf bikes.
"Essentially a good bike fit will be a compromise between three things: comfort, power and aerodynamics. Aerodynamics might apply more to competitive cyclists, but comfort and power is useful for every type of rider," Henry says.
"There's also a fourth element to appreciate — if we can get you in the perfect position on your bike we can help stave off injuries. Cycling is a non-impact sport, but that doesn't mean the potential for injuries has disappeared. Think about how many times your legs rotate on a typical ride — thousands of times. Now, if the muscles are not moving in the correct directions you have the potential for some pretty big problems."
We're sold already, so Henry passes us onto Ben Hallam — former professional cyclist and Tour of Britain rider, and now a fully-fledged sports physiotherapist — who will take us through the bike-fitting procedure.
The process
From the start Ben explains that bike fitting, despite its name, isn't just about the bike: it's actually about how you interact with your bike. "My philosophy is that it should be a marriage of the bike and body. So if the body is out of balance and it has restrictions that are stopping it moving in a straight line, then you are capping performance and you will also be more susceptible to injury," Ben says.
From theory to reality, and the first thing Ben needs to do is look at Carolyn and Kevin's bodies. Cue a series of on-the-spot exercises to get them limbered up, then our guinea pigs are told to stop moving and stand straight. Ben chats to them about something else to get their minds off what they're doing so that he can get a feel for their natural posture.
"As Carolyn stopped thinking about how she was standing she started putting a foot out and dropping her hip, so I started getting an idea of what problems she had," Ben says. "I also had a look at the saddle on her bike to see how it was worn. Again that gives me a good indication of how she is moving when on the bike."
Prodding and poking
It's time to go to bed. Our subjects lie on their backs and Ben starts looking at each individual joint and each range of motion. "This is when I start picking up whether imbalances are muscular or structural," he explains as he manipulates our two volunteers.
Back on their feet our subjects are asked to perform a range of exercises so Ben can get a feel for their core stability and how effectively they transfer their weight from one leg to the other. "Once I've done this I have a picture of what they look like on the bike," Ben says. "If somebody is very balanced and has a lot of control in their hips I can be more aggressive with their position on the bike."
With his research done it's time to start the process of rectifying problems, starting at the feet and working upwards. "We begin with the pedal cleat, looking at the position fore and aft, to get the relationship between the pedal and the foot correct. If the cleat is too far forward you result in loading up the toes, which aren't designed to produce power. If the cleats are too far back you load the arch of your feet, and they will end up collapsing. So I'm looking to load up the metatarsals. To go in even greater depth I would also look at control of the foot, and we could even prescribe a custom footbed to improve things."
Moving up the body, Ben suggests a range of exercises and stretches for Carolyn to help open up the musculature around her hips. It turns out that rolling foam tubes and tennis balls on tight muscles and connective tissue is a particularly effective way to do this.
Fettle time
Finally it's time to play with our subjects' steeds. Ben gets Kevin and Carolyn cycling with their bikes on turbo-trainers. Using video analysis — filming the pedalling action from both sides — he is able to check the angle of the knee and to give our subjects useful feedback about their pedal stroke.
"With Kevin I showed him the slo-mo of his right and left legs side by side," Ben says. "His left side is doing a pretty nice stroke, but his right side is toe down from the bottom of the revolution to right over the top. This means he's not finishing his stroke underneath — it's a lot more of an up-down pedal stroke. And secondly, with his toe pointing down, the rest of his leg is having to come a long way further up to get over the top of the pedal stroke."
Ironically the final stage is the one most people think of first with bike-fitting — position in the saddle. In Carolyn's case there are issues with just how much adjustment Ben is able to make. "In terms of reach we could just about get Kevin in the right position with the saddle jammed all the way backwards, but with Carolyn even with the saddle at its foremost point we still found we were about a centimetre off the optimum position — and that's because Carolyn has a layback seatpost.
"At Carolyn's front end she would also benefit from having narrower bars and we could also do with bringing her back a little bit, but she's already on an 80mm stem and if we go any shorter there will be handling issues. Essentially, the top tube on her bike is too long."
While Kevin's reach is fine, saddle height is more of a problem. "Because Kevin's seatpost isn't long enough he could do with going to a bigger bike. But that would then have a longer top tube which would necessitate a shorter stem and we'd have the same story as Carolyn.
"In both Carolyn and Kevin's cases the best option would be for them to have a custom-built bike to absolutely fit them perfectly. But even by maximising what they can do with the equipment available to them, they will find the bike is more comfortable, they'll have better power output, and they will be less prone to injury."
Carolyn — the verdict
"I really enjoyed the day — I thought it was really interesting," Carolyn says. "I was surprised by just how uneven my pedal stroke turned out to be. Then the interesting thing wasn't just that there are adjustments you can do to the bike to improve your position, but there are also exercises you can do to adjust yourself.
"We talked a lot about bio-mechanical work. I already knew I was quite lopsided and you can tell even from the shape of wear on my saddle that my right side is lower in many respects. My hips aren't even and it affects my pedalling stroke. So Ben showed me a range of exercises to do to help me even myself up.
"From the fitting I've realised that for somebody as little as me it's very hard to get a perfect fit with an off-the-shelf bike. You have to do a lot of changes and even then it seems there are limits to what you can do."
Kevin — the verdict
"I definitely think it's worthwhile having a proper bike-fit session," Kevin says. "Just from seeing how much time and care Ben takes to do things, it's far greater than people often take when sorting their bikes themselves. For instance, a lot of people I know just heedlessly stick their cleats on their shoes on and screw them in, but Ben lines them up perfectly for your feet.
"Other things Ben changed were my saddle height — he brought that up and said I could do with an even longer seatpost — and my handlebars, which came up too. I've done a lot of miles since the changes and the bike does feel more comfy. I used to have a few twinges in my knee from an old running injury and while I don't know if this is the result of the bike-fitting or not, that does seem to be getting better too."
Website: www.windymilla.com
Thank you for reading 20 articles this month* Join now for unlimited access
Enjoy your first month for just £1 / $1 / €1
*Read 5 free articles per month without a subscription
Join now for unlimited access
Try first month for just £1 / $1 / €1