Bike Washing Machine combines cycling with laundry
Yes, your eyes do not deceive you, the Bike Washing Machine seeks to combine your indoor workout with washing clothes.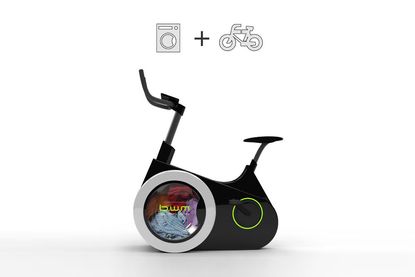 (Image credit: Picasa)
In an effort to revolutionise cycling and washing your clothes, students of the Dalian Nationalities University have decided to combine the two activities in the 'Bike Washing Machine'.
>>> Watch an in-depth of the revolutionary turbo trainer game
Graeme Obree famously used washing machine bearings in his Hour Record conquering bike 'Old Faithful' but this concept takes the act of combining a washing machine to a bike to a whole new level.
>>> Turbo Training sessions, get the most out of your training
When ridden, the inventors claim that the pedaling motion will cause the drum of the washing machine to rotate, at the same time, the superfluous electriciy generated can be used to power the display screen or stored for future use.
Interestingly, this is not the first time inventors have sought to combine the two machines. In 2011, Richard Hewett from Sheffield created a bike which enabled you to wash clothes, whilst riding outside. The intention was for use in developing countries, with limited electricity.
Having not tried the invention for ourselves, we speculate that added motivation could be drawn from having to pedal faster and longer, in order to remove particularly tough stains. If this is the future, then perhaps less fit cyclists will be identifiable from their less clean clothes?
Thank you for reading 20 articles this month* Join now for unlimited access
Enjoy your first month for just £1 / $1 / €1
*Read 5 free articles per month without a subscription
Join now for unlimited access
Try first month for just £1 / $1 / €1