Bradley Wiggins might not be a TV pundit for much longer: 'I just want a normal job really'
Tour de France champion says that he doesn't still want to be on Eurosport in 10 years, and he thought about being a social worker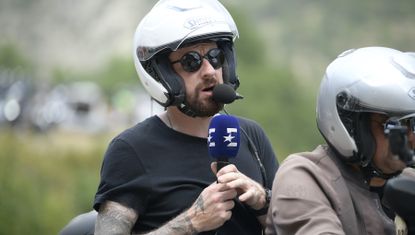 (Image credit: YORICK JANSENS/AFP via Getty Images)
The days of Bradley Wiggins on the back of a motorbike, chatting to camera, during the Tour de France might be numbered, as the former cyclist revealed that he wants a "normal job"
Speaking to the Mail on Sunday last week, the former Tour de France champion said that he does not want to be on Eurosport in 10 years, and that he was "going with the flow".
Wiggins was speaking after the launch of a new NSPCC (National Society for the Prevention of Cruelty to Children) campaign campaign to help people spot the signs of child abuse.
At the same event, the five-time Olympic gold medallist said that the abuse he suffered as a child helped contribute to his success as a cyclist, saying that it is a "real contradiction" that the adversity he faced is what gave him the "drive to run away".
After the launch, Wiggins told the Mail that he thought about being a social worker, such was his change in focus from his days on the bike, and he was trying to find meaning in his life now.
"I'm 43 this year, so I'm just having to rethink what I want to do. I just want a normal job really," he said. "It's hard to rethink what you want to do at 36 when you've been a cyclist for 20 years."
"When you retire, you go down the route of game shows and things like that. But then I did The Jump when I first stopped, and I found myself thinking: 'What am I doing?'"
Last week we wondered whether Wiggins was on the ITV talent show The Masked Singer, which now seems unlikely, in retrospect.
In recent years, he has been a part of Eurosport/GCN's punditry team, both in the studio, and on location at races. However, this might not be going on for much longer.
"I found myself for many years not knowing what to do," Wiggins explained. "I do the punditry, but that all comes easy, and there's no longevity in it. I've actually not extended my contract with Eurosport, so I don't know if I'm going to be doing that this year. I really don't want to be on Eurosport in 10 years' time, doing cycling from the back of a motorbike. I'm just going with the flow at the moment.
"But this kind of thing [the NSPCC campaign] is where I want to go, helping at grass roots. The social worker idea was just the start of a process of moving towards something completely different, something fulfilling."
As for his charity work, and being an ambassador NSPCC, he said there has been a "huge shift" in what he expected he would be doing.
"It is rewarding, finding myself in this position, 10 years on from London 2012,' he said. "I never imagined that I'd be kind of doing something as fulfilling as this and working for Mind [the mental health] charity, having come to terms with my own past. And then using my platform to help other people. It's been a huge shift in what I thought I'd be doing for a living."
"I went through quite a lengthy process after I stopped in 2016 and started revisiting my past. One of the big things I've come to accept now is that maybe it [the abuse] was one of the reasons I was a bit of a contentious w****r at times. It [the abuse] really affected me in general, made me a bit insecure."
Thank you for reading 20 articles this month* Join now for unlimited access
Enjoy your first month for just £1 / $1 / €1
*Read 5 free articles per month without a subscription
Join now for unlimited access
Try first month for just £1 / $1 / €1