Is Bradley Wiggins Rubbish on ITV's The Masked Singer? We investigate
The wheely bin character was tipped to be the Olympian by one of the judges on the Saturday night TV show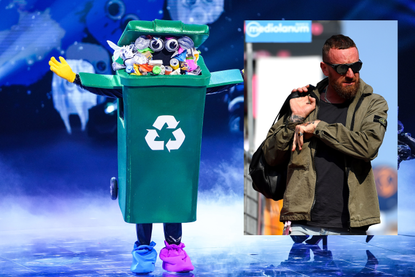 (Image credit: Getty Images/Bandicoot TV)
Halfway through watching a man in a wheely bin costume sing Let Me Entertain You by Robbie Williams, I was not thinking about Bradley Wiggins' victory on stage 20 of the 2012 Tour de France to Chartres, where he confirmed his coronation as the first ever British Tour winner.
However, comedian Mo Gilligan clearly was, suggesting that the latest celeb on ITV's The Masked Singer was the five-time Olympic Champion.
"He's a cyclist, how are we not getting this?" Enquired the stand-up of his fellow judges. This feels ripe for a Cycling Weekly investigation.
There had been commotion in CW towers on Monday morning, as speculation that Wiggins might possibly be one of the characters on The Masked Singer, which has returned for 2023, reached us.
Now, I can't claim to be be an expert on Saturday night television, but I am the resident music expert here at CW, having previously analysed Pieter Serry's Giro d'Italia playlist and taken a look at the history of the Vuelta a España through its official songs over the past forty or so years.
Therefore it was decided that I would take on the arduous task of working out whether Bradley Wiggins, knight of the realm, Olympic and Tour de France champion, is Rubbish.
For the uninitiated, The Masked Singer is a celebrity singing competition-cum-hidden identity show, where various well-known faces dress up in extraordinary costumes and battle to win against one another; once they lose a vote, divided between the public and the judges, they are forced to reveal who they are.
Previous series have seen British comedian Jason Manford unmasked as "Hedgehog" and former Neighbour's star-turned pop singer Natalie Imbruglia as "Panda", so this is the level of renown we are dealing with here.
"How does this relate to cycling?" is the obvious question here, and the answer is tenuously, but should the series four character of "Rubbish" prove to be a cycling knight, then we should really get ahead of the biggest news story this side of the Tour Down Under.
Given we really have no idea who the man in the wheely bin outfit is (it could be a woman, but it's very unlikely), there are just a few clues to be going off.
The green-suited character came on stage to 'My Old Man's a Dustman', which sort of fits in with Wiggins' cockney-esque vibes (though the former Tour champ is from west London not east London), and then the audience was treated to a film of hints, which could prove decisive. The clues were played over Parklife by Blur, which does not feel to be a particular hint for the 2012 Tour winner.
The mystery person said "I'm the one you've been waiting for, and I'm here to work", and was then shown to be passing different colours of bin - red, yellow, green and blue, with a no.1 sign on the red one - which could be the Olympic rings, without black, I suppose.
The person then said "cleaning up, that's what I do best", before add "we're all solo, each of us meant for different things", which could be a reference to winning lots of titles and being part of a team but also winning individually, but that seems pretty insubstantial evidence for it being Wiggins.
The clue finished with the 1812 Overture by Tchaikovsky, which again, could be a link to 2012? Maybe, but I'm unaware of any connection between the man from Ghent and either Russian Romantic music or Napoleon's march on Moscow.
After this fun delve through some reasonably useless hints, "Rubbish" performed Let Me Entertain You reasonably well; better than I imagine Wiggins ever could sing, but having never heard him try before, maybe I'm wrong. It didn't sound like him, but then who knows what kind of pipes he has on him. I'm just as in the dark as the rest of you.
The judges, pop star Rita Ora; TV host Davina McCall; chat show host Jonathan Ross; and comedian Mo Gilligan all then had a go at guessing who the person in the costume was; Antony Costa out of Blue and Dean Gaffney were both mentioned as tips, but it was Gilligan who set us all onto the trail of Wiggins.
The comedian suggested Chris Hoy first, which given his accent, seems pretty impossible, but then later circled back round to Wiggins, which is at least plausible.
Sadly, our man in the wheely bin lost to "Pigeon", who I reckon is CBBC documentary maker Stacey Dooley (don't ask how I know this), which meant he had to face the judges once more to see if he would make it through to another week. Fortunately he did, which means we get to endure weeks more of speculation of the identity of "Rubbish".
If one was to argue against Wiggins being the one in disguise, I would probably say they surely would have made some kind of sideburn reference, and can he really sing that well? I'm not convinced.
Wiggins has previously said that he doesn't want to become a "pointless celebrity". On his retirement he told the Guardian: "You don't want to become just this pointless celebrity who's here, there and everywhere, going on Can't Cook, Won't Cook. I don't want to become a captain on Question Of Sport and go on every week playing the fool."
He then went onto appear on Channel 4's ski-jumping celeb show The Jump, and said then: "Major retiring Olympians such as Sir Steve Redgrave have also trod this path, I see this as a sporting challenge and want to go out there and win it. Just don't call me a celebrity."
Since then, however, he has largely stuck to cycling, being one of the presenters on Eurosport/GCN, although in the past few weeks he did appear on a celebrity version of The Chase, also on ITV, which maybe might hint at participation in other ITV celebrity shows, like The Masked Singer.
He would not be the first cyclist to dress up on TV; in 2021 Nairo Quintana appeared on Colombia's version of The Masked Singer dressed as a chameleon.
Let's wait and see if the five-time Olympic gold medallist will be on I'm A Celebrity... at the end of the year.
Thank you for reading 20 articles this month* Join now for unlimited access
Enjoy your first month for just £1 / $1 / €1
*Read 5 free articles per month without a subscription
Join now for unlimited access
Try first month for just £1 / $1 / €1