Brammeier heads guest list at Dave Rayner Fund Dinner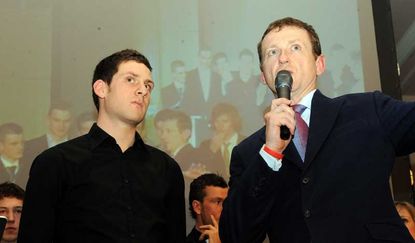 Matt Brammeier, the newest signing to the HTC-Columbia stable led by Mark Cavendish, is guest of honour at the Dave Rayner Fund annual dinner which returns to the Bradford Hilton on Saturday.
The popular function has moved from the Majestic Hotel, Harrogate, which was damaged by fire this summer.
Liverpool born Brammeier is another Rayner success story, for he was backed by the fund in his formative years. And before that he learned his trade with the Liverpool Century RC. He is also one of the great survivors, coming back from an horrendous smash in 2007, when a collision with a cement lorry while training left him with two broken legs.
He has since taken Irish nationality, and is the current Irish National Road Race champion, beating defending champion Nicholas Roche.
The dinner is also supported by British Olympic star Bradley Wiggins, Team Sky's big hope for Tour de France success following his fourth place when riding for Garmin in 2009. With him will be team-mate Russell Downing. Lizzie Armitstead, the Commonwealth Games road race silver medallist, is also attending.
And so too is one of the Fund's greatest supporters over the years, television personality Sir James Savile, the 1951 Tour of Britain rider who swopped bike for microphone to become Britain's top DJ.
Main attraction of the evening, as always, is the hugely popular auction of famous cycling memorabilia, to raise funds to support next year's crop of 18 young Rayner riders abroad.
www.daveraynerfund.com
Thank you for reading 20 articles this month* Join now for unlimited access
Enjoy your first month for just £1 / $1 / €1
*Read 5 free articles per month without a subscription
Join now for unlimited access
Try first month for just £1 / $1 / €1