Briggs wins Stockton Festival Road Race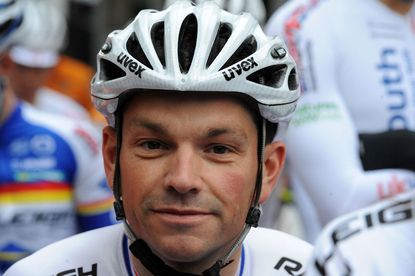 Raleigh-GAC broke Endura Racing's iron grip on this season's Premier Calendar Series with a superb team performance in the penultimate round of the series, the Stockton Festival Road Race, on Sunday.
Doncaster's Graham Briggs won a bunch sprint finish to the 100-mile race in Cleveland, making it a one-two for Raleigh-GAC after his team-mate Tobyn Horton had won the Stockton round of the National Elite Circuit Series on Friday evening.
The victory by Briggs, 28, was the first time this season that a round of the Premier Calendar has not been won by a rider from Endura Racing. Second spot went to Series leader Scott Thwaites (Endura Racing) and he continues to dominate the competition.
After several attempts to break away had been reeled in, the race came down to a bunch sprint and the Raleigh-GAC team did a great job in delivering their man to the line safely.
"I'm not usually comfortable in a big bunch sprint," said Briggs afterwards. "But the team were constantly attacking and bringing the breaks back, so I just had to get involved and do the best I could.
"The boys rode their hearts out for me and I couldn't let them down. I just don't believe that I've won - it's brilliant."
Briggs's victory marked the end of an eventful few days at Stockton, with Thwaites having been first across the line in Friday evening's Criterium before being relegated to third spot following allegations of dangerous riding in the final few hundred metres.
All three riders on the podium looked awkward as they received their awards, and Briggs said afterwards: "I was leading into the final corner, but Scott came up my inside, took my handlebars out from under me and put me into the barriers. I was very angry and emotional afterwards and I had a few words with him."
But Thwaites' version of events was different: "He was first into the final corner but braked hard into it. I managed to close the gap on him and was already committed to going up his inside and at that point I had no choice, if I had braked I would've gone down and taken him with me.
"We were elbow to elbow into the corner, that's bike racing, I didn't deliberately put him into the barriers, it was fair game."
And 48 hours later, Thwaites said: "It's all been sorted out and Friday is now behind us."
With just one event remaining - the Wilton Grand Prix on August 12 - the Premier Calendar Series title has already been decided with Thwaites 123 points ahead of his nearest rival - just as well for him as he will miss the final round due to other racing commitments.
Thank you for reading 20 articles this month* Join now for unlimited access
Enjoy your first month for just £1 / $1 / €1
*Read 5 free articles per month without a subscription
Join now for unlimited access
Try first month for just £1 / $1 / €1