Cameron Jeffers breaks Boris Bike Hour Record with 32.8km effort
The YouTuber and racer says that it was one of the hardest things he had ever done after setting new target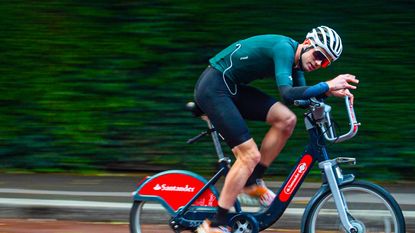 (Image credit: Getty Images)
"As I was taping my feet to the bike some old guy on a bike came over and said he didn't think it was a good idea," Cameron Jeffers told Cycling Weekly.
This did not deter him though, from setting out on his quest to break the Hour Record but with a twist - on a Boris Bike, something he described in his YouTube account as one of the "hardest things I've ever done".
This wasn't at a special velodrome in Switzerland, but around the Inner Circle of Regent's Park, and there was no expensive super-bike, but a run of the mill, hired off the street Santander Bike.
Still, a record is a record, and the 27-year-old Ribble Collective rider smashed the previous distance of 31.285km to set a new benchmark of 32.8km last week.
There were no moderations to the Boris Bike, aside from the taping of feet to the bike for a bit of stability, and away Jeffers went. It was not simple, however.
"It's just horrible and slow and sluggish," he explained to CW on Monday morning, having published the attempy with took place at the beginning of October. "Everything you can imagine a 23kg bike to be. The main thing actually was the gearing. I didn't really realise how spinny the gearing was. I think in the past, we've only ever taken it uphill, so you want the smaller gears.
"On a flat road, you spin out quickly, and the lack of gears was the big issue we had to deal with. It's been a while since I've ridden at that pace for that period of time.
"It was tricky to hold it at 110, 115 RPM, you're constantly trying to find an easier pace to give a couple of seconds of recovery, but you couldn't really. It was definitely an honest effort."
It might have been an honest effort, but it was not a comfortable one, with Jeffers forced to sit in an awkward position for aero advantage, perched on the horrible saddle with his arms hanging over the front basket. It must have been quite the sight for anyone in Regent's Park; apparently some of the guys on road bikes that were overtaken were quite surprised by the situation.
"It was the position that got me, my hips were sore for a couple of days," he said. "At the time you've got the adrenaline, you're just wanting to go as far as possible. But then I realised that I'd hurt my hips a lot; I was hobbling around but nothing too drastic."
As for the new record, Jeffers does not think it's out of reach forever; perhaps it might not even stick around for long.
"I think it definitely can go further, maybe a track rider who has experience of being at that high a cadence for that long," he explained. "I've already had a message from a couple of lads at Herne Hill Velodrome to say they're going to give it a crack there. I think it's a reasonable target though."
The Hour Record was not the first plan, that was to target the 24-hour record actually, one which currently stands at 212.47 miles (341.93 kilometres). However, in a typically British manner, the weather got in the way.
"The Hour Record was a bit more manageable in the conditions," Jeffers said. "We had a couple of hours of dry weather, so we thought it was a good time to smash it out. We did the video where I took one to Mont Ventoux a couple of years ago, and so we have a history with the bike.
"The 24 hours is still an interesting challenge. If I keep going for 24 hours it should be achievable, but it's one of those where you want to put it a bit out of reach to make it more difficult for anyone else in the future."
Watch this space, Boris Bike-racing fans.
This year Black Friday is running from November 24th - 27th. We've rounded up all the best Black Friday bike deals we've found in our main hub page. With deals spanning components, tech and riding kit, you're guaranteed to find a bargain.
Thank you for reading 20 articles this month* Join now for unlimited access
Enjoy your first month for just £1 / $1 / €1
*Read 5 free articles per month without a subscription
Join now for unlimited access
Try first month for just £1 / $1 / €1