Chris Boardman criticises Pickwick Bicycle Club for its policy of banning women members
The club appeared in Forbes magazine as cycling journalist Carlton Reid attended a 'luncheon'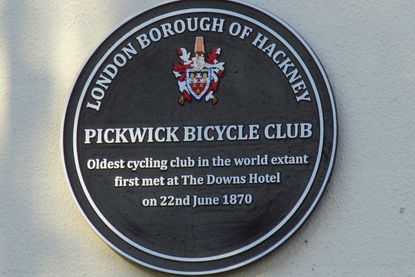 (Image credit: Picasa)
Former Olympic champion and Tour de France yellow jersey wearer Chris Boardman has criticised the 1870 founded 'Pickwick Bicycle Club' for its men only member policy.
The highly traditional club was featured in Forbes magazine, by member and cycling journalist Carlton Reid.
Reid called the collective "the world's oldest, poshest and most eccentric bicycle club," to which Boardman responded "where women are still banned. Not a tradition that needs perpetuating in my view."
As Reid notes in his article, "many members of the club are grandees of the cycle industry," and it is considered a space for networking as well as simple socialising, hence its differentiation from a more causal same sex meet-up.
Named after Charles Dickens' Pickwick Papers, since its Hackney founding coincided with the author's death, the club operates a one-in one-out policy. Membership is capped so that each can take the name of a Dickensian character, such as 'Fat Boy', 'Serjeant Buzfuz' and 'The Red Nosed Mr Stiggins.'
Reid adds that there's currently a seven year waiting list, with each perspective male anticipating the moment that "an unfortunate member shuffle[s] off this mortal coil."
Boardman's sentiment was applauded by cycling commentator Ned Boulting, who added: "Hear hear. I thought it was pretty awful the one year I attended. And not far from being illegal, too, I would imagine."
One supporter of the current status quo, responded: "Most real ladies wouldn't want to be on our table #boystalk."
It's not clear if a 'real lady' is an individual akin to a lord.
The Pickwick Bicycle Club is not the only such group which continues to ban women from membership.
The Pedal Club is a 1941 founded group, initially made up of cycling journalists and officials, with an aim of meeting to "exchange diverse views." Cycling Weekly understands that it last voted to continue to exclude women on January 10, 2018.
Though the club does not allow female members, it does permit the occasional speaker - with 2017 time trial BBAR winner, 100 mile and 24 hour time trial record breaker Alice Lethbridge talking at its August 2018 meet.
In a write up for VeloUK it was noted of the female rider, currently ineligible for membership: "This was a striking picture: a slender young woman before an audience which looked, superficially, so different but where it was clear there was a strong bond of mutual interest. The spirit of club cycling could be seen here, surviving and passing from one generation to the next."
Thank you for reading 5 articles this month* Join now for unlimited access
Enjoy your first month for just £1 / $1 / €1
*Read 5 free articles per month without a subscription
Join now for unlimited access
Try first month for just £1 / $1 / €1