Chris Boardman welcomes Labour's cycle safety plan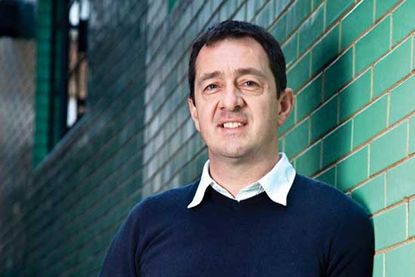 Chris Boardman, British Cycling's policy adviser, has welcome the Labour party's eight-point plan to improve the safety of heavy good vehicles on Britain's roads in relation to injuring cyclists.
The former world and Olympic champion was present at Labour's London Cycle Safety Summit on Wednesday morning, which was chaired by Shadow Transport Secretary, Mary Creagh MP. The summit was created in answer to the recent spate of cyclist deaths on the capital's roads involving HGVs.
"The Labour Party has the opportunity to develop a solid set of targets and ambitions for cycling ahead of the 2015 general election," said Boardman.
"The Get Britain Cycling inquiry report is a blueprint we would like to see all political parties use to develop robust plans for cycling in this country driven by appropriate targets and incentives.
"Cycling is the solution for so many problems that we currently have in this country. There is a huge obesity issue at the moment which in turn puts a huge strain on the NHS. Getting more people on bikes would also go a long way to tackling problems with pollution and congestion.
"It was encouraging to hear today's announcement from Mary Creagh about Labour's ideas to deal with the problem of dangerous HGVs. We will now fully consider her 10 point plan and will continue to work with all political parties to ensure that cycling sits at the heart of manifesto plans ahead of the 2015 general election."
Creagh wrote in a column for the Evening Standard: "Labour's eight-point plan for cycling aims to get more people on to two wheels more often. The more people cycle on our roads, the safer it becomes for all of us."
"So let's end the blame game and get to work to make our capital's streets safer for cyclists and pedestrians alike. Solving the problem of cycling safety needs education, enforcement and engineering. Labour's HGV Safety Charter is an important first step on that journey."
Labour's plan:
- Tough new rules for HGVs.

- A Cycle Safety Assessment of all new road schemes.

- Give local authorities greater responsibility to support cycling.

- End the stop-start approach to supporting cycling infrastructure.

- Encourage more people to commute to work by bike.

- Ensure that children and young people have every opportunity to cycle safely.

- Restore national targets to cut deaths and serious injuries and a new target to increase levels of cycling.

- Review of justice system and how it protects vulnerable road users.
Last week, Boardman issued an open letter to Mayor of London Boris Johnson, calling for urgent action to improve cycle safety.
In September, around 100 MPs from all political parties attended a commons debate on cycle safety.
Thank you for reading 20 articles this month* Join now for unlimited access
Enjoy your first month for just £1 / $1 / €1
*Read 5 free articles per month without a subscription
Join now for unlimited access
Try first month for just £1 / $1 / €1