Cipollini praises Brits, proposes 'Manchester United' team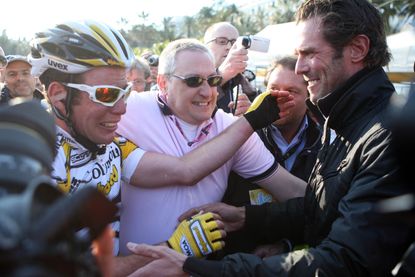 Mario Cipollini proposed that former Italian Prime Minister, Silvio Berlusconi should support cycling the way he has football. After a few dismal years and at the dawn of 2012, he said Italy should take action to lift itself up to a level similar to the British one.
"Can you imagine Milan at the Giro? A strong team with the same jersey as the footballers... Do you know how that would draw out people?" Cipollini told Italian newspaper La Gazzetta dello Sport. "I'm also sure that if he succeeded in this cycling then others, Inter, Manchester United would follow. Cycling would be better off."
Prior to Mark Cavendish, Cipollini was the best sprinter of his time, winning Milan-San Remo, 12 Tour de France stages and the World Championships. The 44-year-old Italian retired in 2005 and made a brief comeback in 2008.
He reflected in the interview on why his country has failed to win a major classic in three years and why others are moving ahead. Besides involving a disgraced, former prime minister, he suggested Italy adopt similar programmes to those of British Cycling and team Sky.
"Something hasn't gone how it should have, but the responsibility is not all on the athletes' shoulders," Cipollini continued.
"There's not investment. By now four or five nations are ahead of us: Great Britain, Australia, USA, France and Spain. We lack the ability and the resources to invest in research, materials, camps, schools... Merckx and De Vlaeminck won because they were the best, but it's no longer like this. ...
"In Italy, excluding Liquigas, there are not important investors. It's also because we are stuck in our management standards. An outdated standard. We don't know how to manage an enormous potential. Abroad, you have these Giants: Sky, BMC... Giants. Without money, you don't have results because the time has passed when cyclists came from the countryside. Now, champions are constructed. We need to teach them how to win, but also carry forward their image. Berlusconi is the only one who can help us turn this corner."
The British Academy helped develop Cavendish into cycling's new sprint king. Cipollini complemented his modern day counterpart, but said that he does not consider himself inferior to Cavendish.
"He's at the front row, even if at times I'm convinced he wastes his talent," Cipollini explained. "I would say he's with the best [sprinters]: Rik Van Steenbergen and Rik Van Looy. I hope that you'd also put me at this same level."
Cipollini maintains a strong presence in cycling, recently coaching team Katusha's youngsters and supplying his bikes to team Farnese Vini.
Related links
Mark Cavendish: Rider Profile
Vuelta winner Cobo signs for Movistar
28 May 2010: Henderson responds to Cipollini's criticism
Thank you for reading 20 articles this month* Join now for unlimited access
Enjoy your first month for just £1 / $1 / €1
*Read 5 free articles per month without a subscription
Join now for unlimited access
Try first month for just £1 / $1 / €1