Dr Hutch: The death of Bernard
Spring is here, so naturally the Doc's thoughts turn to the subject of death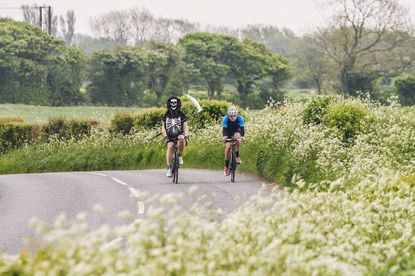 Get The Leadout Newsletter
The latest race content, interviews, features, reviews and expert buying guides, direct to your inbox!
Thank you for signing up to The Pick. You will receive a verification email shortly.
There was a problem. Please refresh the page and try again.
It is spring. And spring makes my friend Bernard unhappy. His mudguard lecture gets fewer outings.
His 'flying in March, creeping by May' hypothesis starts to suffer badly from the sheer quantity of evidence that begins to stack up against it.
All the same, this year his irrepressible optimism is still breaking through.
Just the other day, when we were climbing a local hill (a.k.a. the M11 motorway bridge) he said, "If I dropped dead right here and now, what would you do?"
I didn't even have to think. "I'd ride as fast as I could to your garage, break in, and retrieve all the things you've ever borrowed off me before the rest of your creditors arrive in a charabanc," I said.
>>> Dr Hutch: I hope my old bike has a better life as a food can
"So you'd just leave me here?"
"I'd roll you into a ditch and cover you in some leaves. And I'd start a thread on the club forum about how you'd unexpectedly moved to Canada."
"So you wouldn't miss me at all?"
"No. Next question."
He gave every impression of being genuinely hurt by this. I'm not quite sure what he thinks I might miss.
He's a great windbreak, I admit, but since he never does a turn on the front this is an accomplishment that's only of any use if we have to sit at an outside table at the café stop.
Perhaps he really thought I'd be so upset at having the froth blown off my latte that I'd spend the next 40 years promoting the Bernard Memorial Road Race.
"For some reason I was thinking about my funeral last night," he said. "I was wondering what people would say about me."
"I suppose in an ideal world you'd like me to hang around outside the crematorium saying things like, 'I honestly never thought he had a fifth Paris-Roubaix win in him.
"Especially considering he didn't turn pro till he was 43, and didn't get down to racing weight till he was 47'?"
>>> Dr Hutch: Can we have Strava wind segments, please?
But the thought got us on to wondering what you might like to imagine someone saying about you after you've gone to the great velodrome in the sky.
Cycling is an old and traditional sport where the trivial can say so much.
I once read an obituary of a rider where his club secretary was quoted as saying, "He always took the long way home."
It sounds so slight. You have to be a cyclist (and not, perhaps, his wife and children) to grasp what that tells you about the gentleman in question. He was truly a man to look up to.
Bernard's eulogy
I think I'd be happy to be described with something along the lines of, "He always had his own pump."
It bespeaks competence and quiet cycle-craft. On the other hand, Bernard's suggestion for me was, "You can say what you like about him, but at least he never left you wondering if he'd ever beaten Chris Froome in a time trial."
I finally did think of something nice I could say about Bernard, something that was specific, yet gave the (erroneous, but that's what eulogies are for) impression of both competence and generosity of spirit.
"What I could say and be completely sincere about," I told him, "is that you once fixed a puncture for me when my hands were cold, and you've never reminded me or mocked me for it."
"God, yes!" he said. "I had totally forgotten about that. But trust me, I won't forget it again. And neither, my friend, will you."
Incidentally, if he were to die prematurely I might actually organise a race in his memory.
I'll carefully disqualify everyone in it for turning up without mudguards, or having a Strava account that suggests they've been beyond lactate threshold before the end of February.
When they argue, I'll tell them it was what he would have wanted.
Thank you for reading 20 articles this month* Join now for unlimited access
Enjoy your first month for just £1 / $1 / €1
*Read 5 free articles per month without a subscription
Join now for unlimited access
Try first month for just £1 / $1 / €1
Get The Leadout Newsletter
The latest race content, interviews, features, reviews and expert buying guides, direct to your inbox!
Michael Hutchinson is a writer, journalist and former professional cyclist. As a rider he won multiple national titles in both Britain and Ireland and competed at the World Championships and the Commonwealth Games. He was a three-time Brompton folding-bike World Champion, and once hit 73 mph riding down a hill in Wales. His Dr Hutch columns appears in every issue of Cycling Weekly magazine