Dr Hutch: Can we have Strava wind segments, please?
An ill wind blows through Dr Hutch's training roads that Strava would do well to recognise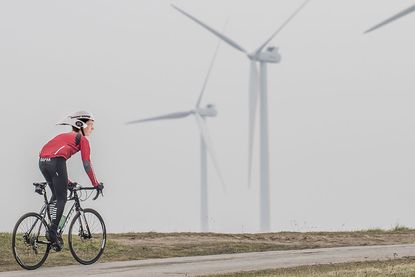 Get The Leadout Newsletter
The latest race content, interviews, features, reviews and expert buying guides, direct to your inbox!
Thank you for signing up to The Pick. You will receive a verification email shortly.
There was a problem. Please refresh the page and try again.
My friend Bernard and I disagree about many things. One of the regulars is the route for a ride. He's unaccountably fond of riding through town centres when he can, which I hate. Or he will put endless creativity into constructing routes composed entirely of little lanes where there is nothing but two gravel wheeltracks with a mohican of grass up the middle and where you puncture every five miles.
If he has to combine with something else, he's not at all averse to doing 10 miles on a dual carriageway, preferably in the rain. What he really can't stand is what I like best — a decent-sized country road with a good surface where you can ride fast, but which might have a car every couple of minutes.
>>> Dr Hutch: Celebrating the terrible cycling kit of the 1990s
But our most fundamental difference is that he is a downwind man, and I am an upwind man. When the wind blows — and out here in the flatlands it blows a lot — I prefer to start my ride heading into it, to enjoy an easier ride home. Bernard prefers the opposite. He reasons that by the time he has to ride home he will very probably be dead anyway.
Dutch courage
We reached a low point a few years ago when he was in charge of navigation on a day with a strong southerly and our route consisted of riding from Cambridge to King's Lynn at 45kph and getting the train home. I still feel rather ashamed of this — our lack of moral cycling fibre was just appalling.
All the same, speaking on behalf of us flatlanders, I feel that those of us who deal with Fenland wind don't get enough credit. All the glamour is in hills. Go to Yorkshire and ride up a 10 per cent hill for 15 minutes and you're a hero. But ride into a freezing 30mph nor'easter across the Fens for an afternoon, and when you upload it to Strava you just look like a fat lad who really needs to do some training.
Around here it's so windy I don't really notice how flat it is. I get the occasional reminder, like the day last year when I did the first 10 miles of a ride before I realised the battery for my electronic gears was still in the workshop, but otherwise I feel as if it's actually kind-of hilly. They understand this in Holland, where they've produced some of the sport's best ever climbers, who hone their skills as youngsters by riding into headwinds while wearing overcoats.
Einstein was right all along
My suggestion is that it's all a bit like the theory of general relativity, which postulates that what look like straight lines are fundamentally bent, because the whole of space and time are actually curved. Cambridgeshire looks flat, but it's not. The wind creates the hills. The interesting bit is that the position and steepness of the hills changes with every ride, like living on a picnic blanket that someone is flapping the crumbs off.
The technology is out there to produce a contour map that represents the wind as if it really is a hill. So that 30mph breeze would be shown as a 10 per cent climb. That weird eddy behind the hospital would be a little hillock. The contours would be forever shifting, but that would add to the interest.
>>> Dr Hutch: Revealing the identity of my greatest cycling rival
None of the current 'normal' Strava segments would ever be the same twice, which would be excellent since we could all hold all of them in perpetuity. And we'd finally get the credit we deserve for riding in a demanding landscape.
Of course, it would make no difference to Bernard. He'd just want to blast down the hairpin descent to King's Lynn, and then get the funicular home.
Thank you for reading 20 articles this month* Join now for unlimited access
Enjoy your first month for just £1 / $1 / €1
*Read 5 free articles per month without a subscription
Join now for unlimited access
Try first month for just £1 / $1 / €1