Luke Rowe column: 'The climbers ride at what they consider an easy pace but for me it's pretty hard'
Regular columnist and Team Sky professional, Luke Rowe tells us more about what it's like to ride with the best climbers in the world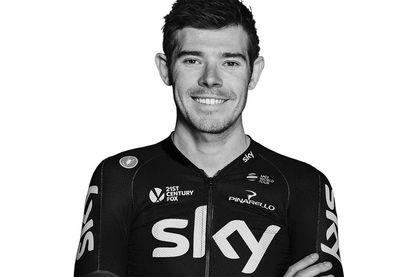 I'm out in Tenerife for the next two weeks with Sky on a training camp, the last focused camp before the Tour de France.
A lot of people ask why we go to Tenerife, why we choose that over other places. Well, it's for a variety of reasons.
First and foremost the weather is on your side, which gives uninterrupted training. Then we stay right on top of a volcano, which can be anywhere between 1,800 to 1,900 metres above sea level.
>>> Tour de France route 2017: stages and key climbs
Staying at altitude has benefits, plus the roads are so quiet, it's nigh-on impossible to do a ride with less than 3,000 metres of climbing — you're up and down all day.
Every year there are more and more teams there. I think many of the top contenders for the Tour go and riders use it as preparation for the Giro too — there's a hotel at the top and I think it's pretty much full of professional cycling teams nowadays.
The training we'll do is just the next level towards the Tour, stepping it up. In terms of altitude metres you can do 15 to 18,000 during the week. Last year we did a week that was almost 20,000.
For me I think the climbing is the biggest benefit, not being at altitude — I don't really feel it affects me. But I'm pretty sure that doing that much climbing can only be good for me — well, I hope so, anyway!
In terms of efforts we do some top-end stuff. Through-and-offs up the climb of 20-30 second pulls each on the front. These can last up to an hour, sometimes rotating all the way up.
Watch now: How to nail short, steep climbs
It's a broad section of efforts but it's all tailored towards climbing and especially focusing on what's required to climb constantly for hours on end. After that when we head to the Dauphiné we can really feel the benefit and feel the form coming.
There will be a lot of climbers there: Froomey, Mikel Nieve, Wout Poels... when you're training in a group, even on a general ride, the speed they go up a climb is that much harder for me.
They're riding at what they consider an easy pace but for me it's a pretty hard pace — you do that day in, day out, and it really drags you along and gets everything out of you. It has its benefits but it does make it pretty brutal.
Thank you for reading 20 articles this month* Join now for unlimited access
Enjoy your first month for just £1 / $1 / €1
*Read 5 free articles per month without a subscription
Join now for unlimited access
Try first month for just £1 / $1 / €1