Why self-torture on the turbo trainer is a necessary evil
Robert Garbutt discovers the great indoors... on his bike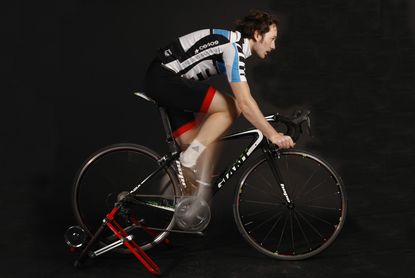 (Image credit: mike prior)
Turbo. It's a word that strikes fear into even the hardest riders; to some, it's a torture device of infinite cruelty. But used wisely this indoor trainer can transform your form.
I've become a late convert to the turbo trainer. Until recently, I'd felt absolutely no attraction to sitting spinning away in my garage while covering the floor in pools of sweat. Not nice.
Then, last winter, it rained every single weekend and I just wasn't getting out riding enough. I took the plunge, and just a 30-minute turbo session stopped me from feeling quite so bad.
Buyer's guide to turbo trainers
I became immune to rain and dangerous icy roads; I could ride whenever I wanted, and those nightly bad weather forecasts didn't induce a sulk.
When the sun shines and the puddles aren't frozen, I'll always opt for a potter around the lanes. The turbo is no substitute for real riding, but it beats battling the worst of the elements.
If you've piled on a few pounds over the festive period, now is as good a time as any to try out a turbo. In this issue, we've tested a selection of the best available and have included a few sessions for you to try.
I reckon there's no quicker way of losing weight; OK, it's not much fun, but it certainly beats being fat.
Robert Garbutt is editor of Cycling Weekly magazine
Thank you for reading 10 articles this month* Join now for unlimited access
Enjoy your first month for just £1 / $1 / €1
*Read 5 free articles per month without a subscription
Join now for unlimited access
Try first month for just £1 / $1 / €1