Should Strade Bianche be cycling's sixth Monument?
It may lack history, but the Italian one-day race is serving up some of the most spectacular racing all season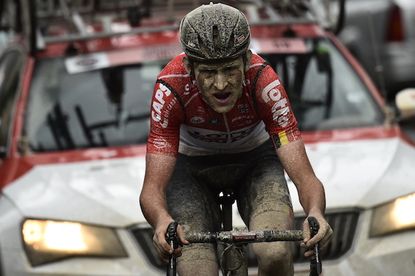 (Image credit: LaPresse)
Even before the 12th edition of Strade Bianche, described as 'Dante-esque' by runner-up Romain Bardet, there was already a feeling among racers and fans that the Italian one-day race had established itself as one of the most illustrious on the calendar.
Last Saturday's epic edition is sure to bolster claims that it should rank alongside Milan-San Remo, the Tour of Flanders, Paris-Roubaix, Liège-Bastogne-Liège and the Tour of Lombardy as one of the sport's Monuments.
>>> Five talking points from Strade Bianche 2018
It is unclear when this term was first applied to the five greatest Classics. I don't remember these races being labelled Monuments when I started as a reporter at Cycling Weekly in 1993, but the description is well established now.
I suspect it derives from them being defined as 'monuments of the sport' in order to differentiate them from mere Classics such as Het Nieuwsblad or Flèche Wallonne and the semi-Classics further down the racing hierarchy.
These five events stand out both for their distance – generally 250km and more – and, particularly for their history.
At 105 years old, Flanders is the youngest of them, with Liège, 'La Doyenne' as it is known, the most long-standing having been founded in 1892.
First held in 2007 and extending to around 180-200km, Strade Bianche comes up well short on both of these characteristics.
Its lack of history diminishes it in another respect too. Only three riders have won all five Monuments during their career: Rik Van Looy, Eddy Merckx and Roger De Vlaeminck, all legends of the sport.
Adding a sixth race to the collection that they were never able to participate in would inevitably devalue their achievement.
Yet, as many have suggested, there are valid reasons for Strade Bianche to be regarded as one of the sport's great one-day races, not least its route.
With long stretches on dusty/dirty and rolling white roads in the heart of the beautiful Tuscan countryside, it offers quite a different test to the other Monuments.
It also harks back to racing's early days, more so than any other Classic apart from Roubaix. It may not have history, but it serves up an almost unparalleled sense of history.
The inclusion of these long sections of white road also counter the argument that Strade Bianche's lack of distance automatically prevents it entering the list of Monuments. They add substantially to the race's difficulty and unpredictability.
https://youtu.be/G1ZQHjVgHSc
In addition, given the growing belief among race organisers less is now more when it comes to distance and delivering spectacle, adding kilometres may only detract from its attractiveness, both to riders and fans.
The latest edition emphasised this quality perfectly. The cold and wet conditions took such a toll that not a single team was able to impose control in the closing quarter of the race. It came down to individual strength and tactics, with Tiesj Benoot the master on both counts.
Realising that the group chasing behind breakaways Romain Bardet and Wout Van Aert were devoting too much time to watching each other rather than committing fully to the pursuit, Benoot struck out on his own.
The result was an epic finale, with the mud-caked Benoot, a photofit from a long-distant racing age, closing a 40-second gap in three kilometres on his own, before eclipsing Bardet and Van Aert's hopes with a devastating acceleration on the final section of gloopy white road.
Given his display, it is still remarkable that Benoot had not won a pro race until he crossed the line in Siena's Piazza del Campo, arguably the most stunning finish location anywhere in the sport.
With Benoot, Bardet and Van Aert very fittingly filling the podium, Strade Bianche looks quite different to the Monuments in another way too, pitching Classics riders against stage race specialists in a manner rarely seen today.
This hasn't always been the case in previous editions, but Bardet's presence at the front, unleashing the attacking instinct that is reined in at Grand Tours, has added to Strade Bianche's status, as has the brave ride by world cyclocross champion Van Aert.
Once he'd been hosed down and dried out, Bardet said he would relish a return, and his performance may have encouraged other GC hitters to follow his path to Tuscany, producing a rare encounter between the best one-day performers and the best stage racers – the kind of contest that organisers and the UCI have been trying to encourage for years.
If this is the case, Strade Bianche's status will rise still further. However, in my opinion, this will still be enough for it to become Monumental.
Add another two or three decades of history and that could change. Until then, there should still be just five Monuments, with Strade Bianche the best of the rest.
Thank you for reading 10 articles this month* Join now for unlimited access
Enjoy your first month for just £1 / $1 / €1
*Read 5 free articles per month without a subscription
Join now for unlimited access
Try first month for just £1 / $1 / €1
Peter Cossins has been writing about professional cycling since 1993, with his reporting appearing in numerous publications and websites including Cycling Weekly, Cycle Sport and Procycling - which he edited from 2006 to 2009. Peter is the author of several books on cycling - The Monuments, his history of cycling's five greatest one-day Classic races, was published in 2014, followed in 2015 by Alpe d'Huez, an appraisal of cycling's greatest climb. Yellow Jersey - his celebration of the iconic Tour de France winner's jersey won the 2020 Telegraph Sports Book Awards Cycling Book of the Year Award.