Contador clenbuterol hearing completed after four days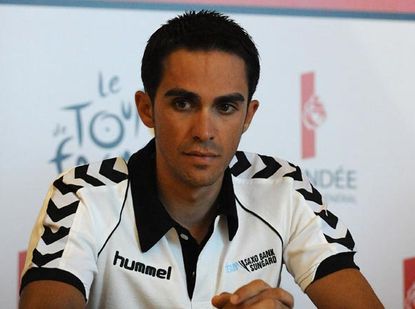 Alberto Contador's four-day hearing at the Court of Arbitration for Sport (CAS) over his positive for clenbuterol in the 2010 Tour finished today (Thursday), with a verdict in the case expected some time early in the New Year.
Neither Contador, nor the Union Cycliste Internationale (UCI) and World Anti-Doping Agency (WADA) - who appealed to CAS when Contador was cleared of doping by his Federation in February - have shifted from their initial positions during the hearing in Lausanne, Switzerland.
The UCI and WADA believe Contador deserves a ban of up to two years for doping, and Contador claims the positive was due to his eating a contaminated steak and that he should go clear.
Contador - unusually for athletes - has been present throughout the hearing, which ended with a 15-minute personal appeal by the Spaniard in defence of his case. However, Contador - who was cross-examined on Wednesday - did not make any comments to the press when he left the CAS building on Thursday afternoon, and neither did WADA and the UCI's lawyers.
Quite apart from the immense complexity of the legal arguments on both sides, Contador v. the UCI/WADA will also be remembered as the second longest in CAS history. Only deposed 2006 Tour winner Floyd Landis's defence of his positive for testosterone took longer.
But despite the length, this week almost nothing has emerged of the case itself, which has involved some 20 witnesses.
These have included lawyers, polygraph [lie detector] experts, biological passport experts, nutritionists, livestock association representatives and three former Astana riders - Contador, Benjamin Noval and Paolo Tiralongo - all of whom were in the Tour hotel the night Contador ate the steak he claims contained the clenbuterol.
One witness called by the UCI was Michael Ashenden, an Australian scientist, believed to have analysed results from Contador's blood tests, and another was Hans Geyer from the Cologne laboratory that found the minute quantities of clenbuterol in Contador's urine samples.
Although there are unconfirmed rumours that the interested parties may be informed of the verdict, but not the detailed legal explanation, as soon as in five days time, the official publication of the verdict is due in January.
An appeal to the Swiss federal Courts against the verdict by both sides is possible, but has rarely proved successful: in just under three decades, only three cases have been returned by the courts to CAS for further review.
Related links
Contador clenbuterol case gets underway
Alberto Contador's clenbuterol case in brief
Thank you for reading 20 articles this month* Join now for unlimited access
Enjoy your first month for just £1 / $1 / €1
*Read 5 free articles per month without a subscription
Join now for unlimited access
Try first month for just £1 / $1 / €1