Crawforth aiming for National Trophy lead in Bradford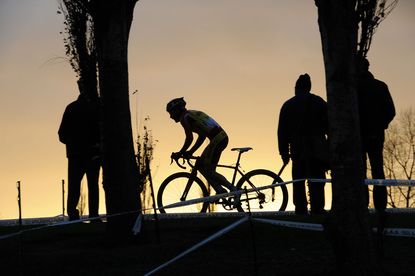 After narrowing the deficit to just four points at the last round, Jody Crawforth (Hargroves Cycles) will be aiming to take the lead in the National Trophy Series in Bradford on Sunday.
Crawforth had finished behind leader Paul Oldham (Hope Factory Racing) in the first three rounds and trailed by 11 points, but capitalised on mechanical problems which blighted his rival in the last round at Southampton and narrowed that gap to just four points.
Sunday's race at Peel Park could well prove a turning point in the series, not least because there looks set to be fewer Belgian visitors than in previous rounds. For the first time this season, a British rider could be in line to win the senior category and take the maximum 50 point haul.
Also separated by just four points are Adela Carter (WXC MTB) and Hannah Payton (The Kinesis Morvelo Project) in the women's category, while most other riders are out of the running.
Last year's muddy conditions at Peel Park proved quite literally a sticking point for riders across all categories, and the course could prove a challenge once again.
Elsewhere, the venue for the tenth round of the Western League has been fixed at Warmley Forest Country Park near Bristol.
Promoted by Giant CC, the latest round is the tenth event in a series which has proved quite open so far, although with three victories so far in the senior category, Charles Coleman (Adeo Cadence RT) could prove a man to watch.
Two regional leagues reach their conclusion this Sunday with round ten of the Central League taking place at Hillingdon circuit in London, while the Welsh League comes to a close at Govilon Football Club near Abergavenny.
Glengorm Castle on the Isle of Mull provides a picturesque setting for two races in the Scottish Series this weekend, with round seven being staged on Saturday and round eight on Sunday.
Winterton Showground provides a venue for the latest round of the Lincolnshire League, and Mark Cotton (Bycka Sport Racing) will once again be the man to beat there.
And the popular Wessex League continues with their latest round at Rutherford Appleton Laboratory in Harwell near Didcot.
Finally, there looks set to be a great night of cyclo-cross action in store at the Taunton Night Cross in Somerset. Round ten of the South West League, the racing starts at 5.30pm and goes on into the evening.
This weekend's events
Saturday, December 10
Scottish Series - Round seven, Cross at the Castle, Glengorm Castle, Isle of Mull.
South West League - Round 10, Taunton, Somerset.
Sunday, December 11
National Trophy Series - Round five, Peel Park, Bradford.
Central League - Round 10 (final), Hillingdon circuit, London.
Lincolnshire League - Round 12, Winterton Showground, Lincolnshire.
Scottish Series - Round eight, Glengorm Castle, Isle of Mull.
Welsh League - Govilon Football Club, Govilon, Abergavenny.
Wessex League - Rutherford Appleton Laboratory, Harwell, Didcot.
Western League - Round 10, Warmley Forest Country Park, Bristol.
Thank you for reading 20 articles this month* Join now for unlimited access
Enjoy your first month for just £1 / $1 / €1
*Read 5 free articles per month without a subscription
Join now for unlimited access
Try first month for just £1 / $1 / €1