Cycling's expenses scandal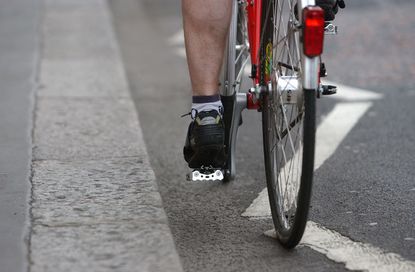 The new year might bring the hope of a fresh start, but for many, it also brings with it the necessity
to tie up last year's loose ends with your income tax return. So, what better time, we thought, than to take a look at cycling expense allowances?
Our interest was also piqued by an email we had last year from a reader who wished to remain anonymous. "My employers allow mileage claims when travelling to work on days off, or going to another department," Reader A told us. "Last year I put a claim in for cycling to work and I received £1.35 - result! I believe I was the first to try and succeed.
"However, I'm writing to you now as I submitted a cycling mileage claim last week for £1.20. This claim form was ripped up in disgust and thrown into the bin while others who submitted similar claims for car mileage - which is at about 60p per mile - were accepted. This isn't fair, cyclists should be rewarded for their effort, in rain, snow and the ever constant threat of being knocked down by motorists."
Risky business
Of course we agree, but there's nothing in law that says businesses have to recompense your travelling expenses if you journey by bicycle. Reader A's experiences are by no means unique, but slowly employers are beginning to recognise the efforts of those who choose to cycle.
Take, for example, the case of Reverend David Gosling, of Searle Street, Cambridgeshire. Reverend Gosling was recently in the news because he managed to get the Diocese of Ely to agree to pay 20p per mile for all journeys made by bike on church business.
"As a clergyman, it's important to be accessible and to be living a simple life which is environmentally responsible," Rev Gosling told Cambridge News. "Some of the senior clergy could really do with losing a few pounds and it's in their interest to do so. I don't put it as bluntly as that to them, but it's part of the Christian approach, to live a responsible life and lead by example. Car drivers are getting allowances, so why shouldn't I get one as a cyclist?"
It has to be said that Cambridgeshire is already at the forefront of progressive thinking when it comes to allowing cycle expense allowances with Cambridgeshire County Council and Cambridge Newspapers Limited also both having 20p per mile bike allowances.
Get some relief
MP Hugh Bayley took a similar outlook when he filed £4.80 worth of mileage for cycling around his constituency. Given the scandal that has surrounded MPs' expenses, it wasn't surprising that a few newspapers went to town with the story last February. This prompted the CTC to jump to his defence, underlining its point by referring to where the taxman stands on the matter. This conveniently takes us back to the start of this article.
As it happens, Her Majesty's Revenue and Customs doesn't give cyclists a bad deal - although it allows only half the tax relief that drivers enjoy. Should you accrue business mileage (other than your normal journey to a permanent place of work) you can claim tax relief of 20p per mile if you used your bike. Car drivers, however, can claim twice as much - 40p per mile.
Is that fair? It is inarguable that cycling is a lot cheaper than running a car. As we went to press the average cost of unleaded petrol in the UK was £1.32/litre or £6/gallon. That means the 20p/mile extra given to car drivers would equate with them running a car that achieved only 30 miles to the gallon.
True, most cars on the open road can achieve far better fuel efficiency ratings than 30mpg, however, by the time you take into account vehicle excise duty, insurance, MOTs and servicing, it might be the case that some drivers aren't all that much better off at all.
Counting the cost
But then there's the argument that cyclists put less strain on road infrastructure, cause fewer accidents that necessitate the NHS or emergency services, and create less pollution and environmental damage - so shouldn't cycling be encouraged? And while we might not fill ourselves with Esso's finest, those legs don't spin themselves and we need to buy fuel in the shape of carbs, protein, etc. And bikes and cycle kit don't come cheap either.
So at this present moment, at the start of 2012, there's still plenty that could be done to improve the cyclist's lot. But perhaps the most important thing for now is, if nothing else, just remember to claim your cycle allowances when you can.
It might not seem much, but you're entitled to every penny of it.
Thank you for reading 10 articles this month* Join now for unlimited access
Enjoy your first month for just £1 / $1 / €1
*Read 5 free articles per month without a subscription
Join now for unlimited access
Try first month for just £1 / $1 / €1