Dempster unstoppable at CiCLE Classic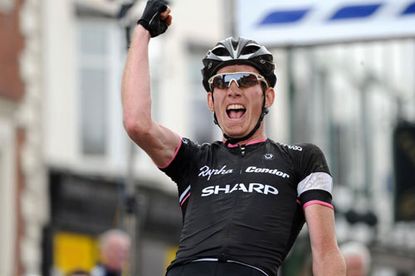 Zak Dempster took advantage of a impressive display from his Rapha-Condor-Sharp team-mates to take victory in the Rutland-Melton CiCLE Classic (April 17).
After Dean Downing and Dan Craven sacrificed their chances of winning to help Dempster, the Australian easily outsprinted Erwin De Kerf (Hand in Hand Espoirs) and Marcin Bialoblocki (Motorpoint).
"We don't come to races to muck around - we came to win," Dempster told CW after taking his third win of 2011.
"We didn't have a specific plan because of the nature of the race. So we were happy to let the race sort itself out a bit more, and then Dean and Dan committed so I had no choice but to finish the job off.
"There's a lot of responsibility on your shoulders to win when somebody else is ready to sacrifice their chances for you," Dempster added.
The race was extremely nervous throughout, which resulted in a lack of breakaway attempts and a large number of crashes.
It wasn't until Leo Fortin (Eseg Douai) broke clear with 22 miles remaining that anyone had gained a sizeable advantage over the peloton.
Fortin had a maximum lead of around two minutes, but as the race left the Somerberg, the iconic off-road section that is passed twice, for the final time, his advantage began to come down.
Any hopes that the 25-year-old Frenchman had of winning evaporated when the 34 man chase group began working well together.
Dempster said: "Luckily Motorpoint committed with us to bring him back, so we joined in. I asked Endura to help - they also had two guys in the group - but they declined."
Once Fortin was in sight, the remnants of the peloton left him just a few yards up ahead, before catching him with just two-and-a-half miles to the finish.
Just 18 riders made up the leading group going into the finish; Rob Partridge (Endura Racing) punctured twice in the final five miles, while Steve Lampier (Sigma Sport-Specialized) picked up his seventh flat in four starts he on the downhill run into Melton Mowbray.
Dempster exited the tight 90° bend onto the finish line in the perfect position, and once he began his sprint there was no catching him.
See this Thursday's Cycling Weekly for a full review of Sunday's race.
What they said
Zak Dempster (Rapha-Condor-Sharp)
"Most of the team, on a good day, are capable of winning this race, but you just have to see how it pans out. It was a longer sprint than I expected; I went around 500m to go to make sure I was in a good position and am pleased I could win for the team."
Steve Lampier (Team Sigma Sport)
"I felt alright but it was hard because no-one would really take it up or try and get away, so I knew it was going to come down to a bunch sprint. I only had one puncture today - my seventh puncture here in four years - and typically it came with 2km to go. That's not a good record - and annoyingly I didn't get any when I did a recce of the race a couple of weeks back."
Magnus Backstedt
Sometimes you need luck to win here but luck wasn't involved in the equation today. I don't know what happened - I felt great in training on Friday but as soon as the race started I could've turned around and gone home. The legs didn't feel good at all."
Results
1. Zak Dempster (Rapha-Condor-Sharp) 105 miles in 4-09-56
2. Erwin De Kerf (Belgium Hand in Hand)
3. Marcin Bialoblocki (Motorpoint)
4. Jonny McEvoy (Motorpoint)
5. Jose Ramirez (KTM-Murcia)
6. Tomas Okrouhlicky (AC Sparta Praha)
7. Llwelyn Kinch (GWR Team-Swindon Cycles)
8. KasperJorgensen (Glud & Marstrand)
9. Lasse Bochman (Glud & Marstrand)
10. David Clarke (Endura Racing)
Related links

Rutland-Melton CiCLE Classic: The Big Preview
Thank you for reading 10 articles this month* Join now for unlimited access
Enjoy your first month for just £1 / $1 / €1
*Read 5 free articles per month without a subscription
Join now for unlimited access
Try first month for just £1 / $1 / €1
Nick Bull is an NCTJ qualified journalist who has written for a range of titles, as well as being a freelance writer at Beat Media Group, which provides reports for the PA Media wire which is circulated to the likes of the BBC and Eurosport. His work at Cycling Weekly predominantly dealt with professional cycling, and he now holds a role as PR & Digital Manager at SweetSpot Group, which organises the Tour of Britain.