Dibben gets top-ten in junior time trial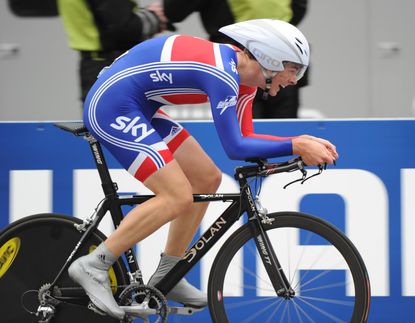 Great Britain's Jon Dibben achieved his goal at the World Championships in Copenhagen on Tuesday. He rode to eighth in the juniors time trial, 48 seconds behind winner, Dane Mads Wurtz Schmidt.
"I'd come here with the hopes of a top 20," Dibben told Cycling Weekly. "To hang in for a top ten, with all the top guys is more than I'd imagined."
"His ride was perfect, he didn't make any mistakes," said coach, Matt Winston. "For a first-year junior, it's just what we are looking for."
The 17-year-old Englishman started at 11:20, just a few minutes after Welshman Owain Doull clocked a time of 37 minutes and 6.37 seconds over 27.8 kilometres.
The two competed at the Commonwealth Youth Games earlier this month where Dibben barely edged ahead of Doull for the bronze medal.
"I beat Owain by a fraction of a second there," Dibben continued. "He was great here; he came in after his ride and gave me some tips."
Dibben finished fourth in the junior Paris-Roubaix race in April, hours before Belgian Johan Van Summeren won the professional version.
In Copenhagen he finished his ride in 35 minutes and 55.72 seconds. Moments later, the home crowd went crazy for Wurtz Schmidt, who set what would be the gold-medal time: 35 minutes, 7.68 seconds.
"My bronze medal at the Commonwealth Games was over a 7.7-kilometre course," Dibben said. "We don't have chances to ride this length during the season."
Winston said that the development programme mostly focuses on track events, which means there is little time to race the few long time trials available.
"I think I went out too fast," said Doull, who finished 30th. "I haven't done many time trials like this, most junior time trials are 13 to 14 kilometres. I just got carried away at the start, went out a bit too hard. I ended up suffering towards the back end.
"It was a whole new experience doing such a long time trial. It is something I'll learn from."
The two compete in the junior road race on Saturday with Matthew Holmes, Sam Lowe and Alistair Slater.
Result

UCI Road Cycling World Championships 2011: Junior men time trial, 27.8km
1. Mads Wurtz Schmidt (Den) 35-07.68
2. James Oram (NZl) at 4.11 secs
3. David Edwards (Aus) at 20.79 secs
4. Markus Faglum-Karlsson (Swe) at 32.91 secs
5. Juriy Vasyliv (Ger) at 39.01 secs
6. Casper Von Folsach (Den) at 39.61 secs
7. Kristopher Jorgenson (USA) at 46.65 secs
8. Jon Dibben (GBr) at 48.04 secs
9. Pierre-Henri Lecuininier (Fra) at 49.08 secs
10. Sondre Enger (Nor) at 49.64 secs
Other
30. Owain Doull (GBr) at 1-58.69
Related links
Road World Championships 2011: Cycling Weekly's coverage index
Thank you for reading 5 articles this month* Join now for unlimited access
Enjoy your first month for just £1 / $1 / €1
*Read 5 free articles per month without a subscription
Join now for unlimited access
Try first month for just £1 / $1 / €1