Downing and Murray tie to win Clayton Velo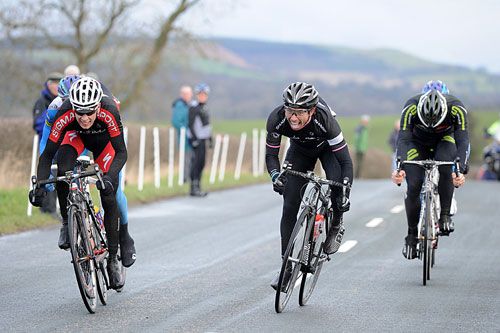 Dean Downing and Tom Murray tied for first in the 2011 Clayton Velo Classic Handicap Race on Sunday, February 27.
The two were inseparable as Murray sprinted through the line and Downing lunged his bike at the line to try and snatch the win.
Murray who was just back from a block of training in Tuscany was happy with his first race of the season.
"The weather in Tuscany was much as it has been here to be honest. So it's not been too bad coming back," he said after the race. "I don't think in all the times I have sprinted against Deano I've won. It would be nice if I have as it would be a good marker for the start off the season."
"It's always a good race here," enthused Downing back in the HQ. "It's got quite a big handicap time wise, so with there only being eleven of us in the scratch race we had to work really hard. Everyone was working, it was as smooth as."
"It was quite windy out there today too, so it was difficult in places. In the break there was two Premiers and two Sigmas so it made it difficult for Wilko and me, they were one, two-ing us all the time. I got a good wheel off in the sprint and we'll have to see who won. It was a bit Het Nieuwsblad I think." Deano said in reference to the big Belgium race of the weekend the previous day.
"I think Tom thought he'd got it and then I did a big track lunge at the end and I thought I'd got it. We will soon see."
How it happened
Grey skies and rain had greeted the riders as they set off around the Bashall Eaves course in Lancashire.
The unusually small scratch group of eleven riders had to work hard to pick up the handicap groups but within six laps of the thirteen they had the race under control.
The pace picked up as did the weather and the race winning break of nine riders that included Barras, Downing, Lawrence, McGowan, Murray, Williamson, Wilkinson, Wilson and Yates went away to contest the final five laps.
As the riders took the bell, Sigma's Williamson had a dig on the right of the road with Wilkinson on his wheel. Rapha's Downing - in his first race of the season - lead the chase in the gutter as Lawrence was dropped off the back of the break.
Coming to the line for the final time, the sprint wound up with around 200 metres to go and it was Downing and Murray that came to the fore.
Result

Clayton Velo Classic Handicap

=1. Dean Downing (Rapha Condor Sharp)

=1. Tom Murray (Sigma Sport)
3. Tom Barras (Cycle Premier Metaltek)
4. Ian Wilkinson (Endura)
5. Simon Wilson (Cycle Premier Metaltek)
6. Adam Yates (Maxgear)
7. David McGowan (UK Youth)
8. James Williamson (Sigma Sport)
9. Adrian Lawrence (bglobal)
10. Jack Barrett (Stirling Bike Club)
Scratch group early on
Putting in an effort
Tom Barras
Ian Wilkinson
Break with two laps to go
Breakaway group with one lap to go
James Williamson on front
Sprint winds up
Nearing the line
Tom Murray (left) and Dean Downing (right) tie for first place
Tom Murray
Dean Downing
Related links
British race calendar 2011