Downings launch Out of the Saddle cycling club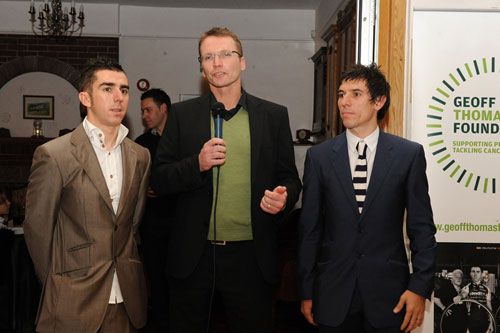 British professional riders Russell
and Dean
Downing have launched the Out of the Saddle cycling club on the back of brothers' successful annual fundraising evening of the same name.
The new club will help to raise the profile of selected charities via the organisation of events, evening question and answer sessions and a percentage of income generated from the sale of club clothing.
John Smith will run the club, with input from the Downing brothers.
"John has had some great ideas over the winter for future fund raising and his next step is organising the Out Of The Saddle Club with help from Steve Ellis," said Dean Downing.
"This will be a great tool for supporting the charities we choose throughout the year so our aim is to get as many members in the club as possible with a portion of the membership fee going towards our chosen charity, which will change every twelve months."
Russell Downing added: "Along with Dean and John, we all put a lot of effort into the running of our annual dinner as this comes in our off-season. But at the moment I'm spending a whole lot of time travelling and racing so it's great that the guys back home are pushing everything forward in my absence."
"We aim to get as many members as possible to get the Out Of The Saddle message forward. We want to show what cyclists can do off of the bike by raising money for good causes and also with our association with Bike Pure show everyone what we believe in, so anyone out there who wants to join, please get in touch."
The Out of the Saddle club can be contacted via outofthesaddle1@gmail.com. Further information on the club can be found via its Twitter feed and Facebook page.
Related links
Downing's Out of the Saddle evening hailed a success
Downing brothers fund raising evening returns
Photo gallery: Out of the Saddle 2009
Dean Downing: Rider Profile
Russell Downing: Rider Profile