Dr Hutch: Cycling is not a good sport for wearing glasses
It's hard to race a bike in non-tinted glasses without looking like a Swiss cyclo-tourist from 1985 who has stumbled onto the course by accident, muses Cycling Weekly's columnist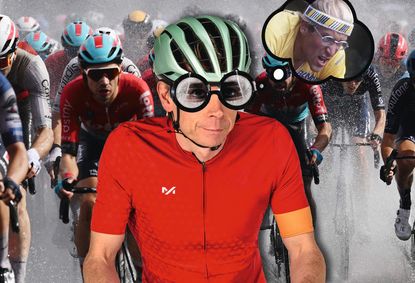 (Image credit: Getty Images/Future)
Get The Leadout Newsletter
The latest race content, interviews, features, reviews and expert buying guides, direct to your inbox!
Thank you for signing up to The Pick. You will receive a verification email shortly.
There was a problem. Please refresh the page and try again.
I was chatting recently to a pro rider about a teammate of his, a man with a considerable reputation for crashing. I'm not naming names here, but in any mass crash, there is always a good chance that he'll be the rider you find at the very bottom of the pile.
"How can anyone be that unlucky?" I said.
"How can anyone be that blind," was the reply. "Round the hotel, at home, at the café, everywhere other than on his bike he wears glasses. But he just races without them. His ability to blunder through the peloton is pretty extraordinary, really. He goes for gaps that aren't there because he can't actually see if they're there or not. When he's lucky he looks like a bike-handling genius. When he's not, he brings half of us down with him."
To me this man feels like a fellow traveller – although obviously not one I'd want to literally travel with. I'm quite short sighted. When I rode as a sighted tandem pilot in Paracycling events I always had a suspicion that things wouldn't have been drastically more perilous if I and the visually-impaired stoker had swapped places.
I used to wear contact lenses for racing, but hated them. There were races where my only motivation for getting to the finish was to take my lenses out and, ideally, throw them into a hedge.
These days I just wear glasses. Cycling is not a good sport for wearing glasses. This is partly aesthetic. It's not too terrible in sunglasses weather; prescription sunglasses are expensive, your choice of models is very limited (especially models of the currently fashionable over-sized sunnies), but you can manage to look all right. But in lower light conditions when you want clear lenses, you look odd. It's hard to race a bike in non-tinted glasses without looking like a Swiss cyclo-tourist from 1985 who has stumbled onto the course by accident.
I'm baffled as to how riders from the 1950s, like Ray Booty, managed to look as cool as you like in round horn-rimmed glasses. Even Laurent Fignon looked OK in wire-rims in the 1980s, to the extent of making the nickname "the Professor" work for him. No one these days can do this.
But how you look is nothing compared to how you see. Rain is the enemy. You can keep your glasses on and be blinded by the water on them. You can take them off and be blinded by your own God-given inability to see. Whatever you do you'll reach the point where you'll wish you had an old-style frame-fit pump so you could use it to probe for obstacles ahead.
The other option is to ride without glasses at all. If you've got 20/20 vision, you'd be surprised by what people like me can't see. We can see cars, corners and junctions just fine. But potholes are the mortal enemy of the short-sighted. If you have vision like mine the only way to locate potholes if you don't have your glasses on is by feel. Same with gravel. Same with grates and manhole covers. While I'd accept all these things have a certain tactility, it is not a good way to discover them.
In a race, just try picking out your team helper by the road. All team helpers look the same to the short-sighted bike rider, and before you know where you are you're performing a high-speed mugging on a total stranger.
One or two friends have suggested laser eye-surgery as the solution to all this. These are, of course, non-cycling friends. Any cycling friend would baulk at the price and immediately understand that for the price of corrected vision, I could buy a nice pair of wheels instead.
I'll need them, obviously. It's only a matter of time before I trash my current good wheels on a pothole.
Thank you for reading 20 articles this month* Join now for unlimited access
Enjoy your first month for just £1 / $1 / €1
*Read 5 free articles per month without a subscription
Join now for unlimited access
Try first month for just £1 / $1 / €1
Get The Leadout Newsletter
The latest race content, interviews, features, reviews and expert buying guides, direct to your inbox!
Michael Hutchinson is a writer, journalist and former professional cyclist. As a rider he won multiple national titles in both Britain and Ireland and competed at the World Championships and the Commonwealth Games. He was a three-time Brompton folding-bike World Champion, and once hit 73 mph riding down a hill in Wales. His Dr Hutch columns appears in every issue of Cycling Weekly magazine