Drake on top in North West cyclo-cross league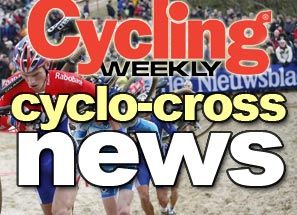 In-form Team Elite rider Giles Drake secured a third consecutive victory in the North West League, winning Sunday's Liverpool Mercury event at Stadt Moers Country Park in the City.
Drake, 27 and from the Wirral, was just inches ahead of Herbalife-Wheelbase rival Tom Armstrong in a two-up sprint finish, but he had the staying power to boost his overall tally and make it three wins out of the last three races.
In Wales, junior ace William Worrall (Towy Riders) got the better of Welsh League leader Joe Lally (CC Abergavenny) in the eighth round of the league at Margam Park, Port Talbot, while Cardiff JIF's Adam King was third.
In Yorkshire, two wheels proved better than two feet as the annual Cyclists versus Harriers clash took place in Bingley on Saturday.
The cyclists secured an emphatic 64-172 victory over the runners, with nine of the top ten finishers being on two wheels.
Conditions were ideal for the 2011 renewal of the event, and it was Ian Taylor (Craven Energy) who took the win in a new record time of 32:09, beating old record holder Rob Jebb's previous mark by ten seconds.
Keighley-based Taylor was just two seconds ahead of Crosstrax rider Andy Peace, while the first runner took third spot - Ilkley Athletic Club's Tom Adams.
Peace had been at the front alongside Adams in the early stages, but the hills took their toll on the Harrier who dropped back, while Taylor came to the fore and pedalled away to the win alongside Peace.
Elsewhere, Dan Booth took victory in round ten of the SRAM Notts and Derby League - his second victory in the league this season following his win in round four.
He crossed the line more than two minutes ahead of his nearest rival Andrew Stuart, the TFN Tri Club rider who won a two-up sprint with Buzz Cycles' Rob Parkin for second spot.
PCA Ciclos Uno rider Andrew Nicholas won the tenth round of the Eastern League at Hempton Common in Norfolk on Sunday, but it was mightily close.
Nichols was just three seconds ahead of his two nearest rivals in a thrilling finish to the event near Fakenham, with XRT-Elmy Cycles rider Ross Tricker just taking second ahead of Iceni Velo's Tim Guy.
In Cumbria, MTS Cyclesport rider Steven Ward secured an emphatic victory in the eighth round of the Cyclo-Cross North East League staged near Curwen Hall in Workington.
He pipped Hope Factory Racing's Keith Murray, while Morgan Donnelly (Beacon Wheelers) was third.
And in Lincolnshire, Mark Cotton returned to winning ways with a win in the ninth round of the Lincolnshire League around the grounds of the county police headquarters at Nettleham.
He was just two seconds ahead of Sleaford Wheelers rival George Thompson.
And Rob Watson (Paul Milnes-Bradford Olympic RT) put his local knowledge to good use when he won the seventh round of the Yorkshire Points Series in Myrtle Park, Bingley, on Sunday.
Watson, who lives about a mile from the course, took a solo victory after escaping from his breakaway rivals to secure his second win in the series following his victory in Bradford in round three.
Related links
British cyclo-cross preview (Nov 19-20)
Thank you for reading 20 articles this month* Join now for unlimited access
Enjoy your first month for just £1 / $1 / €1
*Read 5 free articles per month without a subscription
Join now for unlimited access
Try first month for just £1 / $1 / €1