'Either you have sun or dark': Meet the Uno-X DS who lives in the Arctic Circle
Leonard Snoeks lives on Svalbard, and is almost definitely the most northerly person involved in pro cycling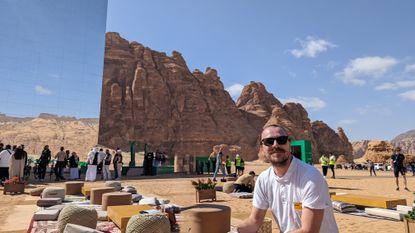 (Image credit: Future/Adam Becket)
Leonard Snoeks is used to deserts; the Uno-X directeur sportif lives on Spitsbergen, part of the Svalbard archipelago, Norwegian territory well inside the Arctic Circle.
However, when Cycling Weekly catches up with the Norwegian DS at the Saudi Tour, the climate is rather different to the one he is used to, despite the similar lack of rain in the two locations.
The 37-year-old has lived inside the Arctic Circle since August, when he moved there due to his wife's work on Norway's new climate and energy plan. He is one of the less than 3,000 people that live on Svalbard, which must make him one of the most isolated people involved in the world of professional cycling.
"It has been nice. I actually have more time to prepare, because there's nothing else to do," he says. "Of course, living there is different, it's a bit like here, just cold, because it's an Arctic desert. Either you have sun or dark.
"Luckily we have training camps, and Christmas, to get me away. I'm not that big a fan of the dark, so for me to go away, it's not that much of a problem. For my wife and daughter, maybe it's a bit more challenging at times. The contrast is what I like."
Snoeks is from Oslo, which might be ruled by the same government, but is vastly different. He explains that Svalbard is as far from the Norwegian capital as Morocco is, to give some sense of the distance.
However, despite the hundreds of kilometres of extra travelling he needs to do as a result of living so far north, it is not a problem for his Uno-X team.
"Norway is pretty stretched out, we have riders living in Tromsø, we have riders in Stavanger [the two ends of the mainland country]," he says. "So that's one of the nice things about being in cycling, you can stay where you want in Europe.
"We're used to distance. I just have to put in an extra day of travelling, but it's not forever. I'll be there between one or two years more."
Svalbard is not suited to road riding, despite this being the main focus of Snoeks' attention.
"There are a lot of people cycling in Svalbard, but mostly on fat tyre bikes or e-bikes," he explains. "There aren't that many roads, I think there's only 50km of tarmac there. You need to have a pretty decent gravel bike for it to work. I'll get a bike up there this spring."
Snoeks might be able to get away, for training or for racing, but his wife and daughter are there pretty much full time; fortunately, the youngest Snoeks is not yet at the age where she is itching to get away from her Arctic home.
"My daughter loves it, there was a window now before she got too old where we had to go there," her father says. "She enjoys it, it's totally different. Kids are pretty adaptable, they quickly make friends. It's pretty unique, she will remember it for the rest of her life."
Uno-X already have two wins this season, one of which came through their new veteran signing Alexander Kristoff, a coup for the Norwegian team. Everything is building up to big objective, however, that of the Tour de France, which the squad will race in July, the first Norwegian outfit to do so.
"I was really happy, it was a big effort behind the scenes," Snoeks says. "I was happy for Uno-X, both as a company and a team. I went straight out, put on my French hat, took my wife, and we had a glass of champagne by the fire in the hotel in Svalbard. The response from cycling in general in Norway was incredible."
One imagines the response in Svalbard was slightly more muted, but Snoeks and Uno-X are proving that cycling can thrive even in one of Europe's wildest countries.
Thank you for reading 20 articles this month* Join now for unlimited access
Enjoy your first month for just £1 / $1 / €1
*Read 5 free articles per month without a subscription
Join now for unlimited access
Try first month for just £1 / $1 / €1