60% of motorists unaware of Highway Code changes, one year after introduction
Charity Cycling UK has called on the government to raise awareness of the updates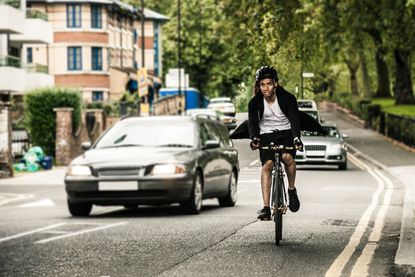 (Image credit: Getty)
Almost two thirds of drivers are still unfamiliar with last year's Highway Code updates, a YouGov poll has found.
The changes, which came into force in January last year, sought to improve the safety of vulnerable road users in the UK. A "Hierarchy of Road Users" was introduced, placing pedestrians at the top as the most vulnerable, followed by cyclists, with motorists at the bottom.
The update also promoted the use of the 'Dutch reach' method for getting out of cars. This involves using the hand furthest from the car door to open it, naturally encouraging the person to check their blind spot for other vehicles and cyclists.
According to the YouGov poll, which surveyed 2,168 adults on behalf of charity Cycling UK, 60% of respondents said they knew either "not very much" or "nothing at all" about the Highway Code updates.
Of those who were aware, only 28% correctly responded to the question "how much space should a driver leave when overtaking people cycling at speeds of up to 30mph?"
Those sampled were given four choices, ranging from 0.5m to 2m, with the correct answer being 1.5 metres.
Commenting on the poll's findings, Sarah Mitchell, chief executive of Cycling UK, said the public's lack of understanding and knowledge of the Highway Code update is "alarming".
"If widely adopted, these changes can save lives and make the roads better for everyone," she added. "We need government commitment and investment in a long-term awareness campaign of at least three years to help change long established driving behaviours.
"With more people looking for other ways to travel, whether for financial reasons, health or environmental, making our roads safer for its most vulnerable users is essential."
In 2021, the year before the Highway Code updates were introduced, 111 cyclists were killed in Great Britain, with a further 16,347 reporting injuries from traffic incidents.
Edmund King, president of British motoring association The AA, said: "It is vital both for cyclists and drivers that the well-intentioned changes highlighted in the new Highway Code one year ago are understood and respected by all road users.
King went on to agree with Mitchell that change is necessary, outlining that "more action is needed to promote these potentially life-saving changes".
Thank you for reading 20 articles this month* Join now for unlimited access
Enjoy your first month for just £1 / $1 / €1
*Read 5 free articles per month without a subscription
Join now for unlimited access
Try first month for just £1 / $1 / €1