Endura launch new custom bib short PadFit system
We headed down to Cyclefit in London to get a first look at the new Endura PadFit system, which aims to use sophisticated technology and pressure mapping to ensure you have the perfect chamois in your shorts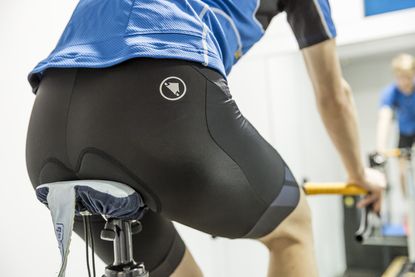 (Image credit: chris catchpole)
A comfortable pair of bib shorts is an essential piece of kit. Endura have realised that the current ergonomics applied to bib shorts does not suit everyone. For example, just because you are 6'4 and 100kg, does not nessicarily mean you have really wide sit bones. To put it another way, an XL pair of shorts is likely to have a huge chamois, regardless of weather the wearer needs it. Conversely a small rider can have wide sit bones and require small shorts with a wide chamois.
To this end, Endura are teaming up with bike shops to offer their gebioMized®-Endura Pad Fit™ System. The first shop to partner with Endura is Cyclefit, so we headed down to see for ourselves. The system is designed to quickly match a rider to the correct seat pad, based on their physiology, riding style and saddle.
>>> For a complete guide to road bike saddles, click here
We took our existing saddle along, but you could also take your complete bike into the shop. The fitters attached our saddle to a jig, where upon that placed a sensor mat over the saddle. Endura then provide a pair of test shorts with no chamois.
The jig can be set up to your exact bike measurements, or alternatively you can just use your complete bike and a turbo trainer. This is important, as it means you replicate and assess your normal riding position.
>>> For a guide to correct saddle height, click here
You are then instructed to pedal on the hoods, tops and drops at your normal cadence. The sensor mat detects where the pressure is being applied on the saddle and identifies hot spots. The software analyses the results and matches to the pad width that will offer optimum performance and comfort.
There are three different sized pads, with our test suggesting a size small (green). We repeated the test sitting in a different part of the saddle. This validated the result, again suggesting that the ideal pad size was small. The shorts are available in two different leg lengths too. Our recommended shorts were a size medium, regular leg with a narrow pad (green).
The next step was to try on our new shorts and ride them to see how that affected our pressure mapping. Endura describe their FS260-Pro SL shorts as 'love at first sit'. We would agree with this! They just felt right as soon as we started pedalling in them. We will be doing a longer term review of the shorts to validate this, but our first impression was very positive.
We were really impressed with the system on display. Not just as a tool for bib short selection, but also as a bike fitting aid. Some riders, ourselves included, have a tendency to sit too far forward on certain saddles. The gebioMized® pressure mat can accurately help with saddle fit. The whole process is quick and we look forward to seeing it in other bike shops.
Thank you for reading 10 articles this month* Join now for unlimited access
Enjoy your first month for just £1 / $1 / €1
*Read 5 free articles per month without a subscription
Join now for unlimited access
Try first month for just £1 / $1 / €1
Oliver Bridgewood - no, Doctor Oliver Bridgewood - is a PhD Chemist who discovered a love of cycling. He enjoys racing time trials, hill climbs, road races and criteriums. During his time at Cycling Weekly, he worked predominantly within the tech team, also utilising his science background to produce insightful fitness articles, before moving to an entirely video-focused role heading up the Cycling Weekly YouTube channel, where his feature-length documentary 'Project 49' was his crowning glory.