Endura seal Halfords Tour Series victory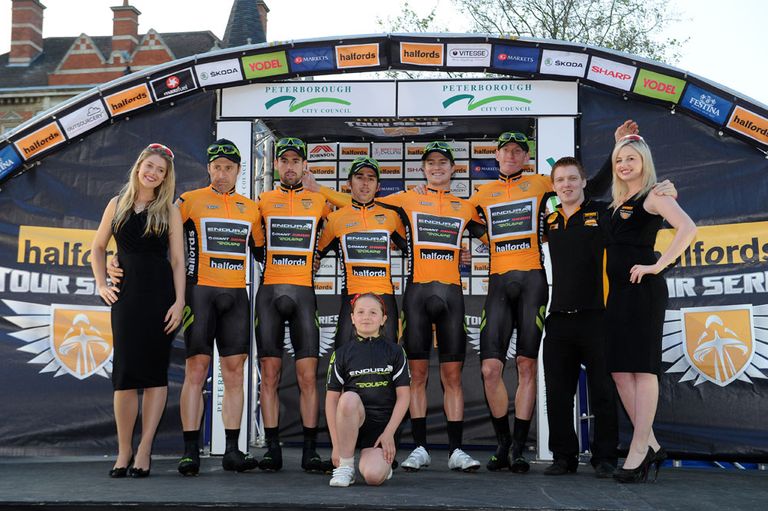 Endura Racing clinched their first ever Halfords Tour Series title in Stoke-on-Trent last night, but it was their nearest rivals who scooped up the final victories of this year's event in the Potteries.
2011 champions Rapha-Condor-Sharp won the Tommy Godwin team time trial (round 11) - their first round victory in this year's series - to seal second place overall, while Node4-Giordana impressed on way to taking the win in the final round, the hour-long criterium. Raleigh-GAC rider and Boardman Bikes Sprints competition winner Bernie Sulzberger soloed to the individual prize, but this wasn't enough for his team to overhaul UK Youth in the race for third overall.
Helen Wyman (Kona Factory Racing) also dominated the final round of the Johnson's Health Tech GP Series, but like Rapha in the men's series, last year's overall winner was forced to settle for second overall. Annie Simpson - who topped the leaderboard throughout the five-round event, took the title, and also won the sprints competition. Strong performances from here team-mates Jessie Walker, Hannah Walker and Penny Rowson ensured that Matrix Fitness-Prendas took the women's team prize.
Rapha off the mark

It may have taken 11 rounds to do so, but Rapha-Condor-Sharp kept their record of winnning a team round in every Tour Series to date by setting the fastest time in the first-ever team time trial in the event.
They only narrowly beat UK Youth, with whom they were fighting for second place overall with, while Endura's third place meant they wrapped the series win up with one round to go. IG-Sigma Sport finished fifth, their joint-highest round position in this year's series.
Node4 win on home soil

Based in nearby Stone, it was inevitable that Node4-Giordana would target the Grand Final to take their second team win of the series. Having finished fourth in the team time trial, they got Kiwi Mike Northey in a six-man group who escaped early on in the final round.
Sulzberger attacked on the penultimate lap and stayed clear to take a memorable victory, but Northey won the sprint for second. By now, Node4 had put Matt Cronshaw in a small chasing group, and Rico Rogers placed well in the bunch finish. They took the round, but missed out on beating Raleigh-GAC into fourth by a slender point.
Wyman win not enough for overall crown

Helen Wyman was untouchable in the women's race, as she attacked on the second lap. While the chasers behind were slow to respond, she pulled out unassailable gap on the road, and lapped many of the participants.
However, round one winner Simpson stayed out of trouble to secure a well-deserved overall win.
Results
Halfords Tour Series Grand Final, round 11: Tommy Godwin Team Time Trial, Stoke-on-Trent

1. Rapha-Condor-Sharp in 3.09.28/10pts
2. UK Youth in 3.09.66/9pts
3. Endura Racing in 3.10.81/8pts
4. Node4-Giordana in 3.12.49/7pts
5. IG-Sigma Sport in 3.14.03/6pts
6. Metaltek-Scott in 3.14.62/5pts
7. Raleigh-GAC in 3.15.17/4pts
8. Cycle Premier-Kovert in 3.19.37/3pts
9. Herabalife-LeisureLakesBikes in 3.21.78/2pts
10. Hope Factory Racing in 3.25.08/1pt
Grand Final Team Result

1. Node4-Giordana 10pts

2. Raleigh-GAC 9pts
3. Endura Racing 8pts
4. UK Youth 7pts
5. Rapha-Condor-Sharp 6pts
6. CyclePremier-Kovert 5pts
7. Metaltek-Scott 4pts
8. IG-Sigma Sport 3pts
9. Herbalife-LeisureLakesBikes 2pts
10. Hope Factory Racing 1pt
Grand Final Individual Result

1. Bernard Sulzberger (Raleigh-GAC)
2. Mike Northey (Node4-Giordana)
3. Zak Dempster (Endura Racing)
4. Rich Lang (Rapha-Condor-Sharp)
5. Yanto Barker (UK Youth)
6. Stephen Adams (Cycle Premier-Kovert)
7. Ian Wilkinson (Endura Racing)
8. Matt Cronshaw (Node4-Giordana)
9. Tobyn Horton (Raleigh-GAC)
10. Kristian House (Rapha-Condor-Sharp)
Final Overall Team Standings

1. Endura Racing 110pts
2. Rapha-Condor-Sharp 93pts
3. UK Youth 92pts
4. Raleigh-GAC 89pts
5. Node4-Giordana 88pts
6. Cycle Premier-Kovert 53pts
7. IG-Sigma Sport 45pts
8. Metaltek-Scott 42pts
9. Herbalife-LeisureLikesBikes 26pts
10. Hope Factory Racing 21pts
Boardman Bikes Sprints winner, Stoke-on-Trent

1. Bernard Sulzberger (Raleigh-GAC)
Final Boardman Bikes Sprints standings

1. Bernard Sulzberger (Raleigh-GAC) 108pts
2. Marcel Six (Metaltek-Scott) 56pts
3. Kristian House (Rapha-Condor-Sharp) 38pts
4. Yanto Barker (UK Youth) 30pts
5. Zak Dempster (Endura Racing) 29pts
Johnson Health Tech Grand Prix Series, round five: Stoke-on-Trent

1. Helen Wyman (Kona Factory Racing)
2. Laura Massey (Vivelo Bikes/Inverse/Cyclaim)
3. Jessie Walker (Matrix Fitness-Prendas)
4. Harriet Owen (Node4-Giordana)
5. Hannah Walker (Matrix Fitness-Prendas)
6. Lucy Garner (Node4-Giordana)
7. Jo Tindley (VC St Raphael)
8. Penny Rowson (Matrix Fitness-Prendas)
9. Ruth Winder (Team VanderKitten)
10. Alice Barnes (Twenty3c.co.uk-Orbea)
Round five team winners

1. Matrix Fitness - Prendas
Final overall individual standings

1. Annie Simpson (Matrix Fitness-Prendas) 77pts
2. Helen Wyman (Kona Factory Racing) 72pts
3. Corrine Hall (Node4-Giordana) 62pts
4. Penny Rowson (Matrix Fitness-Prendas) 58pts
5. Laura Massey (Vivelo Bikes/Inverse/Cyclaim) 57pts
6. Harriet Owen (Node4-Giordana) 54pts
7. Jo Tindley (VC St Raphael) 50pts
8. Hannah Walker (Matrix Fitness-Prendas) 45pts
9. Alice Barnes (Twenty3c.co.uk-Orbea) 31pts
10. Lydia Boylan (Look Mum No Hands!) 28pts
Final overall Team Standings

1. Matrix Fitness-Prendas 202pts
2. Node4-Giordana 175pts
3. VC St Raphael 105pts
4. Mule Bar Girls 82pts
5. Look Mum No Hands! 45pts
Sprints winner, Stoke-on-Trent

1. Helen Wyman (Kona Factory Racing)
Final Sprints standings

1. Annie Simpson (Matrix Fitness-Prendas) 25pts
2. Jo Tindley (VC St Raphael) 24pts
3. Hannah Walker (Matrix Fitness-Prendas) 19pts
Related links


Halfords Tour Series 2012: Cycling Weekly's coverage index