Extinction Rebellion protest Shell deal at British Cycling AGM
Group promises more action against governing body's controversial Shell sponsorship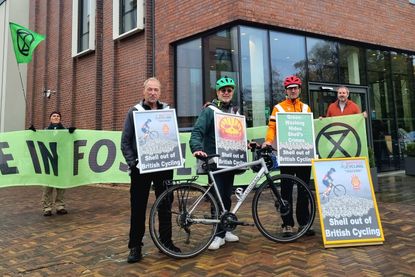 (Image credit: Extinction Rebellion)
Members of the environmental movement Extinction Rebellion (XR) rallied outside British Cycling's annual general meeting on Sunday in protest of its partnership with oil and gas giant Shell UK.
Around 20 members of XR's Midlands division protested at the Edgbaston Park Hotel in Birmingham yesterday morning. They let off green flares, banged drums and held a large banner with the words "no future in fossil fuels".
One of those present was Michael Bastow, a member of both XR and British Cycling. "We want [British Cycling] to drop Shell and continue with the good work that they do within communities," he told Cycling Weekly. "The two don't match at the moment."
During the protest, Bastow said he had a "brief chat" with the governing body's CEO Jon Dutton. "My feeling is he wanted to listen to what our concerns were," Bastow said. "He was open. I don't feel he wanted to shoo us away. I think he wanted to have his AGM, and that was fair enough, we didn't really want to disrupt that process.
"On the day, we felt listened to. That's a positive," he continued. "We felt that there was some sort of step from them."
British Cycling signed an eight-year commercial partnership with Shell UK last October, saying the company would help its efforts to reach net zero and get more people with disabilities into the sport.
Although Shell's greenhouse gas contributions are falling, the energy giant's activities are said to account for around 1% of all global emissions every year.
"Professional cyclists are real role models and to actually see a Shell logo on them is just the wrong message," Bastow said. "Shell are really quite an unpleasant company in the many things that they do."
Bastow, who also staged a protest at the National Track Championships in January, vowed that XR will continue to speak out against the partnership.
The group did not interrupt the AGM itself on Sunday, in which Rydedale Grand Prix organiser Bob Howden was re-elected as British Cycling president for a third term.
In comments provided to Cycling Weekly, both British Cycling and Shell said they respect the right to protest.
"[We] have continued to engage with our members and clubs through the first year of our partnership with Shell UK," a British Cycling spokesperson said. "We continue to make good progress on the shared ambitions of the partnership, including the growth of our successful Limitless disability and para-cycling programme."
Thank you for reading 20 articles this month* Join now for unlimited access
Enjoy your first month for just £1 / $1 / €1
*Read 5 free articles per month without a subscription
Join now for unlimited access
Try first month for just £1 / $1 / €1