Filippo Ganna: 21 things you didn't know about him
Cooking, Lego, and DIY tattoos are all part of the deal with the Italian time trial supremo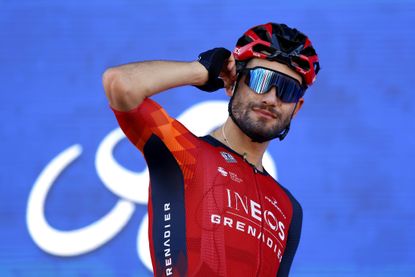 (Image credit: Maximiliano Blanco / Getty Images)
Swipe to scroll horizontally
| | |
| --- | --- |
| Date of Birth | 25/7/1996 |
| Born | Verbania, Italy |
| Nationality | Italian |
| Nickname | Top Ganna |
| Height | 1.93m |
| Weight | 83kg |
| Resides | Ascona, Switzerland |
| Turned pro | 2015 |
| Team | Ineos Grenadiers |
| Bike | Pinarello Dogma F |
| UCI wins | 23 |
| Stage race wins | 0 |
| Grand Tour stage wins | 6 |
| Twitter | @GannaFilippo |
| Instagram | @GannaFilippo |
We can only imagine that Italian time trial powerhouse Filippo Ganna was born bang on time, because whenever there's a clock involved, he excels.
A north Italian homeboy who stands out for his lofty stature and big-for-a-cyclist build, he has won titles and set records on the track and on the roads, over all manner of distances, including setting a new World Hour Record in October 2022.
He was most recently, at the time of writting, in action at the Giro d'Italia, which he was forced to abandon after contracting covid.
Popular and with a ready smile, he has spent most of his pro career so far with Team Sky and Ineos Grenadiers, where he is contracted until the end of 2027.
1. His father is a former Olympian who participated in the canoe events in the 1984 Los Angeles Olympics.
2. His first club was Pedale Ossolano near his home town of Verbania. He won the Italian Novices time trial championship as a youth with them as a youth.
3. Ganna won his first race after joining Team Sky in 2019, the time trial on stage one of the Tour de Provence.
4. If you can see a time trial theme developing here, there's a good reason for that. Ganna is one of the best riders in the discipline in the modern peloton. In 2020 and 2021, he won five out five time trial stages in the Giro d'Italia. He missed the race last year and this year defaulted on that 100% record, coming second to Remco Evenepoel in the TT opener before later quitting with covid.
5 One of his greatest career achievements is breaking the World Hour Record with 56.792km – a frankly incredible distance that was faster even than Chris Boardman's 1996 'superman' effort and is likely to go unbeaten for some time.
6. The bike Ganna used to break the World Hour Record in October 2022 was 3D printed and worth a cool €33,000.
7. His fiancee Carlotta Morino has the same first name as his sister. They met, of course, at a bike race which her father was organising. He calls his sister Lotti, avoiding any mix-ups.
8. He and his sister cemented their bond by tattooing each other with anchors as an 18th birthday present. Hers is on her back, Ganna's on his arm.
9. Winning Paris-Roubaix is a dream of his – he has already won the U23 version, in 2016. He has ridden elite version four times now, recording his best finish (6th) this year.
10. When he became time trial world champion in 2020, Ganna became the first Italian to win the title, which was inaugurated in 1994. He followed it up with a second win in 2021. Germany is the title's winningest nation, chiefly thanks to Tony Martin and Jan Ullrich.
11. He would have had an extra incentive to take that first time trial world title, as it was held in Imola, northern Italy, not so far from where he grew up.
12. Ganna has broken the 4,000 individual pursuit world record four times, and is the current holder with 3.59.636.
13. He was only the second rider to break four-minutes for the individual pursuit; the first being Ashton Lambie of the USA.
14. He's a keen gamer – during the Tokyo Olympics he took on the other Italian team members at Fortnite.
15. At last year's Tirreno-Adriatico Ganna raised eyebrows in the opening stage time trial due to the huge number of bikes stacked on the roof of his following car. Rival Remco Evenepoel and his Quick Step-Alpha Vinyl team employed the same tactic, which can give an aero advantage. This led to a rule change later in the season lengthening the distance team cars must travel behind their rider in a time trial from 10 to 15 metres.
16. Ganna is a dab hand in the kitchen, with tagliolini with truffles being a speciality. He's great on the barbecue too.
17. As well as being a talented bike rider he's a clever so-and-so, and has a degree in building engineering and architecture from the Politecnico di Milano.
18. He describes his family as his refuge. "I recharge in their company," he said in an interview with Gazzetta dello Sport in 2019.
19. He loves building Lego, with cars a popular choice but Star Wars stuff the favourite. As a present, his sister gave him a Lego figure wearing a world champion's jersey.
20. Ganna took his time trial national champion hat-trick last year. He has won it every year for the past four seasons, aside from 2021 when it was won by Matteo Sobrero.
21. Sobrero and Ganna have been mates for years, which is just as well, because the Jayco-AlUla rider is engaged to Ganna's sister.
Thank you for reading 20 articles this month* Join now for unlimited access
Enjoy your first month for just £1 / $1 / €1
*Read 5 free articles per month without a subscription
Join now for unlimited access
Try first month for just £1 / $1 / €1