Final gold for Great Britain in team pursuit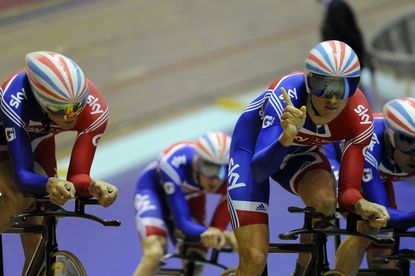 Britain's team pursuit quartet won gold in dominant fashion to finish off the weekend's world cup action today.
The Olympic champions and world record holders followed the script perfectly, winning by a comfortable margin of almost four seconds from the New Zealand team in the gold medal final. Their victory was never in doubt - the Clancy, Wiggins, Thomas, Burke combination was, in the absence of a strong Australian team, clearly the strongest in the competition.
It was primarily the clock against which the British team were racing, with a new world record the target. In the end they fell two seconds short, something that Bradley Wiggins expressed some disappointment about afterwards: "I'm a little bit disappointed with the time actually. It sounds a bit ridiculous - we've just done a 3:55 - but there's been so much talk of the world record over the last few days," he said.
With London 2012 the ultimate target, however, they will be satisfied with the position they are currently in.
There were two other British medals in the day's action, Victoria Pendleton in the Keirin and the men's team sprinters winning bronze.
Pendleton won bronze in a close-fought contest with Clara Sanchez and Guo Shang. The three of them were left to compete for the medals coming round the final bend after the Australians Kaarle McCulloch and Anna Meares charged ahead early on in the race, giving too much too soon and fading out. Sanchez led exiting the bend but Cho finished strongly and left Pendleton in her wake.
In the team sprint Chris Hoy, Jason Kenny and Matt Crampton were just off the pace of the French and German teams and missed out on the gold medal race by two tenths of a second.
The trio still managed to beat the Jayco-Ais team to win bronze, despite Kenny and Crampton riding the JKA keirin event in between rides. The French team that included Kevin Sireau, the winner of yesterday's individual sprint gold medal ran out winners.
Lizzie Armitstead continued to have problems on the second day of the women's omnium event, while Sarah Hammer remained dominant.
Armitstead finished sixth in the individual pursuit and scratch races, and thirteenth in the 500m time trial, leaving her seventh overall. The young Brit was slightly off the pace after illness recently kept her off her bike for eight days.
Hammer was untouchable. She won the pursuit and scratch race and won gold with only nine points, twenty nine ahead of Kirsten Wild of the Netherlands in second.
The competition's final day also featured the JKA Keirin, a one-off competition that gave riders the opportunity to win big money - the winner walked away with £10,000. Jason Kenny and Matt Crampton reached the final but German Maximilian Levy was the rider that hit the jackpot.
WOMEN'S OMNIUM
Individual Pursuit
1. Sarah Hammer (OUC) 3:35.263
2. Vilija Sereikaite (LTU) 3:36.199
3. Leire Olaberria Dorronsoro (ESP) 3:39.592
4. Melissa Hoskins (AUS) 3:40.509
5. Kirsten Wild (NED) 3:41.775
British
6. Eizabeth Armitstead (GBR) 4:43.127
Scratch
1. Sarah Hammer (OUC)
2. Pascale Jeuland (FRA)
3. Melissa Hoskins (AUS)
4. Kirsten Wild (NED)
5. Jolien D'Hoore (BEL)
British
6. Elizabeth Armitstead (GBR)
Kilometre Time Trial
1. Vilija Sereikaite (LTU) 35.746
2. Malgorzata Wojtyra (POL) 35.833
3. Sarah Hammer (OUC) 36.181
4. Leire Olaberria Dorronsoro (ESP) 49.369
5. Chao Mei Wu GPC (36.650)
British
13. Elizabeth Armitstead (GBR) 37.308
Overall
1. Sarah Hammer (OUC) 9
2. Kirsten Wild (NED) 38
3. Malgorzata Wojtyra (POL) 42
4. Liss Brannauer (GER) 51
5. Leire Olaberria Dorronsoro (ESP) 52
British
7. Elizabeth Armitstead (GBR) 56
MEN'S TEAM PURSUIT
Gold Medal Final
Great Britain 3:55.438 beat New Zealand 4:00.314
Bronze Medal Final
Spain 4:03.308 beat Denmark 4:05.477
Qualifying
1. Great Britain (Burke, Clancy, Thomas, Wiggins) 3:57.471
2. New Zealand (Gate, Gough, Latham, Ryan) 4:01.347
3. Spain (Bernal, Maeztu, Muntaner, Teruel) 4:03.674
4. Denmark (Byrgesen, Hansen, Quaade, Ranneries) 4:05.155
5. Netherlands (Heimans, Huizenga, Stroetinga, van der Zwet) 4:05.576
6. Australia (Dennis, Kerby, Lovelock-Fay, Mulhern) 4:06.459
7. Lokomotiv (Ershov, Ivlev, Kaykov, Shilov) 4:06.623
8. Belgium (de Poortere, Dufrasne, Mertens, van Hoecke) 4:06.718
9. Colombia (Arango, Castro, Edwin, Roldan) 4:07.607
10. Russia (Manakov, Savitsky, Valynin, Zubov) 4:08.683
MEN'S TEAM SPRINT
Gold Medal Final
France 43.534 beat Germany 43.715
Bronze Medal Final
Sky 44.087 beat Team Jayco-Ais 44.27
Qualifying
1. France (Bauge, Sireau, D'Almeida) 43.633
2. Germany (Enders, Levy, Nimke) 43.847
3. Sky (Kenny, Hoy, Crampton) 44.049
4. Jayco-Ais (Ellis, Niblett, Sunderland) 44.451
WOMEN'S KEIRIN FINAL
Final 1-6
1. Guo Shang (CHN)
2. Clara Sanchez (FRA)
3. Victoria Pendleton (SKY)
4. Gong Jinjie (CHN)
5. Anna Meares (AUS)
6. Kaarle McCulloch (AUS)
Final 7-12
7. Simona Krupeckaite (LYU)
8. Olga Panarina (BLR)
9. Rebecca James (GBR)
10. Miriam Welte (GER)
11. Kristina Vogel (GER)
12. Sandie Clair (FRA)
Thank you for reading 20 articles this month* Join now for unlimited access
Enjoy your first month for just £1 / $1 / €1
*Read 5 free articles per month without a subscription
Join now for unlimited access
Try first month for just £1 / $1 / €1