Garmin-Cervélo women's team on the rocks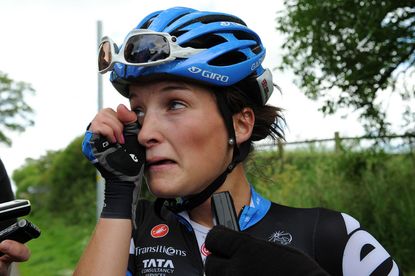 The future of the women's Garmin-Cervélo team is up in the air amid news that the women's squad's budget has been significantly cut.


British riders Lizzie Armitstead, Emma Pooley, Lucy Martin and Sharon Laws could all potentially be left without a team, nine months away from the Olympic Games.
According to Dutch magazine Wieler Revue, the problem stems from French building supplier BigMat opting to sign with FDJ at the eleventh hour, leaving a hole in the budget. BigMat had been lined up to be a secondary sponsor at Garmin.
Incoming director sportif Egon van Kessel was recently informed there is no position for him, and riders have been given freedom to find new teams.
Pooley: "All is not well"
"We've been told not to speak about it, but all is not well," Garmin captain Emma Pooley told Cycling Weekly from her winter base in Australia. "I don't know what's happening. Everyone's getting a bit worried."
"The team is a great group of people; coming this close to the Olympics, it's more stressful than it needs to be. If these rumours are true, they should have told us about it earlier," said Pooley.
The former world champion told Cycling Weekly there ought to be a women's Team Sky earlier this week.
The rumours come a week after the men's WorldTour squad had their team camp and presentation in Colorado.
Related linksPooley: where is our women's Team Sky?Infighting threatens British women's Olympic hopes
Thank you for reading 20 articles this month* Join now for unlimited access
Enjoy your first month for just £1 / $1 / €1
*Read 5 free articles per month without a subscription
Join now for unlimited access
Try first month for just £1 / $1 / €1