GB and Australian Paralympic squads warm up at Blenheim Palace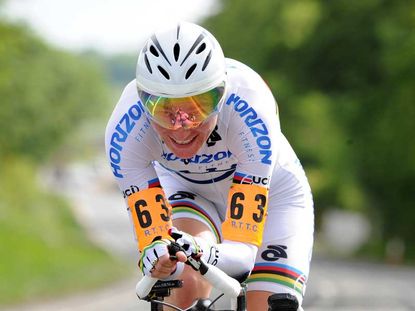 Riders from the Great Britain and Australia Paralympic squads will clash at the Blenheim Palace festival of cycling time trial event as both nations warm up for the London 2012 Paralympic Games.
Eight British and six Australian cyclists have put their names down for the Blenheim time trial, which takes place on Saturday August 18.
Brit Sarah Storey returns to Blenheim as defending women's champion, having clocked 28.29 minutes over the 20 kilometre closed road circuit last year.
Paralympians David Stone, Jon Allan Butterworth, Lora Turnham, Mark Colbourne, Shaun McKeown, Rachel Morris and Karen Darke join Storey at the event. Australia is represented by Jayme Paris, Simone Kennedy, Alexandra Green, Susan Powell, David Nicholas, and Michael Gallagher.
Bike Blenheim Palace 2012 takes place over August 18-19 and also includes a range of on- and off-road cyclo-sportives and family rides, Brompton World Championships, Breast Cancer Care pink ribbon ride, bike polo, trade stands, entertainment and much more.
The London 2012 Paralympic Games start on August 29 and finish on September 9. The men's and women's time trials take place at Brands Hatch race circuit on September 5.
For more information and for entry details go to the Bike Blenheim Palace website.
Thank you for reading 20 articles this month* Join now for unlimited access
Enjoy your first month for just £1 / $1 / €1
*Read 5 free articles per month without a subscription
Join now for unlimited access
Try first month for just £1 / $1 / €1