Giant moots $20m investment in Stages Cycling
Leading bike manufacturer reportedly set to invest in power metre and indoor riding brand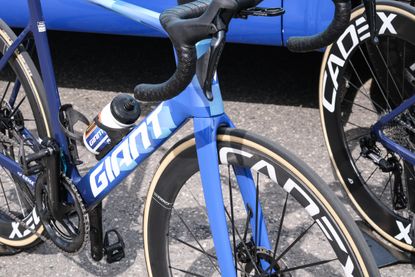 (Image credit: Dan Cavallari)
The world's biggest bike manufacturer Giant is reportedly considering an investment of $20 million dollars in power metre and indoor cycling brand Stages Cycling.

According to Endurance.Biz (opens in new tab), reports from the media in South-East Asia have said that Giant held a board meeting last week, with a strategic investment in Stages expected to be made via its subsidiary company in the Netherlands, Gaiwin BV.

Of the reported $20m (£16m) investment, $6.5 (£5.25m) , is being used to acquire 32.5% of the common stock of Stages with a further $13.5m (£11m) being used to acquire the company's convertible corporate bonds.

Giant is reportedly optimistic of the long-term future for indoor riding. This comes despite a more challenging, post-Covid environment for companies manufacturing indoor riding equipment, with many developed economies no longer experiencing Covid inflicted lockdowns forcing cyclists onto the turbo trainer or rollers.

According to reports, Giant aims to "effectively integrate the manufacturing and market channel resources of both parties, in order to maximise increased profitability."

Stages Cycling was founded more than ten years ago, and now operates in more than 55 countries and in more than 7,000 stores. Power metres and the Stages Indoor bike are the brands most popular offerings on the cycling market.

According to the company, its studio bikes support over 110 million rides per year – with a strong footprint in the North American market and a cloud service supplied to a number of large chain gyms.
Last year, Stages Cycling became one of the first cycling brands to get involved in the blockchain business. A deal with OliveX, a blockchain business, meant that Stages Cycling's range of smart bikes, power metres and other indoor equipment are now available as NFTs or non-fungible tokens.

At the time, Stages Cycling's Paddy Murray said it was an opportunity for the brand to become an "innovator".

"We believe we have a fantastic opportunity for Stages Cycling to become an innovator and thought-leader in the cycling industry as we venture into new and burgeoning spaces such as cryptocurrency, NFTs and the metaverse," he said

"We have a great team that has built an incredibly strong foundation for us to grow from, and we're really excited to be able to showcase our products, brand and passion for cycling with users in the fitness metaverse."
Thank you for reading 10 articles this month* Join now for unlimited access
Enjoy your first month for just £1 / $1 / €1
*Read 5 free articles per month without a subscription
Join now for unlimited access
Try first month for just £1 / $1 / €1
Tom is a News and Features Writer at Cycling Weekly, and previously worked in communications at Oxford Brookes University. Alongside his day job, prior to starting with the team, he wrote a variety of different pieces as a contributor to a cycling website, Casquettes and Bidons, which included interviews with up and coming British riders.