'Give us the bike or we'll stab you': UK cyclist recounts horror of attempted bike theft by masked motorcyclists
Attack in South London is the latest in a series of incidents involving violent thugs on motorbikes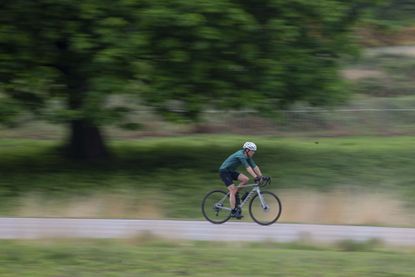 (Image credit: Getty Images)
"I instantly felt like something was wrong - as they went past me they stared at me, then began talking to each other and slowing down." James Marshall, a cyclist from London, recalls the moment two weeks ago when two motorbike riders blocked his way and attempted to steal his bike.
After the motorcyclists passed Marshall, they carried on along the road but the Penge Cycle Club member knew something was afoot. "My gut instantly told me it was a dodgy situation, even when they then sped up and disappeared out of sight," he told Cycling Weekly.
Marshall said, "I should have followed my instincts and turned around, but I carried on and then realised they had pulled into a side turning and one had pulled a balaclava on under his helmet, and the other was just wearing a balaclava. I just rode as hard and as fast as I possibly could, because I thought at the end of the road [Layhams Road in South London], there's a crossroads, and there would be a lot more cars there. I thought if I can get to that, I'll be fine."
However, the two riders then rode at speed towards Marshall, boxing him in to cut off any means of escape. "They seemed to be checking for any other cars or cyclists, and then came at me quite quickly. One of them pulled up alongside and the other in front of me, sort of boxing me in," he explained.
"I slammed my brakes on when I realised what was happening, spun round and sprinted off in the opposite direction, but they came back at me and one said 'you've got two options, you either give us the bike or we stab you' which is just about the worst thing you can possibly hear."
Despite the chilling words from Marshall's attackers, he says he did not see any weapons on either of the men. Luckily, the attack was prevented when a group of fellow cyclists arrived and managed to frighten off the attackers.
OTHER RIDERS THREATENED DURING ATTACKS IN LONDON
The attack on Marshall is just the latest in a string of similar horrifying incidents across London, including earlier this year. In April, men on motorbikes leered at Scottish cyclist Jennifer George before trying to knock her off of her bike. George at the time feared the harassment she experienced was an attempt to steal her bike.
Unlike Marshall or George, fellow British cyclist, Alex Richardson, who recently finished third in the national road race championships, didn't escape a similar attack physically unscathed. Richardson was left bloodied when his bike was stolen in Richmond Park, South London last year. Richardson let go of his bike after one of his assailants "pulled out a 15 inch machete".
Continuing to recount his shocking experience, Marshall says that a passing motorist simply drove away from the scene, appearing to not want to get mixed up in what was unfolding.
"I managed to turn away from them again and saw a car coming the other way. I literally rode at it, forcing it to stop and said to the driver, 'please help me they're trying to steal my bike'. I then went alongside the car and looking like he didn't want to get involved, the driver just drove off," Marshall said.
Feeling like his lifeline was gone, Marshall began to panic. Although fortunately for him, four fellow-cyclists would then appear.
"Thankfully, another four riders came along. I'd actually passed them earlier, so I went straight up to them and asked for help explaining that these guys were trying to take the bike from me. At that point the guys on motorbikes clearly realised they were outnumbered and sped off pretty quickly," he adds.
Shaken-up, Marshall turned home and rode back to London. As he headed towards the capital, he passed several other solo riders and his first thought was to warn them about what had taken place. Marshall explained that despite his warnings, the other cyclists continued to head towards where the suspected bike thieves had been operating.
BRITISH CYCLING URGING POLICE TO TAKE ACTION
On 6 July, British Cycling published a response to the swathe of incidents in London and the South East. The news statement provided by the organisation, contains information and advice for clubs and members, as well as what British Cycling is actively doing in response to the matter.
British Cycling said: "Since being alerted to this latest spate of incidents we have raised the issue once more with the relevant police forces and Transport for London to highlight known flashpoints and urge them to take swift action to protect and reassure local riders."
British Cycling are also encouraging anyone that experiences any similar incident, including threatening behaviour that stops short of a crime being committed, to report it using their incident helpline.
In terms of a police response, Marshall initially reported what had happened via calling 101. He was then phoned by a woman in a call centre who told him that she felt the police needed to be organising a 'sting operation'. Marshall was then contacted by the Metropolitan Police who said that without CCTV footage, number plates, a solid-ID of individuals, there was nothing for them to go on.
He added: "It did feel like they were saying that they almost need, more of these situations to happen for it to actually be taken seriously. I felt like there was a threat to someone's life, what happens if next time it actually is someone's life? How far does this need to go?"
Marshall fears that due to the location of these incidents taking place, they continue to fall through the cracks. Furthermore, due to the close proximity of Croydon, Kent and Surrey, incidents such as this are being passed between police forces.
Marshall concluded: "That's what concerns me the most, them [Surrey, Kent and the Metropolitan Police] not talking to each other and not taking it seriously as a result of that."
Cycling Weekly has approached the Metropolitan, Kent and Surrey Police forces for comment.
Thank you for reading 10 articles this month* Join now for unlimited access
Enjoy your first month for just £1 / $1 / €1
*Read 5 free articles per month without a subscription
Join now for unlimited access
Try first month for just £1 / $1 / €1
Tom is a News and Features Writer at Cycling Weekly, and previously worked in communications at Oxford Brookes University. Alongside his day job, prior to starting with the team, he wrote a variety of different pieces as a contributor to a cycling website, Casquettes and Bidons, which included interviews with up and coming British riders.